Airborne Event: Playlist from November 29, 2010
You see a blanket on the ground. It's your favorite color, smooth and soft. You can sit on it, or lie on it. It's a flying blanket, and you are the pilot. You are in control. You can fly anywhere you wish, just by thinking about it. You are the pilot.
<-- Previous playlist | Back to Airborne Event playlists | Next playlist -->
---
November 29, 2010


"There's a man lying down in a grave somewhere
With the same tattoos as me
And I love him, I love him, I love him, I love him, I love him"

--Jhon Balance, from "Tattooed Man" on Coil's The Ape of Naples

Listen to this show:


Throbbing Gristle (L->R): Genesis P-Orridge,Chris Carter, Cosey Fanni Tutti, Peter "Sleazy" Christopherson.
Artist
Track
Album
Label
Approx. start time
Brian Eno
The True Wheel
Taking Tiger Mountain (By Strategy)
Astralwerks
0:00:00 ()
Throbbing Gristle
Final Muzak
First Annual Report
Thirsty Ear
0:05:19 ()
Throbbing Gristle
United
Second Annual Report
Mute
0:10:23 ()
Throbbing Gristle
Untitled (excerpt)
CD1
Mute
0:14:16 ()
Psychic TV
Finale/Eleusis/Medmenham/Ancient Lights
Dreams Less Sweet
Thirsty Ear
0:23:03 ()
Music behind DJ:
The Necks
Silverwater
Silverwater
ReR Megacorp
0:30:12 ()
Coil
Tainted Love
Scatology
Threshhold House
0:48:18 ()
Coil
Blood From the Air
Horse Rotovator
Rota
0:53:52 ()
Coil
Things Happen (feat. Annie Anxiety)
Love's Secret Domain
Wax Trax!
0:57:30 ()
Coil
Panic
EP
TVT/Wax Trax!
1:00:54 ()
Music behind DJ:
The Necks
Silverwater
Silverwater
ReR Megacorp
1:08:34 ()
Coil
The Sea Priestess
Astral Disaster
World Serpent
1:20:36 ()
Coil
Moon's Milk or Under an Unquiet Skull
Spring Equinox
Eskaton
1:34:13 ()
Music behind DJ:
The Necks
Silverwater
Silverwater
ReR Megacorp
1:42:42 ()
Coil
A Warning From the Sun (for Fritz)
Summer Solstice
Eskaton
1:47:46 ()
Coil
Amethyst Deceivers
Autumn Equinox
Eskaton
1:52:04 ()
Coil
Christmas Is Now Drawing Near
Winter Solstice
Eskaton
1:58:41 ()
Music behind DJ:
The Necks
Silverwater
Silverwater
ReR Megacorp
2:07:29 ()
Coil
Broccoli
Music to Play in the Dark, Vol 1
Chalice
2:09:22 ()
Coil
Batwings (A Liminal Hymn)
Music to Play in the Dark, Vol 2
Chalice
2:18:14 ()
Coil
Higher Being's Command
Constant Shallowness Leads to Evil
Eskaton
2:30:02 ()
Coil
Tattooed Man
The Ape of Naples
Threshhold House
2:33:40 ()
Music behind DJ:
The Necks
Silverwater
Silverwater
ReR Megacorp
2:40:50 ()
Throbbing Gristle
After the Fall
The Endless Not
Industrial
2:48:36 ()
Throbbing Gristle
Not That I Am
The Third Mind Movements
Industrial
2:53:27 ()
Music behind DJ:
The Necks
Silverwater
Silverwater
ReR Megacorp
2:59:03 ()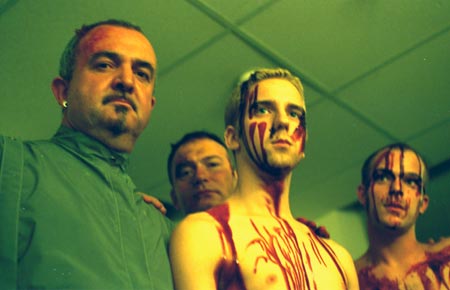 <-- Previous playlist
| Back to
Airborne Event playlists
|
Next playlist -->
RSS feeds for Airborne Event:
Playlists feed |
MP3 archives feed
|
E-mail Dan Bodah
|
Other WFMU Playlists
|
All artists played by Airborne Event
|
---
Listen on the Internet
|
Contact Us
|
Music & Programs
|
WFMU Home Page
|
Blog
|
Support Us
|
FAQ
Live Audio Streams:
Pop-up
|
128k AAC
|
128k MP3
|
32k MP3
|
32k Windows
---