Music with vocals weird & wonderful -- beatboxing, yodels, auction chants, Tuvan throatsinging, & eerie polyphonies.
Mondays 7 - 8pm (

EDT

) | On WFMU | 91.1, 90.1, 91.9 FM & wfmu.org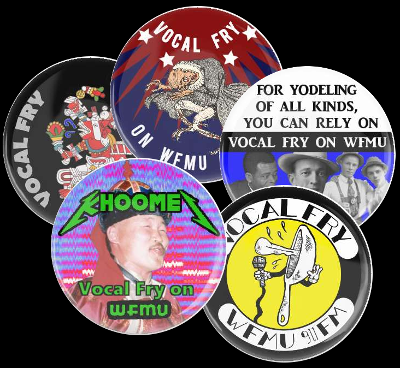 This 5-pack of buttons is available to supporters: pledge $75 or more to the 2017 WFMU Fundraising
Marathon in yonder widget up top right now!
There's also a one-of-a-kind Vocal Fry canvas tote
I'll give away as a grand prize at the end of the 3/13 show.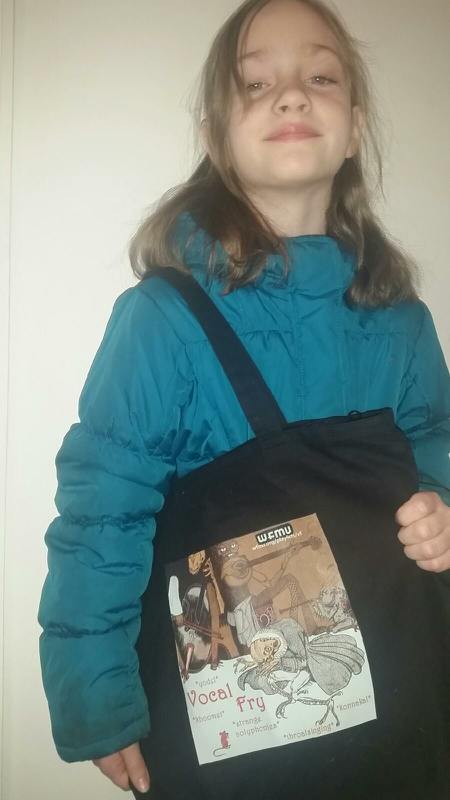 Conveniently sized to hold a clutch of your yodeling LPs
for when you run away to the Moonrise Kingdom. Get your
pledges in early & get in the running. My MC Brian Turner (!!)
will draw a winner when the bell tolls 8pm this Monday...
Official Vocal Fry Frequently Asked Questions section:
Q: What is a Vocal Fry? Will it hurt me?

A: Vocal Fry is your friendly neighborhood purveyor of extended
vocal techniques from country yodels to Tuvan khoomei to
Xhosa throatsinging to Yma Sumac glassbreakers to avant
garde weirdness to down-home eeephing to beatboxing Maori
to yodeling Cameroonian pop to Diamanda Galas invocations.
Don't be alarmed -- it will not harm you. It's only Vocal Fry,
bizarre Vocal Fry...