Dave the Spazz' Playlists and Archives

Thursdays 9pm - Midnight (

EDT

) | On WFMU | 91.1, 90.1, 91.9 FM & wfmu.org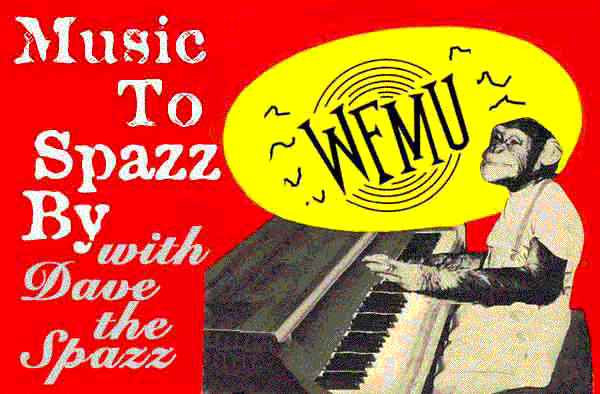 E-mail Dave the Spazz
---
Upcoming events:
Thursday, October 15th, 9pm - Midnight: Dave the Spazz Live Band Cassette Caravan

Dave the Spazz digs down into Music To Spazz By cassette archives back to 1989 for a bunch of rock n' roll bands that have dropped by over the years. Expect pre- and post-internet live band insanity!



Thursday, October 22nd, 9pm - Midnight: All B-Sides All Night Long

It's WFMU's Singles Going Steady Week and once again Dave the Spazz flips out and ONLY spins B-sides of 45s all night long!



Thursday, October 29th, 9pm - Midnight: Halloween Spazztacular!

Werewolves, mummies, monkeys, zombies and more monkeys conspire to make this year's Music To Spook By Hauntfest the scariest and stupidest one ever!


---
RSS feeds for Music To Spazz By with Dave the Spazz:
Playlists feed |
MP3 archives feed

Other WFMU Playlists | Listen on the Internet | Contact Us | Music & Programs | WFMU Home Page | Blog | Support Us | FAQ

Live Audio Streams: Flash | 128k MP3 | 32k MP3 | 20k Real | 20k Windows
---
(C) 2015 WFMU
Generated by KenzoDB, (C) 2000-2015 Ken Garson