Brian Turner: Playlist from August 25, 2015
Order and disorder in a freeform haze of terribly-played guitars, shorted-out electronics, found audio detritus, strange sounds from strange lands all around. Psych-punk-junk, collage, even pop. Lots of in-studio live performances to boot.
<-- Previous playlist | Back to Brian Turner playlists | Next playlist -->
---
August 25, 2015: w/ live sets from COMPLETE plus OCTAGRAPE

Listen to this show: | Add or read comments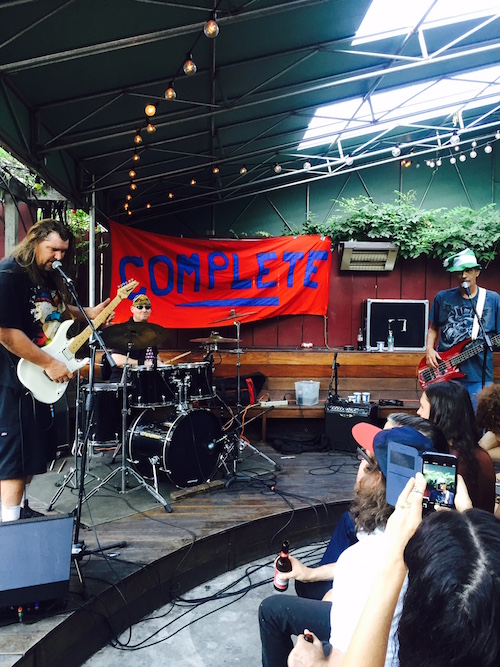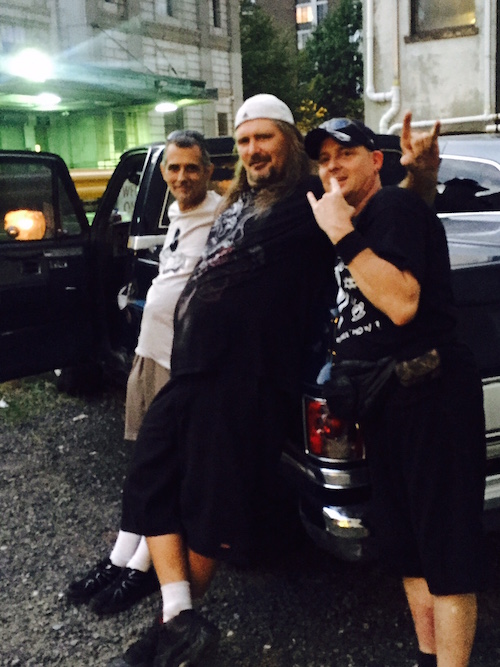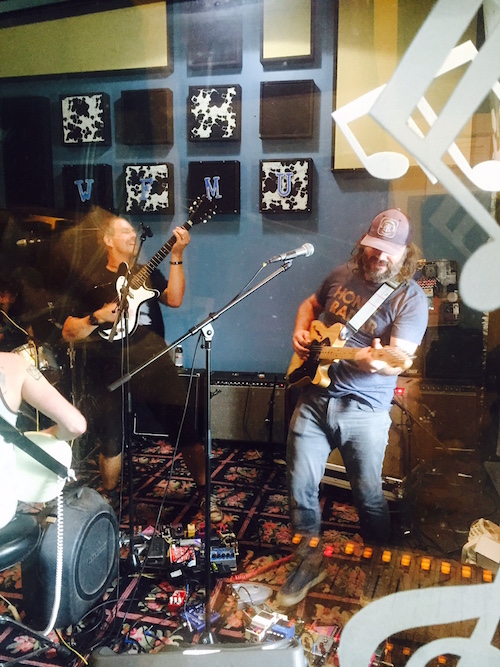 Larger than life and hotter than hell: COMPLETE visit WFMU today after travelling up from Fort Worth, Texas for WFMU/Union Pool Summer Thunder Saturday. Lower right: showmates from the gig OCTAGRAPE live in the WFMU studios following. Double destruction today on the show!
(* = new)


| Artist | Track | Album | Label | Comments | New | Approx. start time |
| --- | --- | --- | --- | --- | --- | --- |
| Heldon | Perspectives 4 Bis | 7" | Urus | | * | 0:00:00 () |
| Bromp Treb | Excerpt | Stickless Sharkless Bagless | None | | * | 0:04:41 () |
| Hawkwind | Steppenwolf | Astounding Sounds, Amazing Music | Charisma | | | 0:06:14 () |
| T-Tops | Drugstore Life | T-Tops | No Label | | * | 0:16:50 () |
| Black Time | More Pricks Than Kicks | Aerial Gobs Of Love | Forbjunda Ljud | | * | 0:18:35 () |
| Toxin III | I Rock I Ran | 6 Song EP | Peer Pressure | | * | 0:21:34 () |
| Biting Tongues | You Can Choke Like That | Various: Plastic Dance 1 | Finders Keepers | | * | 0:23:59 () |
| Inflatable Boy Clams | I'm Sorry | dbl 7" | Subterranean | | | 0:26:49 () |
| Shit & Shine | TJC 19 | Chakin' | Rock Is Hell | | * | 0:29:50 () |
| Hastkotttskandalen | Spacegirls | Spacegirls | Fyklingen | | * | 0:33:44 () |
| Mansion | Black Diamond | Early Life | No Label | coming live next week here on the show | * | 0:47:26 () |
| Atom Mouth Gimlies | Below | At El Juno 7" | Jumatsuga | | * | 0:47:55 () |
| Gold | No Parking | Various: Ultimate Bonehead Vol. 3 | Belter | | * | 0:50:06 () |
| Dead | Dog TV | Various: Even Worse Than Expected | Rock Is Hell | | * | 0:52:08 () |
| Complete | Live in the WFMU Studio | Engineered by Ernie Indridat | | The smoke hasn't even cleared from the amps at WFMU's Summer Thunder concert at Union Pool this weekend, and two of the show's acts play live on Brian's show today! COMPLETE are a Ft Worth, Texas trio that can be best described as dark-n-heavy Free Boogie from another dimension. With such songs as "Dreaming", "Hot As Hell" and "Hoogie Boogie Land" (somewhat widely circulated internet sensations), the band, fronted by Curt Low, are the Real Deal, people. This is their first trip to the NYC area and you cannot miss. Curt Low: Vox, guitar, Creature aka Sparky: bass, vox, Tony B: drums. | | 1:00:55 () |
| Destruction Unit | Salvation | Negative Feedback Resistor | Sacred Bones | | * | 1:58:31 () |
| Jake Hottell | Horizon | Various: Psychmagik Presents Magik Sunset | Lang | | | 2:05:24 () |
| Octagrape | Live in the WFMU Studio | Engineered by Ernie Indridat | | Octagrape: a project of Glen Galloway (of Soul Junk and onetime member of Trumans Water;, this San Diego combo exercise some blowtorch psychedelic punk in the spirit of Mainliner, Swell Maps, Major Stars and other faves of this program. They're finishing up a tour on the heels of the release of Major Mayyor Maxion Marble, a 12" of cover songs that amazingly they heard via WFMU (and some on this show!) Full circle! Bandcamp here. The band today: Glen Galloway: Guitar/vox, Jason Begin: guitar/vox, Alexander Dausch: Bass, Marco Piro: drums. Today's songs: Onocyclone, Hightropics, Too Fly, Mexican Code, Seizures, Syntoptikon (Major Stars cover!), Sungazers. | | 2:10:24 () |
| Laraaji | Lotus Collage | Lotus Collage | Leaving | cassette reissue of a 1978 recording from a Park Slope living room. | * | 2:48:24 () |
from Saturday's Union Pool show

<-- Previous playlist
| Back to
Brian Turner playlists
|
Next playlist -->
RSS feeds for Brian Turner:
Playlists feed |
MP3 archives feed
| Email
the Program Director
|
Other WFMU Playlists
|
All artists played by Brian Turner
|
---
Listen on the Internet
|
Contact Us
|
Music & Programs
|
WFMU Home Page
|
Support Us
|
FAQ
Live Audio Streams:
Pop-up
|
128k AAC
|
128k MP3
|
32k MP3
|
32k Windows
---