Order and disorder in a freeform haze of terribly-played guitars, shorted-out electronics, found audio detritus, strange sounds from strange lands all around. Psych-punk-junk, collage, even pop. Lots of in-studio live performances to boot.
March 10, 2015: Marathon Week 1 w/ co-host MARTHA HURLEY

Listen to this show:
Pop‑up player! | Add or read comments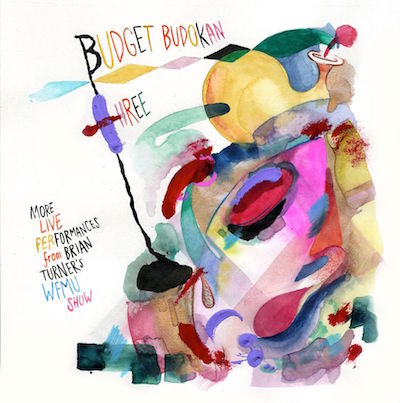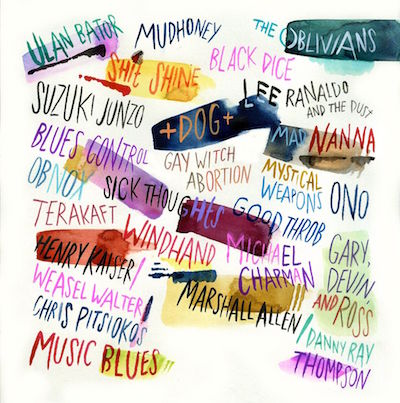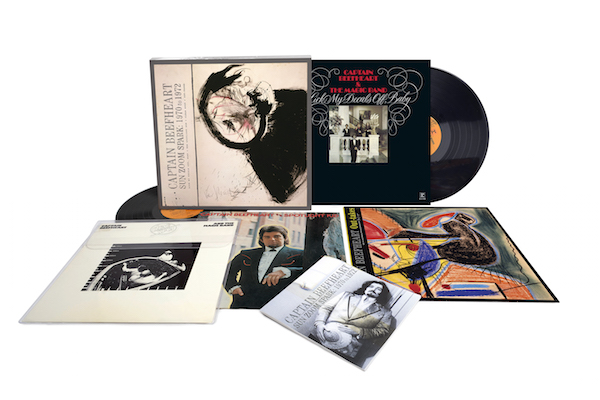 Today's premium (pledges $75 and up) get BUDGET BUDOKAN 3, a collection of full sessions on MP3 of live sets from Brian's program. Over 12 hours of music, with artwork by Brooklyn's Leslie Stein. All premium sized pledges will be in the running for the grand prize too at day's end: CAPTAIN BEEFHEART Sun Zoom Spark box set on vinyl, Limited Edition Four-Disc Boxed Set Includes Newly Remastered Versions Of Lick My Decals Off, Baby, The Spotlight Kid And Clear Spot, plus an entire disc of unreleased outtakes.
| Artist | Track | Album | Label | Comments | New | Approx. start time |
| --- | --- | --- | --- | --- | --- | --- |
| Braz Gonsalves Seven | Raga Rock | Various: Spiritual Jazz 5 | Jazzman | | | 0:00:00 (Pop‑up) |
| Fang | The Money Will Roll Right In | | | | | 0:06:04 (Pop‑up) |
| Egor | Street (live) | Various: Downer Rock Genocide | | | | 0:08:50 (Pop‑up) |
| Omar Khorshid | Sidi Mansour | Live Australia 1981 | Sublime Frequencies | Beautiful new gatefold LP is up for grabs right now. Pledge $20 to get in the running this hour. | | 0:13:21 (Pop‑up) |
| Oblivians | Live here on the show | from my premium Budget Budokan. grab it for $75 pledge!~ | | | | 0:27:06 (Pop‑up) |
| Sun Ra | Somebody's In Love | Singles | | | | 0:28:08 (Pop‑up) |
| X_X | Approaching the Minimal with Spray Guns | Various: Punk 45: Extermination Nights In the Sixth City | | X_X's LP X_sticky_fingers_X (ektro records) is up for grabs right now! | | 0:42:15 (Pop‑up) |
| Electric Eels | Flapping Jets | Various: Those Were Different Times | | | | 0:43:53 (Pop‑up) |
| Electric Eels | Cyclotron | Die Electric Eels | Superior Viaduct | This LP as well up for grabs! | | 0:46:31 (Pop‑up) |
| White Boy and the Average Rat Band | Maybe I'm a Fool | | | | | 0:48:39 (Pop‑up) |
| This Heat | SPQR | Deceit | These | | | 0:50:30 (Pop‑up) |
| The Beekeepers | Pallett Stacking | | | | | 0:53:42 (Pop‑up) |
| Bill Orcutt (bed) | Live here on the show | also on the premium BUDGET BUDOKAN 3 | | $75 and more pledges get the compilation! | | 1:00:17 (Pop‑up) |
| Creation Rebel / New Age Steppers | Chemical Specialist | Threat To Creation | Anthology | 1981, new LP reissue up for grabs now! | | 1:09:57 (Pop‑up) |
| Earthling Society | Journey into Satchidananda | England Have My Bones | Riot Season | | * | 1:11:05 (Pop‑up) |
| Ngozi Family | I've been Looking For you | Day of Judgement | Now Again | thisprize is up for grabs now | | 1:34:13 (Pop‑up) |
| Raw Meat | Stand By Girl | | | | | 1:37:58 (Pop‑up) |
| Buffalo | I'm a Skirt Lifter, Not A Shirt Raiser | Only Want You For Your Body | | | | 1:40:24 (Pop‑up) |
| Bugs and Rats | I Dont Think You Know Distance | Adidas | Feeding Tube | | | 1:55:06 (Pop‑up) |
| Captain Beefheart & His Magic Band | Blabber and Smoke | Sun Zoom Spark: 1970-72 Box Set | | Box set is today's grand prize! $75 gets you in the running (and automatically gets you my premium Budget Budokan 3) | | 1:56:24 (Pop‑up) |
| feedtime | Live here on the show | Budget Budokan 3 | | | | 2:02:18 (Pop‑up) |
| Leather Nun | No Rule | | | | | 2:03:57 (Pop‑up) |
| Andre De Saint-Obin | Dance Til I Die | Sound On Sound | Korm Plastics | | | 2:07:03 (Pop‑up) |
| Crime | Hotwire My Heart | 7" set | Munster | Munster 7" collection is a prize. Now. | | 2:20:52 (Pop‑up) |
| Culturcide | Industrial Band | | | | | 2:23:38 (Pop‑up) |
| Beau | Nine Minutes | Creation | Sommor | | | 2:26:53 (Pop‑up) |
| Lee Ranaldo & the Dust | She Cracked (Modern Lovers) | live here on the show 1/4/13 | | | | 2:29:52 (Pop‑up) |
| Terminals | Both Ends Burning | Singles and Sundries | Ba Da Bing | This LP is up for grabs! | | 2:44:15 (Pop‑up) |
| The Spies | Collided and Collected | The Battle of Bosworth Terrace | Siltbreeze | This is up with the Terminals for grabs! Win both together! | | 2:45:55 (Pop‑up) |
| Stefan | Zero Tic | | | | | 2:52:12 (Pop‑up) |