Every show starts with the '70s! We'll rediscover forgotten rockers, revisit unfairly maligned disco beats and replay power-pop favorites. Next: plenty of new releases, occasional live bands and more. Don't let the nickname confuse you.
March 5, 2014: Fundraising marathon week 2 with co-host PSEU BRAUN! Please pledge now!

Listen to this show: | Add or read comments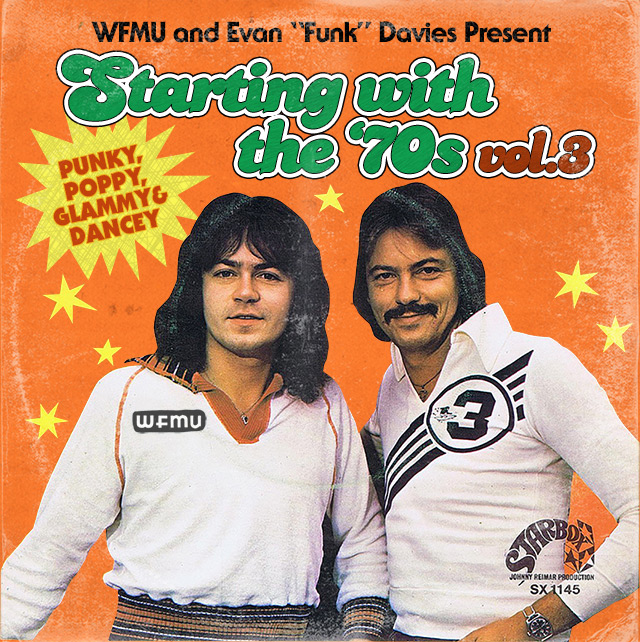 Make a pledge now of $75 or more (I said or more) and you'll AUTOMAGICALLY get my premium CD Starting With The '70s vol. 3: Punky, Poppy, Glammy and Dancey (pictured above), containing 20 killer kuts from the 1970s that never made it on to a K-Tel collection (well, maybe one or two songs).

PLUS! Pledge $120 or more now and get get in the running for the big GLAM GRAND PRIZE: Jook Rule OK, the new 2LP Jook compilation; sizzling 45 reissues from Brett Smiley, Soda Fraise and Lost Kids; and the amazing book Wired Up that compiles hundreds of actual-size picture sleeves from early-'70s glam singles!




YES ONE PERSON WILL WIN ALL THOSE THINGS!!!1! Get those pledges in now!

Artist
Track
Album
Label
Comments
New
Approx. start time
bachman-turner overdrive
give me your money please
0:00:00 ()
the tubes
what do you want from life
0:03:59 ()
epicycle
radical attitude
you're not gonna get it: 1978-'81
hozac
First prize of the night! Get in the running with a pledge NOW! 80-989-9368 or use the white box at the top of the page
0:08:21 ()
cash down
cash down
starting with the '70s vol 3: punky, poppy, glammy & dancey
My premium CD for this year! Yours automagically with a pledge of $75 OR MORE.
0:11:09 ()
lordz of brookllyn
saturday nite fever
NOW IT'S A MARATHON!!
0:13:23 ()
paul humphreys
chatting with efd
0:33:37 ()
orchestral manoeuvres in the dark
souvenir
0:37:35 ()
tv ghost
five colors blind
disconnect
in the red
Giving this prize away soon! Get in the running with a pledge NOW! 800-989-9368 or use the white box at the top of the page
0:40:59 ()
simon stokes
earthquake
starting with the '70s vol 3: punky, poppy, glammy & dancey
0:45:21 ()
jacco gardner
where will you go
live on wfmu
1:04:06 ()
jook
aggravation place
jook rule ok
sing sing
part of tonight's GLAM GRAND PRIZE! Pledge $120 or more to get in the runninG!
1:08:31 ()
obn iiis
communicated to death
live at WFMU
The next prize we're giving away! Get in the running with a pledge NOW! 800-989-9368 or use the white box at the top of the page
1:12:04 ()
jimmy "bo" horne
i wanna go home with you
starting with the '70s vol 3: punky, poppy, glammy & dancey
1:36:26 ()
the wrong words
and it's not so pretty
everything is free
trouble in mind
The next prize we're giving away! Get in the running with a pledge NOW! 800-989-9368 or use the white box at the top of the page
1:39:35 ()
Music behind DJ:


Pledge now and you could win this book! 800-989-9368 or use the box at the top of this page to pledge online!
1:42:28 ()
ramones
glad to see you go
2:00:00 ()
brett smiley
va va va voom
7"
sing sing
part of the Glam Grand Prize! Pledge $120 or more to get in the running!
2:08:03 ()
young ones
rock & roll radio
starting with the '70s vol 3: punky, poppy, glammy & dancey
My premium CD for this year! Yours automagically with a pledge of $75 OR MORE.
2:11:23 ()
gap dream
feast of the first morning
live on WFMU
2:31:54 ()
dust
chasin' ladies
hard attack / dust
ledge now and you could win this CD! 800-989-9368 or use the box at the top of this page to pledge online!
2:37:07 ()
jefferson starbucks
we built this starbucks
This is what could happen if you don't pledge!
2:41:23 ()
gap dream
shine your light
shine your light
burger
Pledge now and you could win this CD! 800-989-9368 or use the box at the top of this page to pledge online!
*
2:52:23 ()
rodion g.a.
salt 83
the lost tapes
strut
Pledge now and you could win this CD! 800-989-9368 or use the box at the top of this page to pledge online!
2:55:24 ()