Order and disorder in a freeform haze of terribly-played guitars, shorted-out electronics, found audio detritus, strange sounds from strange lands all around. Psych-punk-junk, collage, even pop. Lots of in-studio live performances to boot.
February 16, 2010: w/ special interview with YOKO ONO

Listen to this show:
Pop‑up player! | Add or read comments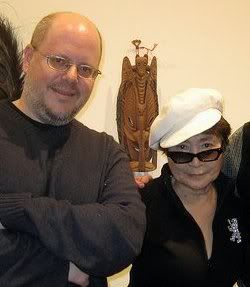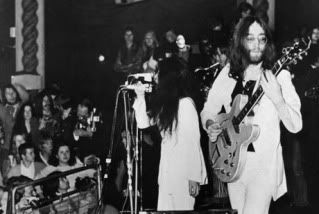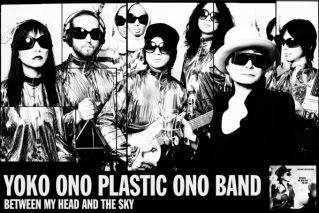 BT and Yoko from her downtown studio; interview around 4:30 PM today and the Plastic Ono Band plays a second night tonight at BAM's Gilman Opera House (some extra tickets have been made available today).
| Artist | Track | Album | Label | Comments | New | Approx. start time |
| --- | --- | --- | --- | --- | --- | --- |
| Melvins | Youth Of America | Sludge Glamorous | From the Nursery | | * | 0:00:00 (Pop‑up) |
| The Rebel | The Forest | The Incredible Hulk | Junior Aspirin | | * | 0:10:37 (Pop‑up) |
| Stian Skagen | Excerpt | The Inward Rising | Prisma | | * | |
| Nudge Squidfish | Metal Or Meat | 20,000 Leagues Under Nashville | Columbus Discount | | * | |
| Kreamy 'lectric Santa | Mindy Cohn | Operation Spacetime Cynderblock Four Riddles of the Spheres | Starcleaner | | * | |
| U.S. Girls | I Don't Have a Mind of My Own | Go Grey | Siltbreeze | | * | |
| Loyce e Os Gnomes | Era Uma Nota De | Various: Brazilian Guitar Fuzz Bananas | World Psychedelia Ltd | | * | |
| Wolfbane | Wolfbane | Wolfbane | Shadow Kingdom | | * | |
| Tony Tears | Antichi Messaggi | Voci dal Passato | Manium Evocandorum Doctrina | | * | |
| Gunslingers | I Know What You Want | Manifesto Zero | World In Sound | | * | |
| Yoko Ono / Plastic Ono Band | D Train | Between My Head and the Sky | Chimera Music | | * | |
| Yoko Ono | Dogtown | A Story | Ryko | | | |
| Yoko Ono | No Bed For Beatle John | Unfinished Music Vol. 2: Life With the Lions | Ryko | | | |
| Yoko Ono / Plastic Ono Band | Feel the Sand | Between My Head and the Sky | Chimera Music | | * | |
| Yoko Ono | Death of Samantha | Approximate Infinite Universe | Ryko | | | 1:20:20 (Pop‑up) |
| Beatles / Yoko Ono | Let It Be outtake jam | http://www.youtube.com/watch?v=SYqCpvzXGTE | | | | 1:27:14 (Pop‑up) |
| Yoko Ono | Interview w/BT | | | At 77, Yoko Ono has just released one of her best records, "Between My Head and the Sky," a cosmic and kinetic set of songs featuring Daniel Carter, Yuka Honda, son Sean and others in what looks like a full resurrection of the Plastic Ono Band moniker. In fact, an epic big-band version will be performing a (now sold-out) set at BAM on February 16th with a lineup that will include the boggling collision of Cornelius, Paul Simon, Thurston Moore, Jim Keltner, Haruomi Hosono, Eric Clapton, Kim Gordon and Bette Midler. Tune in that afternoon when Brian gets the exciting opportunity to sit down with Yoko at her studio and delve into the life and mind of one of the great avant-garde figures in conceptual, performance, visual and sound art. | | 1:33:50 (Pop‑up) |
| Yoko Ono / Plastic Ono Band | Calling | Between My Head and the Sky | Chimera Music | | * | 1:55:38 (Pop‑up) |
| Yoko Ono / Plastic Ono Band | Fly | Fly | Ryko | | | 2:03:58 (Pop‑up) |
| Plastic Ono Band | Don't Worry Kyoko | Live Peace In Toronto 1969 | Apple | | | 2:24:42 (Pop‑up) |
| Galaxie 500 | Listen the Snow Is Falling | This Is Our Music | Ryko | | | 2:43:13 (Pop‑up) |