Brian Turner: Playlist from June 27, 2017
Order and disorder in a freeform haze of terribly-played guitars, shorted-out electronics, found audio detritus, strange sounds from strange lands all around. Psych-punk-junk, collage, even pop. Lots of in-studio live performances to boot.
<-- Previous playlist | Back to Brian Turner playlists | Next playlist -->
---
June 27, 2017: w/ live set from FERAL OHMS

Listen to this show: | Add or read comments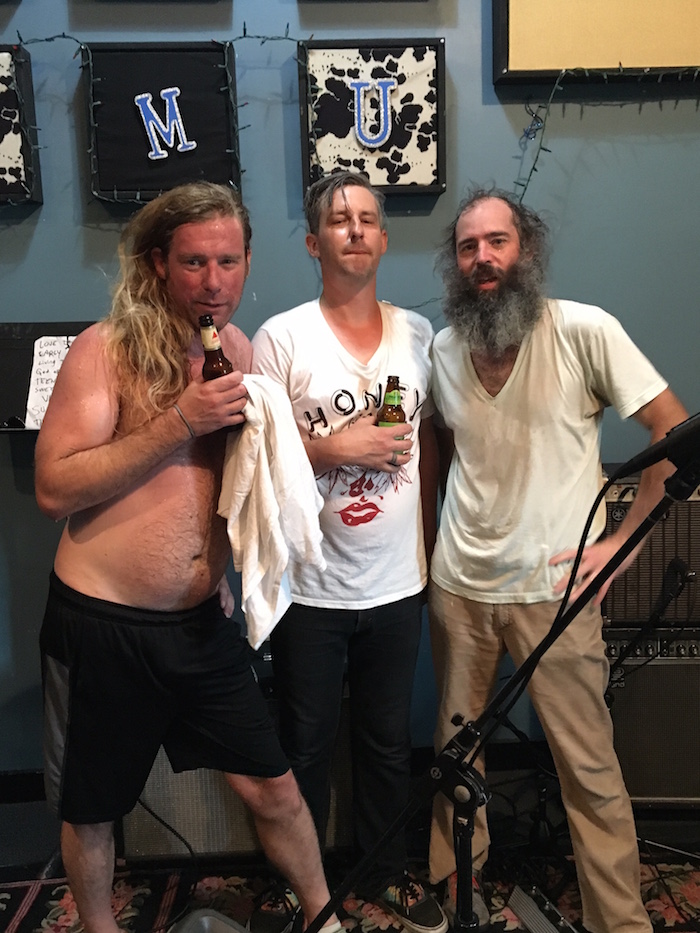 Feral Ohms live at 4:30pm!
(* = new)


| Artist | Track | Album | Label | Comments | New | Approx. start time |
| --- | --- | --- | --- | --- | --- | --- |
| Co)))ltrane | Agharthan Ascension | | | | | 0:00:00 () |
| Colin Stetson | Spindrift | All This I Do For Glory | 52Hz | | * | 0:09:53 () |
| Bowzer Late Night Informercial Handjive | | | | | | 0:15:30 () |
| AGF | Ninjaness | Various: Monika Werkstatt | Monika | | * | 0:15:57 () |
| The Rebel | Arabian Knights | Live here on the show 2008 | | also on Sacred Bones LP "Northern Rocks Bear Weird Vegetable" | | 0:19:25 () |
| Titmen | Pharoah Chromium | Split cassette w/Anal Babes | Loki Tapes | Chrome cover | * | 0:22:25 () |
| Science Project | Discogs Attack/Might Makes Right | Basement Blues | Neck Chop | | * | 0:25:40 () |
| Mike & the Melvins | Annalisa | Three Men and a Baby | Sub Pop | | * | 0:27:52 () |
| Complete | Yesterday | Hoogie Boogie Land | No Label | | * | 0:36:31 () |
| Broom Hellda | Out For the Kill | | | | | 0:41:17 () |
| Perverts Again | My Accident | 7" | Total Punk | | * | 0:44:09 () |
| High Speed and the Afflicted Man | Sun Sun | Get Stoned Ezy | Rock Toilet | | | 0:47:04 () |
| Sonic Smith's Ascension | Summer Cannibals | Live 1973! | | | | 1:03:25 () |
| Electric Eels | Flapping Jets | | | | | 1:06:58 () |
| Schizos | I'm A Bug | Fuck Iggy Pop | Neck Chop | Urinals cover | * | 1:14:39 () |
| The Fall | Totally Wired | 2/23/81 The Plaza, Glasgow | | | | 1:15:39 () |
| Lava | Tears Are Goin' Home | Various: Cerebral Sounds of Brain Records 1972-1979 | Brain/Vertigo/Universal | | * | 1:20:57 () |
| Gerard Depardieu | La P'tite Agathe | Various: Bingo! French Punk Exploitation 1978-1981 | Born Bad | | * | 1:23:55 () |
| Puke Spit and Guts | Sidewalk Hog | Eat Hot Lead | Black Gladiator/Slovenly | | * | 1:25:18 () |
| Tropical Trash | Exit Dust | 7" | | coming up here on the show in August! | * | 1:28:52 () |
| Feral Ohms | Live in the WFMU Studio | Engineered by Mario Santana | | Feral Ohms are an Oakland trio specializing in thundering, destructive caverock of the highest degree, visiting WFMU today on the heels of their debut studio LP and a Union Pool afternoon blowout from June 24th. Featuring Ethan Miller on guitar and vox from Howlin' Rain, Comets On Fire, and most recently Heron Oblivion, with ferocity matched by drummer Chris Johnson (Drunk Horse), and Josh Haynes (Nudity). Expect blisters and boggled brains! Lotsa Ohms records over at Revolver. Also dig in to their Bandcamp. Setlist: Love Damage / Early Man / God Of Nicaragua / Living Junkyard / Teenage God Born To Die / Sweetbreads / Value On The Streets / The Glow / Super Ape, Update: now downloadable via the Free Music Archive! | | 1:36:07 () |
| Rolling Stones | Perth 2/24/73 | | | | | 2:15:33 () |
| Chris Corsano & Bill Orcutt | Untitled | Live at Various/Various Live | Palilalia | | * | 2:38:38 () |
| Grandpa's Toolbox | Szechuan Rib Takeout | Dusty Hard Candy In Nana's Purse (3LP set) | No Label | | * | 2:42:26 () |
| W-2 | Beige and Distrusttful | Fanatics | Astral Spirits | coming up live on the show Aug 15th! | * | 2:45:25 () |
| Alan Sondheim / Azure Carter / Luke Damrosch | Hegelmadalmod | Limit | Public Eyesore | | * | 2:49:34 () |
| Swissair | Oopera | Viimeinen Kutsu 1982 | Ruton Music | | * | 2:52:07 () |
| Sparks | We Are the Clash | | | | | 2:54:19 () |
<-- Previous playlist
| Back to
Brian Turner playlists
|
Next playlist -->
RSS feeds for Brian Turner:
Playlists feed |
MP3 archives feed
| Email
the Program Director
|
Other WFMU Playlists
|
All artists played by Brian Turner
|
---
Listen on the Internet
|
Contact Us
|
Music & Programs
|
WFMU Home Page
|
Support Us
|
FAQ
Live Audio Streams:
Pop-up
|
128k AAC
|
128k MP3
|
32k MP3
|
32k Windows
---