100% Whatever with Mary Wing: Playlist from May 15, 2016
Music without words, words without music, and combinations therein. The freeform soundtrack for working, shirking, or twerking.

If you would like to receive an email with the schedule of what's playing on the Give The Drummer Radio webstream each day, subscribe here. It's only one email per day; you can check out previous emails by clicking on "View Letter Archive" at that link before subscribing if you wish. Never miss a Drummer show (especially mine!) again!

<-- Previous playlist | Back to 100% Whatever with Mary Wing playlists | Next playlist -->
---
Upcoming events:
Sun. Jan 19th, 9am - Noon: Mary Wing fills in for Reggae Schoolroom

---
May 15, 2016: Live music from SHANA FALANA!
Shoegazers of the world, rejoice! Shana Falana is an experimental dream-pop band emerging from New York's vast shoegaze scene. Combining live-looping of reverb-drenched vocals and guitar with drums, backing tracks, and stunning visual projections, Shana's live experience has often been described as transcendental. Praised as "the most entrancing modern psychedelic pop now being made," the debut LP "Set Your Lightning Fire Free" is out now on Team Love Records. Tune in to hear a live set beginning at 1 am, when we will all learn the correct way to pronounce Shana Falana!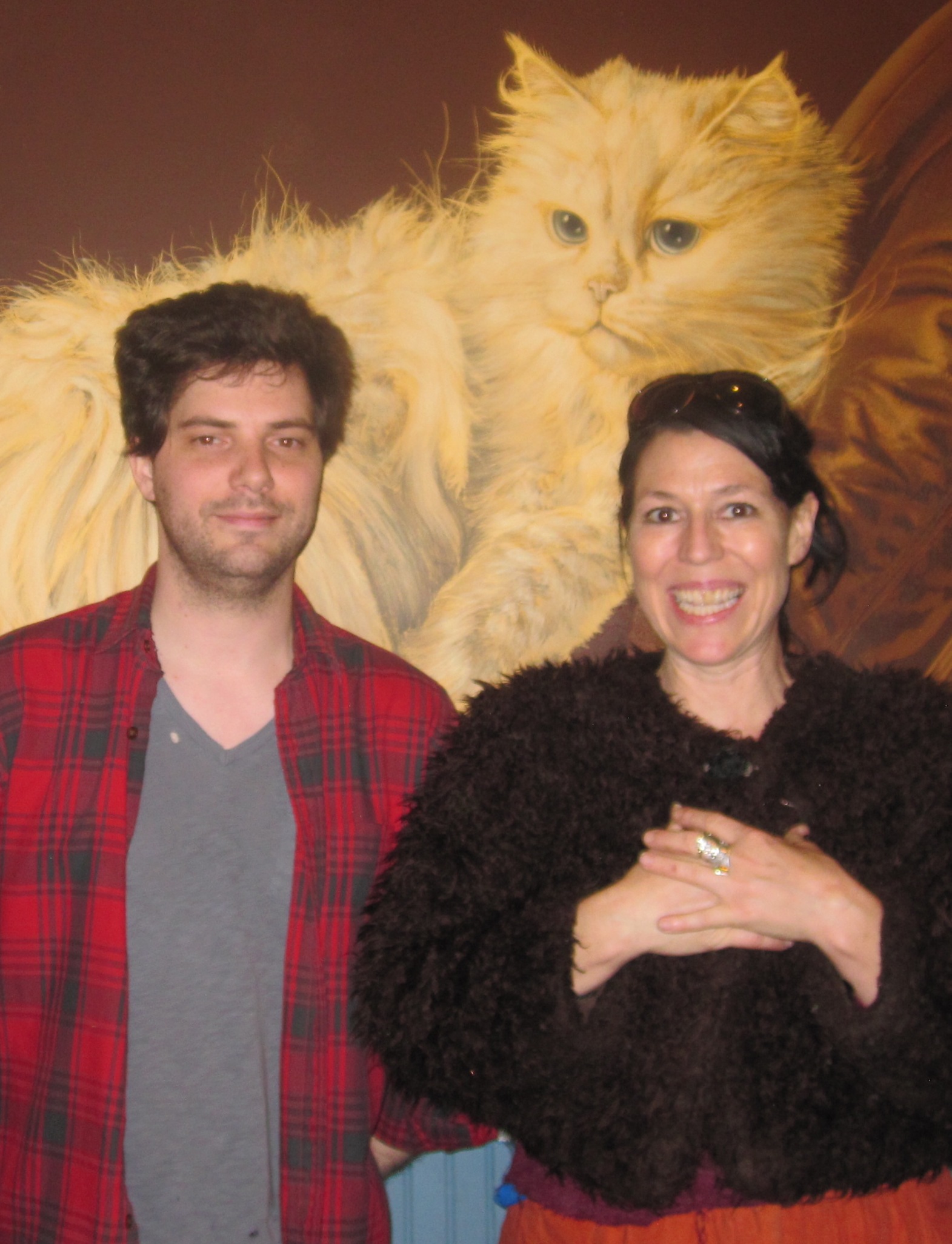 Michael and Shana

Listen to this show:
Pop‑up player!
(* = new, *** = "Three of a Kind" covers segment)


Artist
Track
Album
Label
Year
Format
Comments
New / Special
Approx. start time
Dennis Young
Ancient Vision
Wave
Bureau B
2016
CD
Originally recorded between 1984 and 1988.
*
0:00:00 (Pop‑up)
Indian Jewelry
Riding Cars Talking Trash
Doing Easy
Studded Left
2015
CD
*
0:09:43 (Pop‑up)
Japan
Still Life In Mobile Homes
Tin Drum
Virgin
1981
MP3
0:13:59 (Pop‑up)
Santiago Cordoba
19 Horas
Corso
self-released
2015
CD
*
0:19:36 (Pop‑up)
Accordion Tribe
Wave Hall
Accordion Tribe
Intuition
1998
CD
0:23:12 (Pop‑up)
Peter Gabriel
Come Talk To Me
Us
Geffen
1992
CD
Additional vocals by Sinéad O'Connor.
0:29:13 (Pop‑up)
Sinéad O'Connor
I Want Your Hands On Me
The Lion And The Cobra
Chrysalis
1987
MP3
0:36:13 (Pop‑up)
Mariya May
Open Up (It's Cold)
Call Me Back If You Can Dig The Music
Ten Dollar Recording Co.
2016
CD
*
0:40:50 (Pop‑up)
Wild Belle
June
Isles
Columbia
2013
CD
0:45:05 (Pop‑up)
Eleanor Friedberger
Because I Asked You
New View
Frenchkiss
2016
CD
0:49:05 (Pop‑up)
Heron Oblivion
Rama
Heron Oblivion
Sub Pop
2016
CD
Playing at Monty Hall on Thursday, May 26th!
*
0:52:47 (Pop‑up)
Barbara Morgenstern
Eine Verabredung
Fan No. 2
Monika
2010
MP3
This song originally released in 2000.
0:56:33 (Pop‑up)
Music behind DJ:
Barbara Morgenstern
Eine Verabredung
Fan No. 2
Monika
2010
MP3
1:00:32 (Pop‑up)

SHANA FALANA live on WFMU
Recorded May 14, 2016, engineered by Glenn Luttmann

Shana Falana: guitar, vocals, and effects
Michael Amari: drums

You can download this live session at the Free Music Archive!


Shana Falana
Cool Kids
(Live on WFMU)
2016
WAV
1:07:57 (Pop‑up)
Shana Falana
Cloud Beats
(Live on WFMU)
2016
WAV
1:16:02 (Pop‑up)
Shana Falana
Brainy Fox
(Live on WFMU)
2016
WAV
1:21:16 (Pop‑up)
Shana Falana
Heavenstay
(Live on WFMU)
2016
WAV
1:25:07 (Pop‑up)
Shana Falana
Go
(Live on WFMU)
2016
WAV
1:27:41 (Pop‑up)
Shana Falana
Shine Through
(Live on WFMU)
2016
WAV
1:32:18 (Pop‑up)
Tom Cruise And Katie Holmes
New Day
A Million Farewells
Genjing
2015
LP
On clear splatter vinyl.
*
1:37:12 (Pop‑up)
Gwenno
Calon Peiriant
Y Dydd Olaf
Heavenly / PIAS
2015
CD
See Gwenno and Shana Falana at Rough Trade in Brooklyn on Wednesday, May 18th!
*
1:40:02 (Pop‑up)
Bibio
C'est La Vie
A Mineral Love
Warp
2016
CD
*
1:45:11 (Pop‑up)
Harmonia
Proto-Deluxe At Harmonia Studio In Forst
Documents 1975
Groenland
2016
LP
Originally recorded in 1975.
*
1:48:40 (Pop‑up)
Bee Vs. Moth
Problems With Crowds
Shelter In Place
self-released
2014
CD
1:53:10 (Pop‑up)
Malaria
Your Turn To Run (I Will Be Your Only One)
New York Passage
Cachalot
1982
12"
1:57:24 (Pop‑up)
Music behind DJ:
Barbara Morgenstern
Eine Verabredung
Fan No. 2
Monika
2010
MP3
2:01:35 (Pop‑up)
Catherine Wheel
Black Metallic
Ferment
Island Def Jam
1992
MP3
***
2:12:07 (Pop‑up)
Hammock
Black Metallic
EPs, Singles And Remixes
Hammock Music
2013
MP3
A Catherine Wheel cover.
***
2:19:20 (Pop‑up)
Plumbline
Black Metallic
Never Lose That Feeling
Club AC30
2005
MP3
Various artists; a Catherine Wheel cover.
***
2:26:49 (Pop‑up)
Lotte Kestner
Black Metallic
Extra Covers Collection
self-released
2012
MP3
A Catherine Wheel cover.
***
2:33:36 (Pop‑up)
Sway
Black Metallic
RaS Media
2012
MP3
A Catherine Wheel cover.
***
2:36:59 (Pop‑up)
Jean-Michel Jarre
Here For You
Electronica 2 - The Heart Of Noise
Sony / MAE
2016
CD
Vocals by Gary Numan. Hear an interview with Jean-Michel Jarre on Morricone Island on Tuesday, May 17th at 7 pm!
*
2:41:40 (Pop‑up)
P.J. Harvey
Chain Of Keys
The Hope Six Demolition Project
Vagrant
2016
CD
*
2:45:38 (Pop‑up)
Porches
Hour
Pool
Domino
2016
CD
*
2:48:44 (Pop‑up)
Animal Collective
Bagels In Kiev
Painting With
Domino
2016
CD
*
2:51:52 (Pop‑up)
Music behind DJ:
Barbara Morgenstern
Eine Verabredung
Fan No. 2
Monika
2010
MP3
2:54:34 (Pop‑up)
<-- Previous playlist
| Back to
100% Whatever with Mary Wing playlists
|
Next playlist -->
RSS feeds for 100% Whatever with Mary Wing:
Playlists feed |
MP3 archives feed
|
E-mail Mary Wing
|
Other WFMU Playlists
|
All artists played by 100% Whatever with Mary Wing
|
---
Listen on the Internet
|
Contact Us
|
Music & Programs
|
WFMU Home Page
|
Support Us
|
FAQ
Live Audio Streams:
Pop-up
|
128k AAC
|
128k MP3
|
32k MP3
|
32k Windows
---