100% Whatever with Mary Wing: Playlist from July 12, 2015
Music without words, words without music, and combinations therein. The freeform soundtrack for working, shirking, or twerking.

If you would like to receive an email with the schedule of what's playing on the Give The Drummer Radio webstream each day, subscribe here. It's only one email per day; you can check out previous emails by clicking on "View Letter Archive" at that link before subscribing if you wish. Never miss a Drummer show (especially mine!) again!

<-- Previous playlist | Back to 100% Whatever with Mary Wing playlists | Next playlist -->
---
July 12, 2015: Live music from MONK PARKER!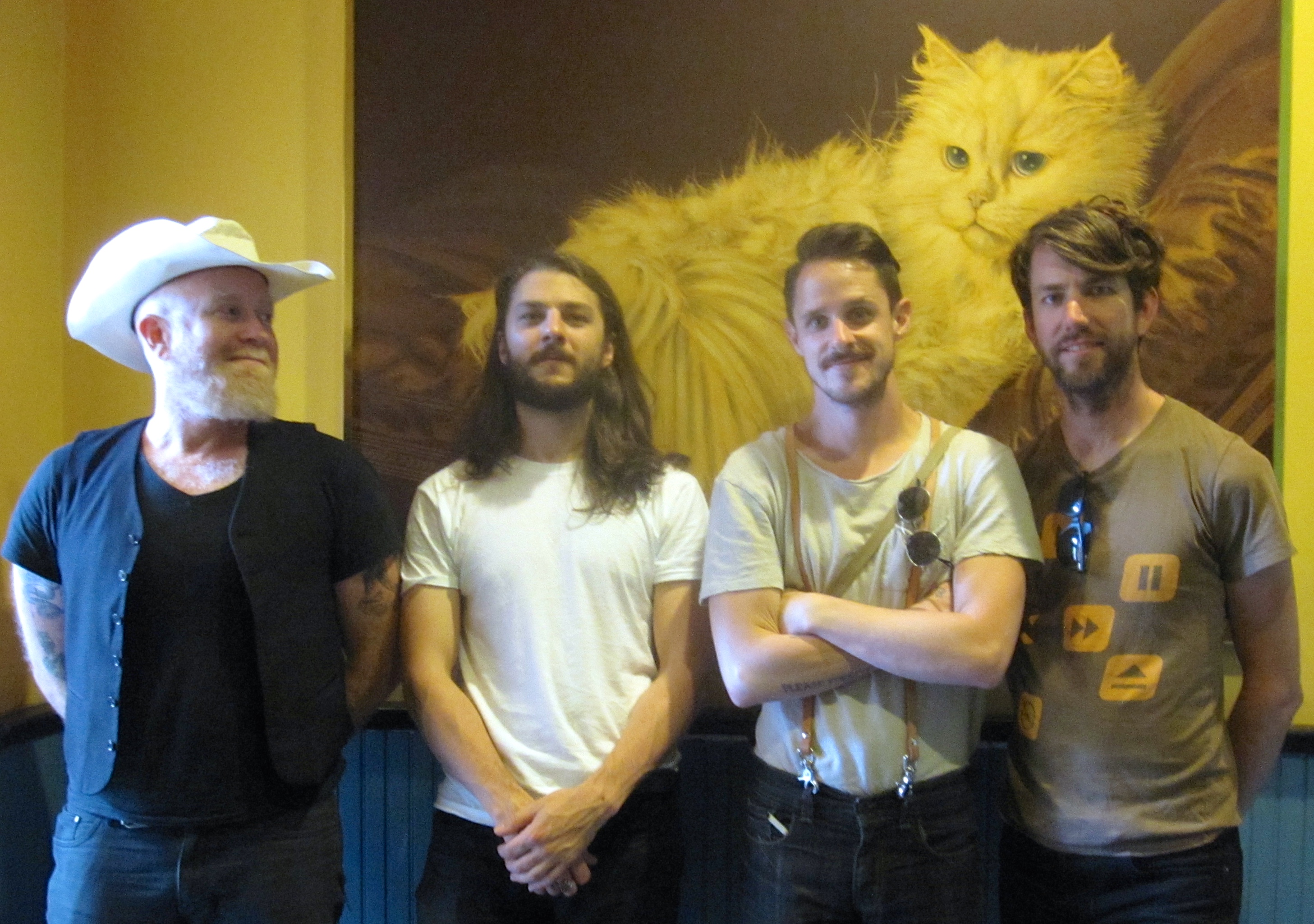 Left to right: Monk Parker, Thom, B.C., and Jon

Simmering in the fertile musical casserole of Austin, Texas, Monk Parker brings his shimmering, eloquent songs to WFMU on 100% Whatever tonight. At times haunting and melancholy, with organ and horns washing over each other in a reverb sea, it perfectly captures the sound of twilight; those hours just before the sky turns completely black. Previously creating music in the bands Parker & Lily and The Low Lows, he is currently on tour to promote his first solo album, "How The Spark Loves The Tinder," to be released on August 28th on the
Bronze Rat
label; see him live if you can or hear him starting at 1 am!
Listen to this show:
(* = new, *** = "Three of a Kind" covers segment)


Artist
Track
Album
Label
Year
Format
Comments
New / Special
Approx. start time
Moritz Von Oswald Trio
Sounding Lines 1
Sounding Lines
Honest Jons
2015
CD
*
0:00:00 ()
Michiko Kawagoe
Propagation
Women Take Back The Noise - Orgonauta
Ubuibi
2006
CD
Various artists.
0:10:16 ()
Fred Weinberg
Heavy Breathing
The Weinberg Method Of Non-Synthetic Electronic Rock
QDK Media
2002
MP3
Originally released in 1968.
0:15:38 ()
The Gun Club
Promise Me
Fire Of Love
Slash
1993
CD
Originally released in 1981.
0:19:03 ()
Grinderman
When My Baby Comes
2
Anti-
2010
CD
0:21:40 ()
Matt "MV" Valentine
Jeremiah Red
Midden Mound
Child Of Microtones
2015
CD
*
0:28:23 ()
RTVB Choir
Yo Igra Oro
Le Mystère Des Voix Bulgares Vol. 3
Fontana / Polygram
1990
CD
Various artists.
0:36:55 ()
Vic Chesnutt
Sewing Machine
Skitter On Take-Off
Vapor
2009
CD
0:38:48 ()
Sack und Sheffield
Inner Voice Radio
Sack und Sheffield Cassette
Powdered Heart
2014
MP3
0:42:49 ()
Warpaint
Go In
self-titled
Rough Trade
2014
CD
0:45:10 ()
Thomas Dolby
One Of Our Submarines
Blinded By Science EP
Harvest / Capitol
1983
EP
0:49:08 ()
Teardrop Explodes
Suffocate
Wilder
Mercury
2000
CD
Originally released in 1981.
0:56:22 ()
Barbara Morgenstern
Eine Verabredung
Fan No. 2
Monika
2010
MP3
This song originally released in 2000.
1:00:10 ()
Music behind DJ:
Barbara Morgenstern
Eine Verabredung
Fan No. 2
Monika
2010
MP3
1:04:09 ()

MONK PARKER live on WFMU
Recorded July 3, 2015, engineered by Mario Santana

Monk Parker: guitar, vocals
B.C. Costello: AceTone organ
Jon Merz: trombone, Rhodes Bass, acoustic guitar, backing vocals
Thom Washburn: drums

You can download this live session at the Free Music Archive!


Monk Parker
Oh Cousin
(Live on WFMU)
2015
WAV
1:10:57 ()
Monk Parker
I See Stars
(Live on WFMU)
2015
WAV
1:18:23 ()
Monk Parker
Prom
(Live on WFMU)
2015
WAV
1:26:39 ()
Monk Parker
Sleepaway
(Live on WFMU)
2015
WAV
1:30:57 ()
Monk Parker
Wanna Be Forgotten
(Live on WFMU)
2015
WAV
1:37:44 ()
Monk Parker
The Last Wonder Of The World
(Live on WFMU)
2015
WAV
1:43:44 ()
Monk Parker
Sadly Yes
(Live on WFMU)
2015
WAV
1:48:11 ()
Parker And Lily
I Am A Gun
The Low Lows
Warm
2004
CD
1:54:25 ()
The Low Lows
Sparrows
Shining Violence
Misra
2008
CD
1:59:24 ()
Music behind DJ:
Barbara Morgenstern
Eine Verabredung
Fan No. 2
Monika
2010
MP3
2:04:05 ()
Ernie K-Doe
A Certain Girl
Finger Poppin' And Stompin' Feet: 20 Classic Allen Toussaint Productions For Minit Records 1960-1962
MP3
***
2:17:07 ()
The Yardbirds
A Certain Girl
London Time
MP3
***
2:19:54 ()
Warren Zevon
A Certain Girl
Bad Luck Streak In Dancing School
MP3
***
2:22:10 ()
The West Cork Ukulele Orchestra
Ra Ra Rasputin
2011
A Boney M. cover; from YouTube.
2:25:16 ()
Nozinja
Wo Va Jaha
Lodge
Warp
2015
CD
*
2:29:03 ()
The Power Station
Get It On (backward)
Get It On 12"
Capitol
1985
12"
2:34:19 ()
Cerrone
Supernature (edit)
The Best Of Cerrone Productions
Because Music
2014
CD
Various artists.
*
2:38:04 ()
G.U.
The Wheel
Only 4 U: The Sound Of Cajmere & Cajual Records 1992-2012
Strut
2012
CD
Various artists; this song originally released in 1996.
2:42:30 ()
Funka Fize
Because You're Funky
Because You're Funky / No Words 7"
Royce / Numero Group
2015
45
Originally released in 1973(?).
*
2:49:57 ()
Judd3rman
Seven Wicked Nights
2015
A mash-up of "Last Night [Latent Power Mix]" by Lush, "Wicked Game" by Chris Isaak, and "Seven Nation Army" by The White Stripes. From YouTube.
2:53:30 ()
Music behind DJ:
Barbara Morgenstern
Eine Verabredung
Fan No. 2
Monika
2010
MP3
2:58:58 ()
<-- Previous playlist
| Back to
100% Whatever with Mary Wing playlists
|
Next playlist -->
RSS feeds for 100% Whatever with Mary Wing:
Playlists feed |
MP3 archives feed
|
E-mail Mary Wing
|
Other WFMU Playlists
|
All artists played by 100% Whatever with Mary Wing
|
---
Listen on the Internet
|
Contact Us
|
Music & Programs
|
WFMU Home Page
|
Support Us
|
FAQ
Live Audio Streams:
Pop-up
|
128k AAC
|
128k MP3
|
32k MP3
|
32k Windows
---