Brian Turner: Playlist from September 9, 2014
Order and disorder in a freeform haze of terribly-played guitars, shorted-out electronics, found audio detritus, strange sounds from strange lands all around. Psych-punk-junk, collage, even pop. Lots of in-studio live performances to boot.
<-- Previous playlist | Back to Brian Turner playlists | Next playlist -->
---
September 9, 2014: w/ live sets from SIR RICHARD BISHOP and TASHI DORJI

Listen to this show: | Add or read comments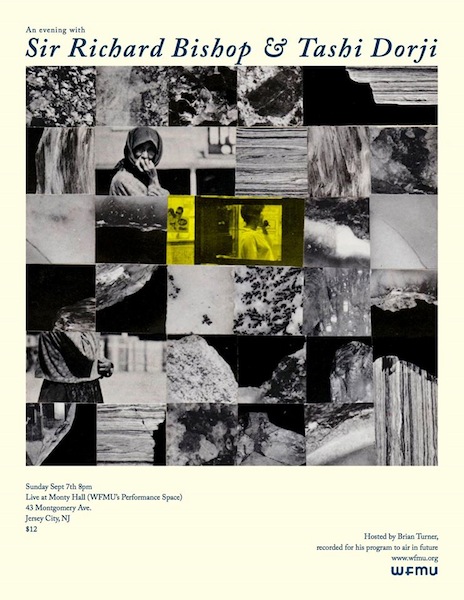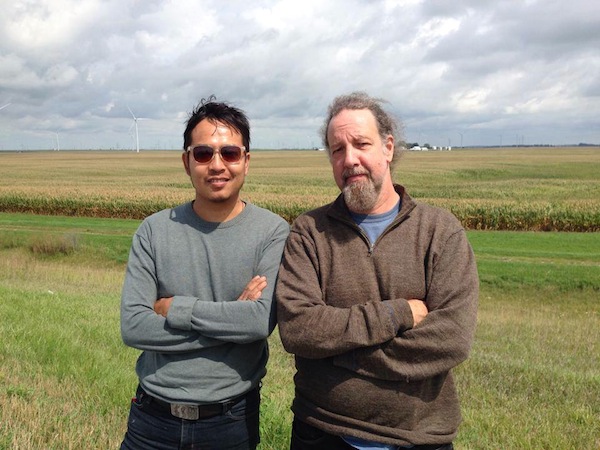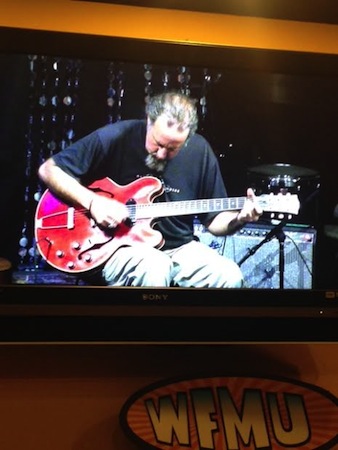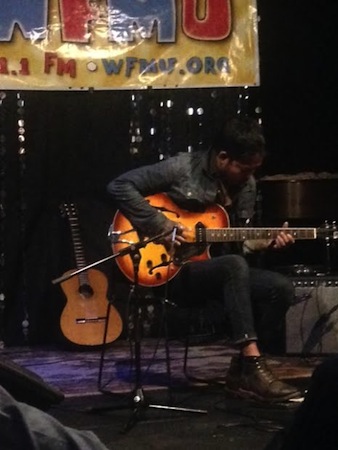 Sir Richard Bishop and Tashi Dorji live today, recorded at WFMU's Performance Space, Monty Hall, on Sunday 9/7 in front of a live audience for today's broadcast. Thanks to Matt Marando, and Scott Konzelmann for engineering, Ruth Hayduk, Joe McGasko, Tony B, Liz Berg, Scott Williams, Ken Freedman, and volunteers Bridget Murray and Scott McDowell for helping out.
(* = new)


| Artist | Track | Album | Label | Comments | New | Approx. start time |
| --- | --- | --- | --- | --- | --- | --- |
| Bruce Russell | No Mean Dub (Chinagraph #2) | Ruined Again (split LP w/Gnarlos) | L'esprit de L'escalier | | * | |
| Bowie, Eno, & Visconti | | | | | | |
| Bruce Russell | No Mean City (Escalier Mix) | Ruined Again (split LP w/Gnarlos) | L'esprit de L'escalier | | * | |
| "we're italians too" | Unknown | 7" Brooks Headley gave me last week and wouldn't say what it was | Bureau B | | * | |
| Kolsh / Schickert / Erdenreich | Yoyodyne | Ziguri | Bureau B | | * | |
| Country Teasers | Point of View (live WFMU) | Live here on the show 6/15/06 | No Label | | | |
| Spray Paint | Ask My Old Roommate, Man | 7" | Upset the Rhythm | | * | |
| Exiles From Clowntown | Space Today | Tape Scissors Rock | Soft Abuse | | * | |
| Silberbart | Chub Chub Cherry | 4 Times Sound Razing | Progressive Line | | | |
| Raw Meat | Stand By Girl | 7" | Blue Hour | | | |
| Uniform | Our Blood | 12" | Beggars Tomb | | * | |
| Nord | Untitled | NH Tapes | PCP | | | 0:50:27 () |
| Tashi Dorji | Live at WFMU's Monty Hall 9/7/14 | | | Tashi Dorji is Bhutan-born guitarist absorbed a childhood full of shortwave radio before moving to the US and discovering Derek Bailey and Albert Ayler and incorporating all his musical loves into a truly varied and forward-thinking vocabulary. In this era some may have chalked up the guitar to have exhausted itself as a means of breaking new boundaries in expression, yet Dorji, now in North Carolina, has wowed such advanced axemen as Bill Orcutt, Ben Chasny, and Sir Richard Bishop of the Sun City Girls who is part two of today's bill, making his second appearance on Brian's show. This taping was in front of a live audience on September 7th at WFMU's ground floor performance space, Monty Hall. Tashi's Bandcamp. | | 0:59:23 () |
| Sir Richard Bishop | Live at WFMU's Monty Hall 9/7/14 | | | Rick's website and also his Captured In Asia tumblr of photographs from his travels | | 1:45:45 () |
| Ritual Mouth Organs of the Murung | Dance For the Sacrifice | Orgues-à-bouche: Rituels des Murung: Bangladesh | Ocora | | | 2:40:38 () |
| Sun Ra | Wind in the Trees | Church Organ, 1948 | No Label | | * | 2:49:17 () |
| Senyawa | Sisa | Acaraki | Dual Plover | | * | 2:51:54 () |
| Peter Brotzmann / Han Bennink | NR3 | Schwarzwaldfahrt | Atavistic | | | 2:56:41 () |
<-- Previous playlist
| Back to
Brian Turner playlists
|
Next playlist -->
RSS feeds for Brian Turner:
Playlists feed |
MP3 archives feed
| Email
the Program Director
|
Other WFMU Playlists
|
All artists played by Brian Turner
|
---
Listen on the Internet
|
Contact Us
|
Music & Programs
|
WFMU Home Page
|
Support Us
|
FAQ
Live Audio Streams:
Pop-up
|
128k AAC
|
128k MP3
|
32k MP3
|
32k Windows
---