Brian Turner: Playlist from March 4, 2014
Order and disorder in a freeform haze of terribly-played guitars, shorted-out electronics, found audio detritus, strange sounds from strange lands all around. Psych-punk-junk, collage, even pop. Lots of in-studio live performances to boot.
<-- Previous playlist | Back to Brian Turner playlists | Next playlist -->
---
March 4, 2014: Marathon Week 2 w/co-host BRONWYN C

Listen to this show:
Pop‑up player! | Add or read comments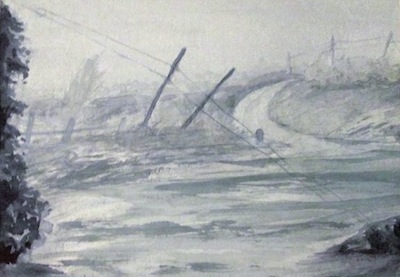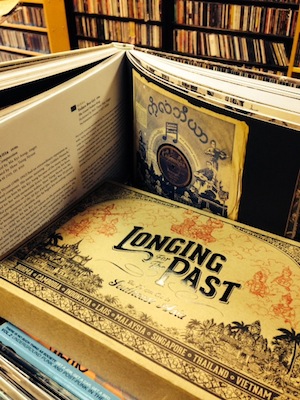 Letha Rodman Melchior donated a framed painting "Lines Down" today (which will be given away with her Handbook For Mortals LP on Siltbreeze), and separately, today's box set prize will be the great collection LONGING FOR THE PAST, 4cds + book of Southeast Asian 78s, via Dust To Digital. Everyone making a premium sized pledge of $75 and up is in the running for one of these at the end of the show, but that pledge will automatically get you my personal Australian mix disc SQUAWKABOUT.
(* = new)


| Artist | Track | Album | Label | Comments | New | Approx. start time |
| --- | --- | --- | --- | --- | --- | --- |
| Dan Peters Combo | Do You Remember Walter? | | | | | 0:00:00 (Pop‑up) |
| Crispy Ambulance | United | | | | | 0:03:00 (Pop‑up) |
| Spirocheta Pergoli | Romero's Living Dead | Various: Mutazione | | 2cd of experimental Italian electronic and new wave 1980-88 is our first prize up for grabs! | | 0:08:08 (Pop‑up) |
| Die Form | Are You Before | Various: Mutazione | | | | 0:22:01 (Pop‑up) |
| Velvet Underground | Guess I'm Falling In Live (live Gymnasium) | White Light White Heat 45th anniversary 2cd | | Prize up for grabs right now | | 0:31:12 (Pop‑up) |
| Lou Reed | WPIX 1979 | | | | | 0:35:51 (Pop‑up) |
| Thee Oh Sees | Burning Spear | Singles Collection Vol. 3 | | | * | 0:37:20 (Pop‑up) |
| The Jax | The Jax Are Back | 7" | | | | 0:40:09 (Pop‑up) |
| Gasaneta | ??? | Sooner or Later | | | | 0:54:39 (Pop‑up) |
| The Hospitals | Happy Jack | | | | | 0:57:27 (Pop‑up) |
| The Ex | Live Wire | here on the show 12/15/06 | | | | 1:00:42 (Pop‑up) |
| Lee Ranaldo and the Dust | She Cracked | Live here on the show in January | | | | 1:17:08 (Pop‑up) |
| Pregnant Neck | Pie and Mash | | | | | 1:19:51 (Pop‑up) |
| Electric Eels | Agitated | | | | | 1:22:19 (Pop‑up) |
| Snapper | Death and Weirdness in the Surfing Zone | Snapper | Flying Nun | prize up for grabs now LP! | | 1:32:55 (Pop‑up) |
| Peter Gutteridge | Lonely | Pure | | 2LP of Snapper leader + the Snapper LP will be going to one gawddamned lucky pledger now! | | 1:35:30 (Pop‑up) |
| Duriyapranit Piphat Ensemble & Chorus | Untitled | Various: Longing for the Past | | This 4CD box set of Southeast Asian 78s is available as our grand prize today! $75 and up you'll be in the running (and will automatically get our premium today) | | 1:55:59 (Pop‑up) |
| Francois Tusques | Nous Allons Vous Conter...(Intercommunal Blues) | Various: Mobilisation Generale: Protest and Spirit Jazz from France 1970-76 | | This 2LP set on Born Bad Records is our next prize up for grabs | | 2:01:40 (Pop‑up) |
| Marshall Allen / Danny Ray Thompson / Charles Cohen / Ed Wilcox / Jerry Mayall | Live here on the show 5/5/13 | | | | | 2:11:36 (Pop‑up) |
| Heldon | Interface | Interface | | LP on superior Viaduct 1977 reissue, up for grabs now | | 2:22:45 (Pop‑up) |
| Standard of Living | Don't Worry | | | | | 2:27:41 (Pop‑up) |
| Los Punkrockers | Pretty Vacant | Los Exitos de Sex Pistols | | | | 2:30:33 (Pop‑up) |
| Scot Lyn Yard | Fighting For love | Hottest Thing On Earth | | | | 2:33:39 (Pop‑up) |
| Metz | Do You wanna Party | Metz | | LP reissue of killer Dallas TX glam up for grabs now | | 2:41:38 (Pop‑up) |
| Hard Stuff | Jay Time | Bulletproof | | | | 2:44:54 (Pop‑up) |
| Triton Warrior | Sealed In a Grave | Various: Wayfaring Strangers: Darkscorch Canticles | | | * | 2:48:19 (Pop‑up) |
<-- Previous playlist
| Back to
Brian Turner playlists
|
Next playlist -->
RSS feeds for Brian Turner:
Playlists feed |
MP3 archives feed
| Email
the Program Director
|
Other WFMU Playlists
|
All artists played by Brian Turner
|
---
Listen on the Internet
|
Contact Us
|
Music & Programs
|
WFMU Home Page
|
Support Us
|
FAQ
Live Audio Streams:
Pop-up
|
128k AAC
|
128k MP3
|
32k MP3
|
32k Windows
---