Music without words, words without music, and combinations therein. The freeform soundtrack for working, shirking, or twerking.

If you would like to receive an email with the schedule of what's playing on the Give The Drummer Radio webstream each day, subscribe here. It's only one email per day; you can check out previous emails by clicking on "View Letter Archive" at that link before subscribing if you wish. Never miss a Drummer show (especially mine!) again!

October 10, 2013: Live music from SURFER BLOOD!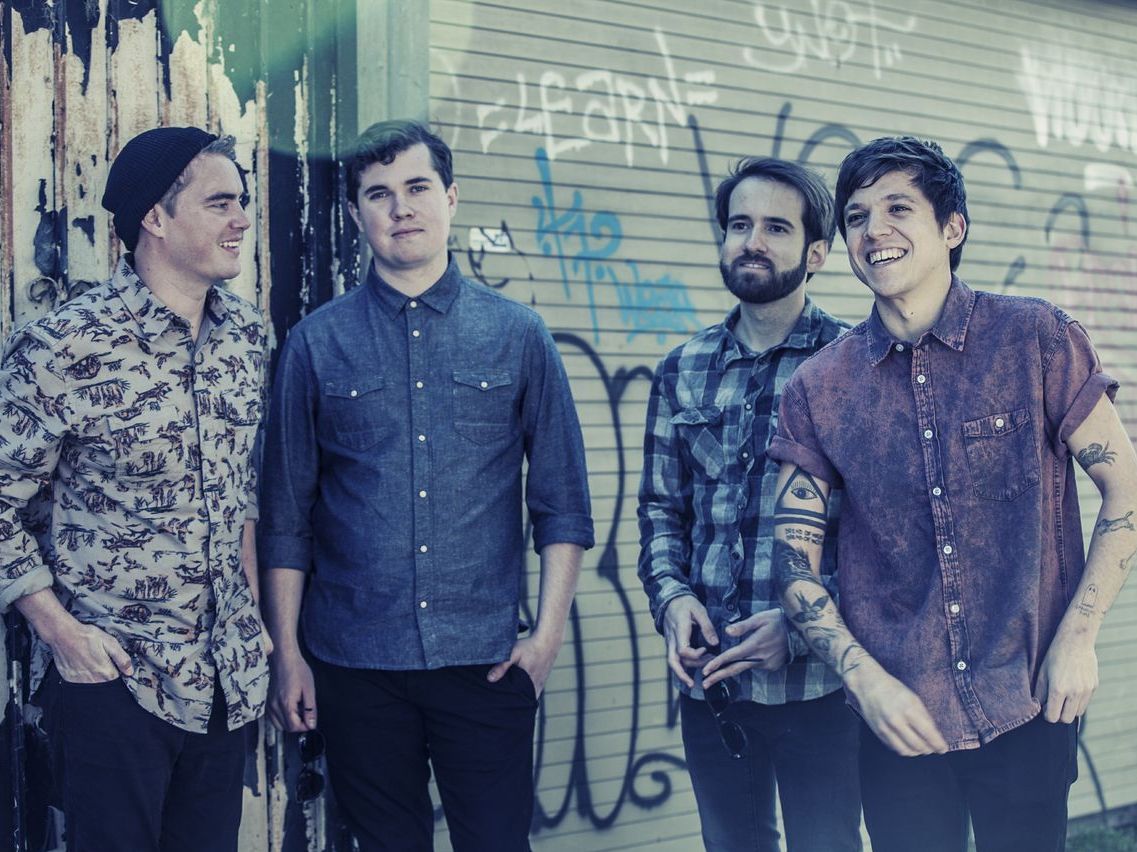 (Photo by Frank Maddocks.)
Originally forming in 2009 in West Palm Beach, Florida,
Surfer Blood
released their critically-acclaimed debut album "Astro Coast" in 2010 and then toured extensively around the world on the festival circuit. In 2012, they moved up from indie sensations to big-league-players by signing with Warner Brothers Records, and released their second album, "Pythons," earlier this year. Produced by the legendary Gil Norton (who has worked with The Pixies and Foo Fighters, among others) "Pythons" maintains the same dreamy surf rock sensibility of the band's debut but sees them buffing their pop gems into dynamic songs that feature expanded arrangements and a more focused approach to their craft, which is partially due to Norton's expert input. Hear their upbeat hooks and contagious melodies tonight, starting at 1 am!
Listen to this show:
Artist
Track
Album
Label
Year
Format
Comments
New
Approx. start time
Elton John
Funeral For A Friend / Love Lies Bleeding
Goodbye Yellow Brick Road
Island
2003
CD
Originally released in 1973; 30th anniversary deluxe edition.
0:00:00 ()
Orchestral Manoeuvres In The Dark
Bunker Soldiers
Peel Sessions (1979-1983)
Virgin / BBC
2000
CD
This version recorded on August 20, 1979.
0:11:03 ()
La Machine
Chop Shop
Phases & Repetition
Castle Face
2013
CD
*
0:13:49 ()
The Bunyip Moon
The Flies Buzzed In A Great Silence
World
self-released
2012
CD
0:19:05 ()
Alvaro
New Towels Don't Dry
Mañana
self-released
2013
CD
0:25:33 ()
Japan
Swing
Gentlemen Take Polaroids
Virgin
2003
CD
Originally released in 1980.
0:27:57 ()
School Of Seven Bells
Wired For Light
Alpinisms
Ghostly
2008
CD
0:34:22 ()
Glasser
Plane Temp
Ring
True Panther Sounds
2010
CD
0:39:16 ()
Hugo Montenegro
Na Na Hey Hey Kiss Him Goodbye
Colours Of Love
RCA
1970
LP
A Steam cover.
0:42:54 ()
Siouxsie and The Banshees
Kiss Them For Me (Kathak Extended Mix)
The Best Of Siouxsie and The Banshees
Geffen
2002
MP3
This song originally released in 1991.
0:46:03 ()
Music behind DJ:
All Star Orchestra
Asatoya Yunta (Song Of Asatoya)
Hawaiian Nisei Songs - A Musical Cocktail Of Japanese American Songs In 1950's Hawaii
Hana Ola / Cord International
2000
MP3
0:55:53 ()

Surfer Blood live on WFMU
Recorded October 6, 2013, engineered by Glenn Luttman

J.P. Pitts: lead vocals, guitar
Thomas Fekete: guitar, backing vocals, organ
Kevin Williams: bass, backing vocals
Tyler Schwarz: drums

You can download this live session at the Free Music Archive!


Surfer Blood
Floating Vibes
(Live on WFMU)
2013
WAV
1:03:18 ()
Surfer Blood
Twin Peaks
(Live on WFMU)
2013
WAV

(Click on the photos for a larger image.)
1:08:00 ()
Surfer Blood
Say Yes To Me
(Live on WFMU)
2013
WAV
1:12:14 ()
Surfer Blood
Demon Dance
(Live on WFMU)
2013
WAV


1:15:00 ()
Surfer Blood
Voyager Reprise
(Live on WFMU)
2013
WAV
1:18:40 ()
Surfer Blood
Fast Jabroni
(Live on WFMU)
2013
WAV


1:23:02 ()
Surfer Blood
Squeezing Blood
(Live on WFMU)
2013
WAV
1:26:02 ()
Surfer Blood
Swim
(Live on WFMU)
2013
WAV


1:28:55 ()
Citay
Mere Woods
self-titled
Important Records
2006
CD
1:32:13 ()
Harp Twins
Send Me An Angel
2013
A Scorpions cover; from YouTube.
1:39:56 ()
Tin Hat
Buffalo Bill
The Rain Is A Handsome Animal - 17 Songs From The Poetry Of E.E. Cummings
New Amsterdam
2012
CD
*
1:44:16 ()
Albert Ayler
Heart Love
Live On The Riviera
ESP-Disk
2013
CD
Recorded on July 25, 1970.
1:47:46 ()
Thomas Dolby
Spice Train
A Map Of The Floating City
Lost Toy People
2011
CD
1:52:54 ()
Music behind DJ:
All Star Orchestra
Asatoya Yunta (Song Of Asatoya)
Hawaiian Nisei Songs - A Musical Cocktail Of Japanese American Songs In 1950's Hawaii
Hana Ola / Cord International
2000
MP3
1:58:02 ()
Tom Waits
I Don't Wanna Grow Up
Bone Machine
Island
1992
CD
2:05:46 ()
Hell Blues Choir
I Don't Wanna Grow Up
Greetings From Hell - The Tom Waits Song Book
Tylden & Co.
2003
MP3
A Tom Waits cover.
2:08:18 ()
Scarlett Johansson
I Don't Wanna Grow Up
Anywhere I Lay My Head
Rhino
2008
CD
A Tom Waits cover.
2:13:02 ()
Lily Kershaw
We All Grow Up
Midnight In The Garden
Nettwerk
2013
CD
*
2:17:13 ()
The Crystals
All Grown Up
Da Doo Ron Ron: The Very Best Of The Crystals
EMI / Legacy
2011
CD
This song originally released in 1963.
2:20:13 ()
Joan Jett & The Blackhearts
Hard To Grow Up
Unvarnished
Blackheart Records Group
2013
CD
*
2:23:05 ()
The Chills
I Love My Leather Jacket
Kaleidoscope World
Homestead
1989
CD
This song originally released in 1986.
2:27:27 ()
Wanda Jackson
Hot Dog! That Made Him Mad
The Best Of The Classic Capitol Singles
Omnivore / Capitol
2013
CD
This song originally recorded on September 20, 1956.
*
2:30:24 ()
A-Bones
Get Home Girl
Music Minus Five
Norton
1993
CD
2:33:01 ()
Hommy Sanz Y Sus Jovenes De Puerto Rico
Triago Mozambique
Jala Jala Mozambique
Andale!
2012
LP
*
2:36:03 ()
Conjunto Brilliants
Las Bellas Ilusiones
Sensacional Soul Vol. 2: 32 Groovy Spanish Soul & Funk Stompers From 1965-1972
Vampisoul
2009
CD
2:41:06 ()
Marie Osmond
Paper Roses
Paper Roses
MGM
1973
LP
2:44:18 ()
Rowland S. Howard
Dead Radio
Teenage Snuff Film
LP
2:46:58 ()
Mimi Goese & Ben Neill
Elegy
Songs For Persephone
Ramseur
2011
CD
2:52:37 ()
Music behind DJ:
All Star Orchestra
Asatoya Yunta (Song Of Asatoya)
Hawaiian Nisei Songs - A Musical Cocktail Of Japanese American Songs In 1950's Hawaii
Hana Ola / Cord International
2000
MP3
2:58:01 ()