Order and disorder in a freeform haze of terribly-played guitars, shorted-out electronics, found audio detritus, strange sounds from strange lands all around. Psych-punk-junk, collage, even pop. Lots of in-studio live performances to boot.
March 5, 2013: Marathon Week #1 w/co-host SUE P.

Listen to this show: | Add or read comments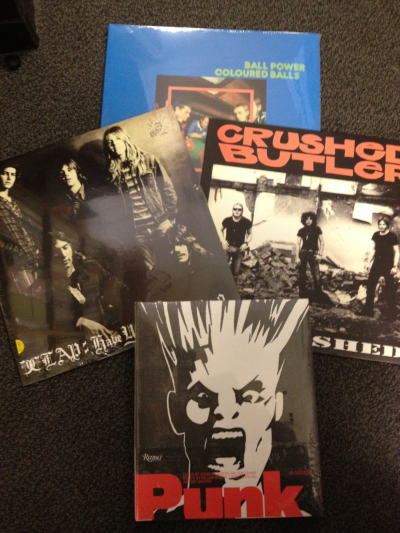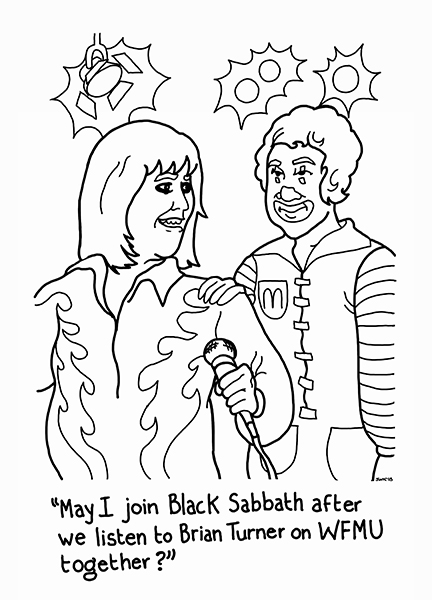 Grand prize for the show: Crushed Butler/Clap/Coloured Balls heavy jams pack + Jon Savage's PUNK: AN AESTHETIC book. And this year's special 2013 marathon tee designed by Jim Krewson (www.jimkrewson.com) white on navy blue, yours for $75 and up pledge to the show this week and next week only!
| Artist | Track | Album | Label | Comments | New | Approx. start time |
| --- | --- | --- | --- | --- | --- | --- |
| Spontaneous Overthrow | All About Money | Various: Personal Space: Electronic Soul 1974-1984 | Numero | first prize for grabs! | | 0:00:00 () |
| True Sons of Thunder | I Can See But You Don't Know | 7" | Goner | | * | 0:05:40 () |
| Spray Paint | Canadian Trash | Spray Paint | S-S | | * | 0:08:03 () |
| Der Plan | Dark Porno | Various: The Sound of Geri Reig | Kernkratch | | * | 0:23:04 () |
| Jerry (JG) Green, The Voicemaster | I Finally found the Love I Need | Various: Personal Space: Electronic Soul 1974-1984 | Numero | | * | 0:24:51 () |
| fEEDTIME | Live here on the show | | | | | 0:37:13 () |
| Wicked Lester | Woman You're Gonna Pay For This | You Are Doomed | Numero | | * | 0:40:19 () |
| Christ Child | Star Whores | Christ Child | Arista | | | 0:44:04 () |
| Wire | Outdoor Miner | 7" | | | | 0:47:30 () |
| Lee Ranaldo Band | Waiting On a Dream | Live here on the show 3/12 | | Lee's Between the Times and the Tides disc is available right now as a prize PLUS the Drift DVD with Leah Singer | | 0:57:51 () |
| Sonic Youth | The Burning Spear | Smart Bar Chicago 1985 | | Double vinyl LP courtesy Goofin' Records, also available as a prize right now. | * | 1:03:55 () |
| Adnan Othman & the Rhythm Boys | Budi Bahasa | Various: Pop Yeh Yeh - Psychedelic Rock From Singapore & Malaysia 1964-1970 | Sublime Frequencies | | * | 1:08:05 () |
| Moe Tucker | Fired Up | I Feel So Far Away: Anthology 1974-1998 | | 2CD on Sundazed, up for grabs right now! | | 1:22:03 () |
| Clap | Get It While You Can | Have You Reached Yet? | Sing Sing | one of the grand prize LPs in the pack with Coloured Balls, Crushed Butler and the Savage/Kugelberg Punk book | | 1:24:51 () |
| Crushed Butler | My Son's Alive | Uncrushed | RPM | | | 1:29:27 () |
| The Men | Nikki's Cube | Live here on the show | | | | 1:45:04 () |
| Toy Love | Don't Catch Fire | Live at the Gluepot 1980 | Goner | 2LP vinyl set up for grabs right now ! | * | 1:47:21 () |
| The Clean | Oddity | Oddities | 540 | 2LP vinyl up for grabs right now! | | 1:51:58 () |
| Brenda Ray | Take Me In Your Car | | | | | 2:01:07 () |
| Rolf Harris | Sun Arise | Various: Spacelines | | | | 2:03:59 () |
| Noh Mercy | Fashion Chant / Pay the Devil | Noh Mercy | Superior Viaduct | SF duo LP reissue up for grabs now | | 2:11:23 () |
| Obnox | Smoke Woody Haze | Smoke Woody Haze E.O. | 12XU | | * | 2:12:27 () |
| Tank | Crazy Horses | | | | | 2:14:51 () |
| Coloured Balls | Human Being | Ball Power | | LP part of the grand prize pack -- $100 gets you in the running to win at show's end. Clap, Crushed Butler, this, and the Savage/Kugelberg Punk: An Aesthetic book! | | 2:17:02 () |
| Null & Void | The Motorcycle Song | Possibilities (Discoverable Thoughts) | Bunkerpop | LP up for grabs now! | | 2:33:30 () |
| The Pop Group | We're All Prostitutes | | | | | 2:36:24 () |
| Smersh | Herman | Cassette Pets | Dark Entries | 2LP vinyl up for grabs | * | 2:51:19 () |