Brian Turner: Playlist from June 2, 2009
Order and disorder in a freeform haze of terribly-played guitars, shorted-out electronics, found audio detritus, strange sounds from strange lands all around. Psych-punk-junk, collage, even pop. Lots of in-studio live performances to boot.
<-- Previous playlist | Back to Brian Turner playlists | Next playlist -->
---
June 2, 2009: Spinning live from Paris, France at Les Instants Chavires with a live set from GROUP DOUEH

Listen to this show: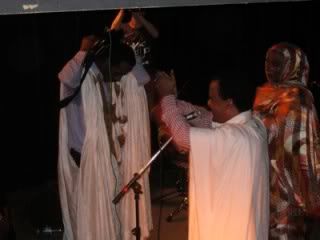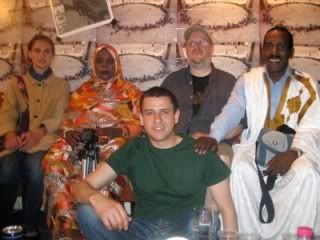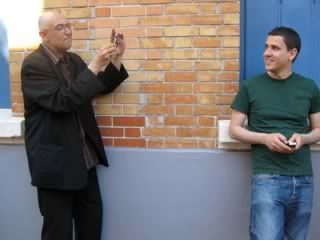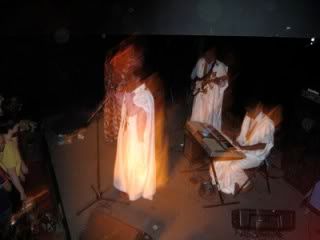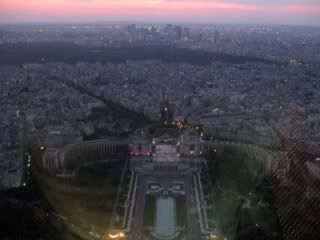 Clockwise from top: Crowd at Les Instants Chavires during WFMU's broadcast, Doueh behind-the-back shred action, BT w/Doueh and friends (Hicham Chadly in front), Eiffel Tower shot at dusk, Group Doueh, Alan Bishop & Hicham Chadly keeping the road raging across Europe.
(*** = special)


| Artist | Track | Album | Comments | Special |
| --- | --- | --- | --- | --- |
| Besombes-Rizet | Haute Pression | Pole | | |
| Aluk Todolo | Obedience | Descension | | |
| Angel Face | Pride | A Wild Odyssey | | |
| Mahjun | Passage Cloute | Vivre la Mort du Vieux Monde | | |
| Metal Urbain | No Fun | L'age D'or | | |
| Ptose | Ecraser Le Vermine | Ignobles Limaces | | |
| Les Visiteurs du Soir | Je T'ecris D'Un Pays | Various: Le Cimetiere | | |
| C.O.M.A. | Verre | Various: IVG Vol. 1: Futur Anterieur France 75-85 | | |
| Un Department | Je Serai Clement en Tant Que Dictateur | Je Serai Clément En Tant Que Dictateur | | |
| J.P.M. & Co. | Dali Court | Jean-Pierre Massiera - Psychoses Freakoïd (1963-1978) | | |
| Achwgha Ney Wodel | Les Kolkhoziens | Triptyque | | |
| Art et Technique | T Form | Various: 30 Years of Musical Insurrection in France | | |
| Camizole | Charles de Gaulle | Various: 30 Years of Musical Insurrection in France | | |
| Group Doueh | Live on WFMU from Les Instants Chavires (Listen: ) | | Brian's first ever remote, and it's happening live from Paris, France! We're spinning as well as crossing paths with the Euro-touring Sublime Frequencies caravan, with a live set from Western Saharan combo Group Doueh! Led by Hendrix-inspired guitarist Doueh and including friends and family, this music is raw, DIY, distorted insanity splicing together Western rock/funk, modal Mauritanian structures and sung Saharawi poetry. Their LP two years ago on Sublime Frequencies is a total destroyer, and with no USA tour on the horizon this will be a rare opportunity to hear this powerful music live on the radio! Many thanks to Ken Freedman for engineer help, Alan Bishop and Hisham Mayet, Hicham Chadly, Etienne and Jeff at Les Instants Chavires. | *** |
| GR | The Vessel Bound with Bards | Xperiments from Within the Tentacular | | |
| Spotch Forcey | Occidental | | | |
| Catherine Ribiero | Lumiere Ecarlate | 69 | | |
| Short interview with Alan Bishop | of Sublime Frequencies / Sun City Girls | | | |
<-- Previous playlist
| Back to
Brian Turner playlists
|
Next playlist -->
RSS feeds for Brian Turner:
Playlists feed |
MP3 archives feed
| Email
the Program Director
|
Other WFMU Playlists
|
All artists played by Brian Turner
|
---
Listen on the Internet
|
Contact Us
|
Music & Programs
|
WFMU Home Page
|
Support Us
|
FAQ
Live Audio Streams:
Pop-up
|
128k AAC
|
128k MP3
|
32k MP3
|
32k Windows
---