Brian Turner: Playlist from November 18, 2008
Order and disorder in a freeform haze of terribly-played guitars, shorted-out electronics, found audio detritus, strange sounds from strange lands all around. Psych-punk-junk, collage, even pop. Lots of in-studio live performances to boot.
<-- Previous playlist | Back to Brian Turner playlists | Next playlist -->
---
November 18, 2008: w / live sets from LOS LLAMARADA plus HANK IV

Listen to this show:

Los Llamarada live on the show:
You can also download MP3s of their set on Beware of the Blog.
(* = new)


| Artist | Track | Album | Comments | New | Approx. start time |
| --- | --- | --- | --- | --- | --- |
| Half Japanese | No More Beatle Mania | 1/2 Gentlemen Not Beasts | | | 0:00:00 () |
| Thomas Jefferson Slave Apartments | RnR Hall of Fame | Bait and Switch | | | 0:04:22 () |
| Bobby Soxx | Scavenger of Death | Various: Bloodstains Across Texas | | | 0:04:45 () |
| The Size Queens | Can a Woman | Magic Dollar Shoppe | | * | 0:06:34 () |
| Pylon | Dub | Hits | | | 0:11:36 () |
| Dead C | Canine | USA Tour 12" | | | 0:16:08 () |
| Arthur Russell | Close My Eyes | Love Is Overtaking Me | | * | 0:19:28 () |
| JT IV | Song For Susanna | Cosmic Lightning | | * | 0:21:30 () |
| Korpus Kristi | Stadt Der Blauen Eier | LP | | | 0:24:14 () |
| Burial Hex | Throne | Split 7" with Silvester Anfang | | * | 0:29:50 () |
| Kick Axe | The Chain | Rock the World | | | 0:35:24 () |
| Geskia | 2 Hour/Seahoses | Silent 77 | | * | 0:43:05 () |
| The Epicureans | HS | A Riddle Within a Conundrum Within a Game | | * | 0:43:34 () |
| Kim Salmon | Excerpt | Wall/Paper | | * | 0:53:18 () |
| Cave | High, I Am | Butthash | | * | 0:53:38 () |
| Noism | Zaporojets | Plus-Minus | | * | 0:54:35 () |
| Subtle Turnhips | F* the People F* the Power F* the People to the Power | 7" | | * | 0:57:09 () |
| Times New Viking | Anything Can Happen | Various: Yeti #9 Compilation | | * | 0:59:49 () |
| Los Llamarada | Live in the WFMU Studios | Engineered by Gil Shuster | Trekking up from Monterrey, Mexico and making their debut in NYC at last, Los Llamarada take equal parts No Wave nihilism and cosmos-channelling confusion, attending FMU staffers at our March SXSW show in Austin are still talking about the live greatness that is this band. Lineup: Sagan (vox, synth), Estrella (synth/vox), Johnny Noise (guitar): Danyhell (drums). See their My Space page and check out S-S (their brand new LP out is called "Take the Sky") and Avant for their wax. See top of the playlist page here for a video clip from the studio, and you can download the session as an MP3 in two parts: Part One, Part Two. | | 1:06:29 () |
| Jerusalem and the Starbaskets | Wings of Love | The Howling | Coming up live on the show next week | | 2:08:07 () |
| Wicked Witch | Erratic Behavior | Chaos 1978-86 | | * | 2:08:29 () |
| Gasoline | Radio Flic | Various: Killed By Death France | | | 2:12:19 () |
| Hank IV | Live in the WFMU studio | Engineered by Gil Shuster and Jason Sigal | Unleashed upon the public in the summer of 2005, The Hank Four is a San Francisco five-piece rock combo trafficking in a mix of dual-guitar histrionics, panic-skiffle drum beats, primitive craw-stick melodics, and straw-boss vocal gymnastics. Includes former members of Icky Boyfriends, The Roofies, Resineators, and The Leather Uppers. Likely to appeal to fans of Thomas Jefferson Slave Apartments, Flipper, and Country Teasers. www.hankiv.com. The band is: Anthony Bedard (Vocal, guitar), Chris Portfolio (Bass), Andy Oglesby (Guitar), Scott Jones (Drums), Bob McDonald (Lead Vox). Songs today: Sorry 'Bout the Boat Race / Feeding Me Back / Get It Straight / I'm Quitting / Beaten, Threatened, Reviled and Hated / Drive the Whip / Symptomatic / My Anger / Garbage Star / (interview) / Celebrity Virgin | | 2:17:52 () |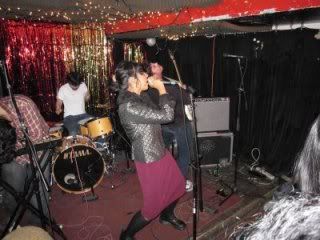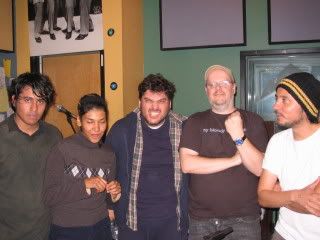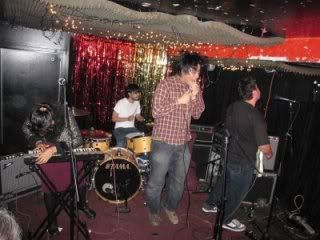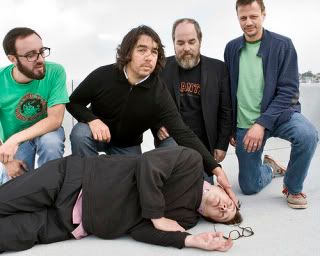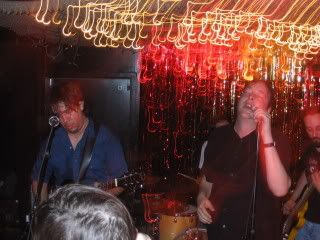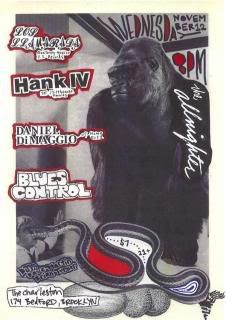 Top: Los Llamarada (live pics Mike Wolf, WFMU studio pic Jason Sigal), Bottom: Hank IV (live pic BT)
<-- Previous playlist
| Back to
Brian Turner playlists
|
Next playlist -->
RSS feeds for Brian Turner:
Playlists feed |
MP3 archives feed
| Email
the Program Director
|
Other WFMU Playlists
|
All artists played by Brian Turner
|
---
Listen on the Internet
|
Contact Us
|
Music & Programs
|
WFMU Home Page
|
Support Us
|
FAQ
Live Audio Streams:
Pop-up
|
128k AAC
|
128k MP3
|
32k MP3
|
32k Windows
---