Hatch: Playlist from December 5, 2005
I play great music and talk to people about stuff.
<-- Previous playlist | Back to Hatch playlists | Next playlist -->
---
December 5, 2005: Interview With Margaret Brown, Director Of Be Here To Love Me: A Film About Townes Van Zandt

Listen to this show: | Add comments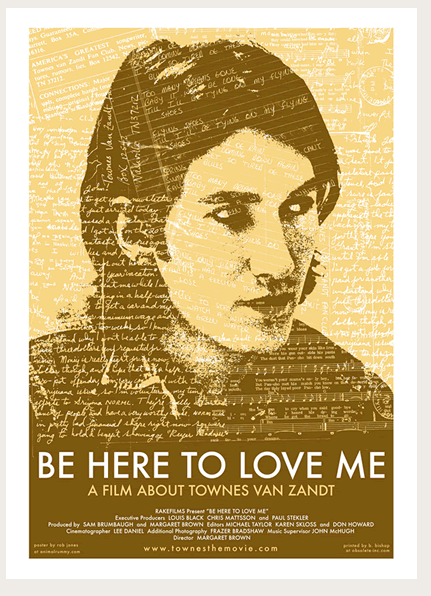 Margaret Brown visited the studio to discuss her feature length documentary Be Here To Love Me. The film tells the story of the late Townes Van Zandt, one of America's greatest singer-songwriters.
(* = new)


Artist
Track
Album
Label
New
Approx. start time
Townes Van Zandt
Lungs
Townes Van Zandt
Poppy
0:00:00 ()
Townes Van Zandt
Waiting Around To Die
Townes Van Zandt
Poppy
0:07:45 ()
Townes Van Zandt
Rake
Delta Momma Blues
Poppy
0:24:19 ()
Townes Van Zandt
Highway Kind
High, Low And In Between
Poppy
0:28:08 ()
Townes Van Zandt
Mr. Mudd & Mr. Gold
Live At The Old Quarter Houston, Texas
Tomato
0:36:54 ()
Townes Van Zandt
Snowin' On Raton
At My Window
Sugar Hill
0:39:45 ()
Townes Van Zandt
St. John The Gambler
Our Mother The Mountain
Poppy
0:43:33 ()
Townes Van Zandt
Marie
No Deeper Blue
Sugar Hill
0:46:44 ()
Townes Van Zandt
If I Needed You
The Late, Great Townes Van Zandt
Poppy
0:54:43 ()
Bridget St. John
Seagull-Sunday
Songs For The Gentle Man
Dandelion
0:58:24 ()
Michael Chapman
Shuffleboat River Farewell
Wrecked Again
Harvest
1:01:45 ()
Tyondai Braxton
The Violent Light Through Falling Shards
History That Has No Effect
JMZ
1:07:11 ()
Panda Bear
Comfy In Nautica
I'm Not/Comfy In Nautica
UUnited Acoustic
*
1:20:14 ()
Tod Dockstader
Piccolo
Aerial #2
Sub Rosa
*
1:23:48 ()
Los Jaivas
Foto De Primera Comunion
Los Jaivas
Shadoks
1:29:19 ()
Burning Star Core
I Wanna Make A Super-Sonic Woman Of You
Mes Soldats Stupides '96-'04
Cenotaph
*
1:35:56 ()
Hollins Ferry
Take My Love
Hollins Ferry
Port City
1:45:42 ()
Ennio Morricone
Studi Per Un Finale (Secondo)
Happening
El
*
1:48:39 ()
Darkness
Hazel Eyes
One Way Ticket To Hell... And Back
Atlantic
*
1:50:43 ()
David Munrow With Gillian Reid And Christopher Hogwood
Early Woodwind Instruments
The Mediaeval Sound
Musical Heritage Society
*
1:53:52 ()
Dick Gaughan
Jock O' Hazeldean
Never The Same: Leave-Taking From The British Folk Revival 1970-1977
Honest Jons
*
1:59:04 ()
Boris
Flood 1
Flood
Fangs Anal Satan
*
2:07:40 ()
Nick Garrie
Ink Pot Eyes
The Nightmare Of J.B. Stanislas
Rev-Ola
2:18:30 ()
Mighty Sparrow
Russian Satellite
First Flight: Early Calypsos From The Emory Cook Collection
Smithsonian Folkways
*
2:21:12 ()
Muldoons
Driver's License
The Muldoons
Cass
*
2:25:56 ()
Beachley Sisters
Nobody's Darling But Mine
Fonotone
Dust To Digital
*
2:28:02 ()
Hour Glass
Down In Texas
Power Of Love
Liberty
2:35:18 ()
Wilco
Ashes Of American Flags (Live)
Kicking Television: Live In Chicago
Nonesuch
*
2:38:11 ()
Tucker Zimmerman
Left Hand Of Moses
Tucker Zimmerman
Village Thing
2:44:02 ()
Steve Young
Montgomery In The Rain
Seven Bridges Road
Blue Canyon
2:48:12 ()
Phil Seymour
Precious To Me
Phil Seymour
Collectors' Choice
2:52:06 ()
Devin Hill
Stars
Stars
Big Deal
2:58:50 ()
<-- Previous playlist
| Back to
Hatch playlists
|
Next playlist -->
RSS feeds for Hatch's show:
Playlists feed |
MP3 archives feed
|
E-mail Hatch
|
Other WFMU Playlists
|
All artists played by Hatch
|
---
Listen on the Internet
|
Contact Us
|
Music & Programs
|
WFMU Home Page
|
Support Us
|
FAQ
Live Audio Streams:
Pop-up
|
128k AAC
|
128k MP3
|
32k MP3
|
32k Windows
---