Mike L.: Playlist from August 28, 2004
Freeform radio with a predilection for planet shattering beats, rumbling guitars, bit mappy electronics, hash hazy strumming, and other related sonics for cultured and urbane criminal types. Please direct all complaints to the attention of our North Bergen office.
<-- Previous playlist | Back to Mike L. playlists | Next playlist --> |
---
August 28, 2004: Welcome War Pigs!

Listen to this show: RealAudio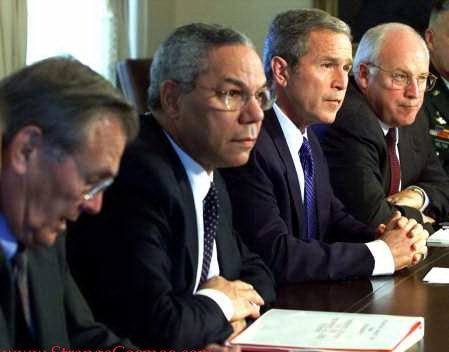 (* = new)
Artist
Track
Album
Comments
New
Approx. start time
The Stars
Twinkle Outside
Will
*
Pylon
Feast on my Heart
Gyrate
Chanson
Don't Hold Back
Party Keller Vol. 1
compilation
*
Gogol Bordello vs Tamir Muskat
Balkanization of Amerikanization
J.U.F.
*
King Herbert and the Knights
Ode to Billy Joe
Canada's Message to the Meters
compilation
*
The Clash
Washington Bullets
Sandinista! 3xLP
Don Drummond
Confucious
Studio One Classics
compilation
*
Dalek
Swollen Tongue Bums
Negro Nekro Necros
0:39:04 Real)
Savage Rose
A Trial in our Native Town
Dansrocksampler
compilation
*
0:42:06 Real)
Brother JT
Real Nice Day
Meshes of the Afternoon
0:49:15 Real)
Extradition
In the Evening
Hush
re-issue
*
0:54:29 Real)
Sabu Martinez & his Jazz Espagnole
Delilah
Jazz Espagnole
re-issue
*
0:58:43 Real)
Four Tet
My Angel Rocks Back and Forth
My Angel Rocks Back and Forth
*
1:02:42 Real)
Chester P
The Wiccaman Theory
Low Life's Main Courses
compilation
1:07:47 Real)
xex
Fashion Hurts
group: xex
re-issue
*
1:11:27 Real)
Devo
Live in Central Park
1:25:56 Real)
Haunted House
Dramatic Beach House
Haunted House EP
*
1:33:46 Real)
Toadliquor
Gnaw
The Hortator's Lament
*
1:37:43 Real)
Circle Jerks
Killing for Jesus
MP3
1:42:20 Real)
Black Sabbath
War Pigs
Paranoid
1:47:02 Real)
Sage Francis
Makeshift Patriot
MP3
1:54:52 Real)
Minutemen
Price of Paradise
3-Way Tie for Last
2:00:30 Real)
Willie Nelson
Amazing Grace
The Troublemaker
*
2:04:07 Real)
McSleazy
Lost Souls in the Supermarket
London Booted MP3s
*
2:09:50 Real)
Tom Robinson Band
2-4-6-8 Motorway
Power in the Darkness
2:13:31 Real)
Mecki Mark Men
Future on the Road
Running in the Summer Night
Sweden, 1969
*
2:24:48 Real)
David Kilgour
A Head full of Rolling Stones
Frozen Orange
2:29:08 Real)
Gabor Szabo
Walk Away Renee
Bacchanal + 1969
re-issue
*
2:32:11 Real)
Dorothy Berry
You're so Fine
Phil's Spectre: A Wall of Soundalikes
compilation
*
2:35:28 Real)
The Fall
Wrong Place Right Time/ I Can Hear the Grass Grow
MP3
From a John Peel Session for the BBC, I believe. 2nd part is a cover of The Move.
2:37:18 Real)
Babsy Mlangeni
Siyo Feka
Planet Rock
Rob Weisberg's 2004 Marathon Premium
2:44:07 Real)
WIley
Pies
Treddin' on Thing Ice
*
2:46:48 Real)
DJ Zeph (feat. Azeem)
Frogs
LP
*
2:50:06 Real)
Hangar 18
Where we at?
The Multi-Platinum Debut Album
*
2:53:24 Real)
<-- Previous playlist
| Back to
Mike L. playlists
|
Next playlist -->
RSS feeds for Mike L.'s show:
Playlists feed |
MP3 archives feed
|
E-mail Mike L.
|
Other WFMU Playlists
|
All artists played by Mike L.
|
---
Listen on the Internet
|
Contact Us
|
Music & Programs
|
WFMU Home Page
|
Blog
|
Support Us
|
FAQ
Live Audio Streams:
Flash
|
128k MP3
|
32k MP3
|
20k Real
|
20k Windows
---