Mike L.: Playlist from August 14, 2004
Freeform radio with a predilection for planet shattering beats, rumbling guitars, bit mappy electronics, hash hazy strumming, and other related sonics for cultured and urbane criminal types. Please direct all complaints to the attention of our North Bergen office.
<-- Previous playlist | Back to Mike L. playlists | Next playlist --> |
---
August 14, 2004: Metaphysical Soup Dumplings

Listen to this show: RealAudio

(* = new)
Artist
Track
Album
Comments
New
Approx. start time
Dream Syndicate
See That My Grave is Kept Clean
Live at Raji's
0:00:00 Real)
Gogol Bordello
Gypsy Part of Town
J.U.F.
*
0:04:37 Real)
Lime Spiders
Weirdo Libido
Weirdo Libido 12"
0:09:41 Real)
Umela Hmota
Znovu Zrozeni
Barbara
0:12:57 Real)
Jehst
Adventures in New Bohemia
Low Life's Main Courses
compilation -- Thanks to UK Listener Paul for hooking me up with this one!
0:19:25 Real)
Rodger Collins
Foxy Girls in Oakland
Get Your Lie Straight: A Galaxy of Funky Soul 1968-1972
compilation
*
0:22:02 Real)
Monsterland
Blank
split 7" w/ China Pig
0:24:46 Real)
Tav Falco and the Amazing Panther Burns
She's the One that's Got It
Behind the Magnolia Curtain
0:39:06 Real)
Clinic
The Magician
EP
*
0:40:08 Real)
Exodus
Sealed with a Fist
Tempo of the Damned
*
0:42:46 Real)
Black Sheep
Similak Child
Part Keller Vol. 1
compilation
*
0:46:18 Real)
The Slugfuckers
Mechanical Boy
Cacophony: 1979-1981 2xCD
*
0:50:09 Real)
The Last Word
Animal World
MP3
0:53:48 Real)
Le Tigre
New Kicks
12"
*
0:56:38 Real)
Jim Roche
Bubble Blower
1:01:32 Real)
The Troggs
Feels Like a Woman
Tremors
compilation
*
1:12:02 Real)
Pearls Before Swine
Playmate
One Nation Underground
1:15:31 Real)
D_Rradio
Shake Down the Stars
U_nderscore
*
1:17:40 Real)
Tracy Shedd
End of the Night
Louder than you can Hear
*
1:22:56 Real)
The Married Monk
Love Commander
The Belgian Kick
*
1:26:24 Real)
Joanna Newsom
Peach, Plum, Pear
MP3
1:31:06 Real)
Matthew Dear
Ride
Backstroke
*
1:34:59 Real)
Go Home Productions
????
MP3
1:39:12 Real)
The Bug
Gun Disease
12"
1:45:52 Real)
Thighpaulsandra
The Busy Jew
Rape Scene
*
1:58:47 Real)
Mr. & Mr. & Mr. & Mr. & Mr. Evil
Ronnie James
Mr. & Mr. & Mr. & Mr. & Mr. Evil
Ex-members of Icky Boyfriends. Whoa.
*
2:08:52 Real)
David Hemmings
Back Street Mirror
Happens
2:14:05 Real)
Phoenix
I'm an Actor
Alphabetical
*
2:17:23 Real)
Damp Banger (feat. Sexton Ming)
The Snake
A Lifetime of Nervous Gutaches #1
*
2:19:56 Real)
Radio Birdman
Aloha Steve & Danno
Radios Appear
2:23:07 Real)
3
Love is Like a Rose
Dark Days Coming
2:26:53 Real)

Nope, I didn't go to Little Steven's Garage Fest this afternoon. Instead, I spent the last 15 minutes of my radio show honoring the legacy of one of the greatest, smartest (rarely a band's strong point), and most talented bands who spent years trying to kick "garage rock" out of the shag hairdo, ubiquitous Standells-cover, go-go-dancer-and-fried-chicken ghetto and did something different and new.

The New Bomb turks played their last ever show at a bar in Columbus, Ohio at probably around the same time Iggy and The Stooges took the stage at Randall's Island last night. All respects to Iggy, but given the choice, I'd have been in Ohio in a heartbeat. For more on the New Bomb Turks, check out the archive of one of my proudest radio accomplishments.

Goodnight, America.
New Bomb Turks
Taller Order
2:39:07 Real)
New Bomb Turks
Leaving Town
2:43:37 Real)
New Bomb Turks
Born Toulouse-Lautrec
2:46:11 Real)
New Bomb Turks
Bad Girl
New York Dolls cover
2:49:40 Real)
New Bomb Turks
Wrest Your Hands
Bye guys... You'll be missed!
2:57:05 Real)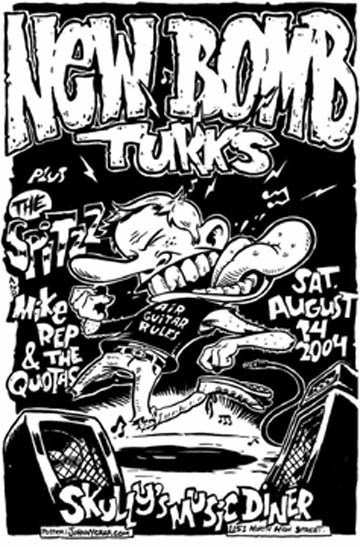 <-- Previous playlist
| Back to
Mike L. playlists
|
Next playlist -->
RSS feeds for Mike L.'s show:
Playlists feed |
MP3 archives feed
|
E-mail Mike L.
|
Other WFMU Playlists
|
All artists played by Mike L.
|
---
Listen on the Internet
|
Contact Us
|
Music & Programs
|
WFMU Home Page
|
Blog
|
Support Us
|
FAQ
Live Audio Streams:
Flash
|
128k MP3
|
32k MP3
|
20k Real
|
20k Windows
---