Double-Dip Recess with Roger and Amanda: Playlist from October 27, 2018
<-- Previous playlist | Back to Double-Dip Recess with Roger and Amanda playlists | Next playlist -->
---
Upcoming events:
Sat. Mar 7th, 9am - 11am: Roger, Amanda, and their Co-Host Yvonne


Sat. Mar 14th, 9am - 11am: The Double-Dip Duo with Co-Host Greg H.

---
October 27, 2018: Double-Dip CREEPFEST

Listen to this show:
Pop‑up player! | Add or read comments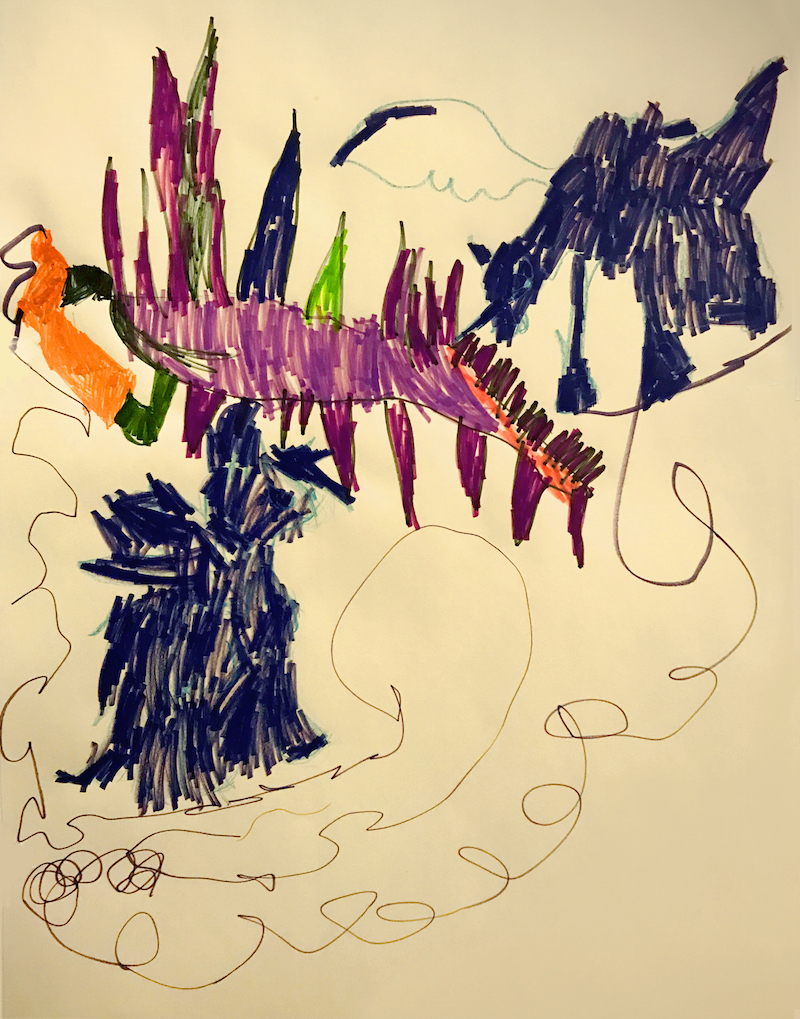 Spiky dragon by listener Ramona. Email your art to doubledip@wfmu.org to have it featured!
Artist
Track
Approx. start time
Andy Z
Which Witch is This?
0:00:00 (Pop‑up)
Key Wilde & Mr. Clarke
Halloween Song
0:02:32 (Pop‑up)
The Shaggs
It's Halloween
0:04:44 (Pop‑up)
Andrew Huang
It's Halloween
0:07:06 (Pop‑up)
Tim Curry
Halloween Song (from "The Worst Witch")
0:13:19 (Pop‑up)
Girl Authority
Thriller
0:16:26 (Pop‑up)
Boots Walker
They're Here
0:20:09 (Pop‑up)
They Might Be Giants
The Darlings of Lumberland
0:22:21 (Pop‑up)
The Cramps
Human Fly
0:25:50 (Pop‑up)
Alfred Hitchcock Presents
"Johnny Takes a Dare"
0:32:24 (Pop‑up)
Kenny and the Eggplants
Earl the Squirrel
0:37:48 (Pop‑up)
Recess Monkey
Wolf Man
0:41:25 (Pop‑up)
Tracy Morgan
Werewolf Bar Mitzvah
0:43:05 (Pop‑up)
Geraint Watkins and the Dominators
Casting My Spell
0:52:30 (Pop‑up)
The Crystals
Frankenstein Twist
0:54:54 (Pop‑up)
Count Von Count
The Batty Bat
0:58:04 (Pop‑up)
James Earl Jones, Dan Castellaneta, et al
The Raven
1:01:02 (Pop‑up)
R. Dean Taylor
There's a Ghost in My House
1:06:00 (Pop‑up)
Jumpin' Jamie
Ghost in My House
1:08:16 (Pop‑up)
Mark Phirman
Beginners Spanish: Zombie Apocalypse
1:19:17 (Pop‑up)
Linda Hagood
Pet Zombie
1:20:17 (Pop‑up)
Ratboy Jr.
Where Do Monsters Go when it's Not Halloween?
1:22:14 (Pop‑up)
Barry Louis Polisar
Thump Thump Thump
1:24:38 (Pop‑up)
Rasputina
A Skeleton Bang
1:26:35 (Pop‑up)
Turkey Andersen
Snowstorm on Halloween
1:28:32 (Pop‑up)
Jeff Barry
The Face from Outer Space
1:39:01 (Pop‑up)
Cyclone 60
Outer Space Alien
1:41:40 (Pop‑up)
The Ran-Dells
Martian Hop
1:43:51 (Pop‑up)
Mary Kaye
Skeleton Song
1:46:07 (Pop‑up)
Allan Sherman
My Son the Vampire
1:48:28 (Pop‑up)
The Five Jones Boys
Mr. Ghost Goes to Town
1:51:14 (Pop‑up)
Parry Gripp
Haunted Cupcake
1:57:30 (Pop‑up)
<-- Previous playlist
| Back to
Double-Dip Recess with Roger and Amanda playlists
|
Next playlist -->
RSS feeds for Double-Dip Recess with Roger and Amanda:
Playlists feed |
MP3 archives feed
|
E-mail Amanda
,
E-mail Roger
|
Other WFMU Playlists
|
All artists played by Double-Dip Recess with Roger and Amanda
|
---
Listen on the Internet
|
Contact Us
|
Music & Programs
|
WFMU Home Page
|
Support Us
|
FAQ
Live Audio Streams:
Pop-up
|
128k AAC
|
128k MP3
|
32k MP3
|
32k Windows
---