Music without words, words without music, and combinations therein. The freeform soundtrack for working, shirking, or twerking.

If you would like to receive an email with the schedule of what's playing on the Give The Drummer Radio webstream each day, subscribe here. It's only one email per day; you can check out previous emails by clicking on "View Letter Archive" at that link before subscribing if you wish. Never miss a Drummer show (especially mine!) again!

October 4, 2016: Live music from DEATH VALLEY GIRLS!
Think of Death Valley Girls as an acid-tripping science experiment that's been buried alive and resurrected as a sexually liberated dystopian chain-gang. Their second album, Glow in the Dark, out now on Burger Records, includes 10 tracks of bluesy, electric rock that's both danceable punk and oozing with psychedelic slime; like a doped-up Elvis if had he been an alien and a member of L.A. garage rock pioneers The Seeds. See them on tour throughout October, and hear their frenzied live set recorded at WFMU's Monty Hall today at 8 am!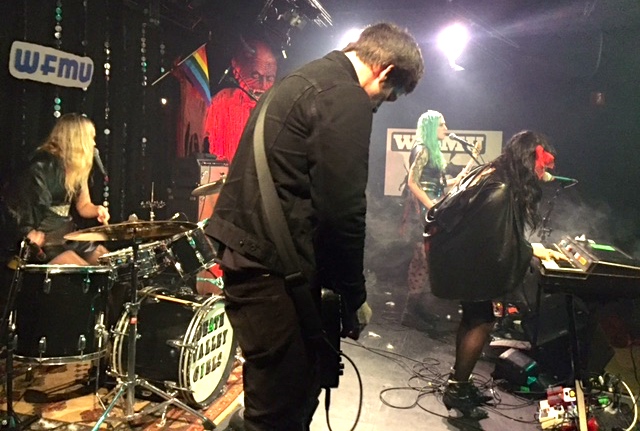 All photos by Kimzilla
Listen to this show:
Pop‑up player!
Artist
Track
Album
Label
Year
Format
Comments
New / Special
Approx. start time
Ramayana Soul
Mawar Batu
Sabdatanmantra
Guruguru Brain
2016
CD-R
*
0:00:00 (Pop‑up)
Material
Cucumber Slumber (Fluxus Mix)
Hallucination Engine
Axiom / Island
1994
CD
0:12:19 (Pop‑up)
Madonna
Drowned World / Substitute For Love
Ray Of Light
Maverick / Warner Bros.
1998
CD
0:19:43 (Pop‑up)
Yishak Banjaw
Segno Sra Allebign
Love Songs Vol. 2
Teranga Beat
2016
CD
Originally recorded in 1986.
*
0:24:53 (Pop‑up)
Yoko Ono
Hell In Paradise (Featuring Moby)
Yes, I'm A Witch Too
Manimal Vinyl Records
2016
CD-R
0:31:57 (Pop‑up)
Roisin Murphy
Ten Miles High
Take Her Up To Monto!
PIAS
2016
CD
*
0:41:43 (Pop‑up)
DRLNG
Cobra
self-released
2016
MP3
0:46:57 (Pop‑up)
Wrekmeister Harmonies
Light Falls II - The Light Burns Us All
Light Falls
Thrill Jockey
2016
CD
*
0:50:45 (Pop‑up)
Music behind DJ:
Low
Hatchet (Optimimi Version) (Wing edit)
0:58:00 (Pop‑up)
Thomas Dolby
She Blinded Me With Science
The Golden Age Of Wireless
EMI
1982
MP3
***
1:07:41 (Pop‑up)
William Shatner
She Blinded Me With Science
Seeking Major Tom
Cleopatra
2011
MP3
A Thomas Dolby cover; featuring Bootsy Collins and Patrick Moraz. Also includes some of "Rocket Man" and "Space Oddity," bonus!
***
1:11:23 (Pop‑up)
Violet Transmissions
She Blinded Me With Science
She Blinded Me With Science EP
self-released
2014
MP3
A Thomas Dolby cover.
***
1:17:14 (Pop‑up)
8-Bit Arcade
She Blinded Me With Science
The 8-Bit 80s
self-released
2016
MP3
A Thomas Dolby cover.
1:21:00 (Pop‑up)
George Coleman
Science Fiction
Bongo Joe
Arhoolie
1991
CD
Originally released in 1968.
1:24:39 (Pop‑up)
Christian Marclay
His Master's Voice (Opening)
From The Kitchen Archives No. 3 / Amplified: New Music Meets Rock, 1981-1986
Orange Mountain Music
2006
CD
Various artists; this track originally recorded on November 24, 1982.
1:29:56 (Pop‑up)
Julie Andrews
A Spoonful Of Sugar
Mary Poppins Original Motion Picture Soundtrack
Walt Disney Records
1997
MP3
Originally released in 1964.
1:35:00 (Pop‑up)
Let's Eat Grandma
Sax In The City
I, Gemini
Transgressive
2016
MP3
1:39:09 (Pop‑up)
Japancakes
We're In The City
Japancakes
Sleepy Strange Media
2016
MP3
1:44:04 (Pop‑up)
Madeleine Peyroux
Tango Til They're Sore
Secular Hymns
Impulse / Verve
2016
CD
A Tom Waits cover.
*
1:48:08 (Pop‑up)
Johnny Mathis
Go Away Little Girl
Love Is Everything / Broadway
Real Gone Music
2012
CD
Originally released in 1965.
1:51:27 (Pop‑up)
Lhasa
La Marée Haute
The Living Road
Nettwerk
2004
CD
1:54:48 (Pop‑up)
Music behind DJ:
Low
Hatchet (Optimimi Version) (Wing edit)
1:58:15 (Pop‑up)



Death Valley Girls live at WFMU
Recorded September 28, 2016 at Monty Hall, engineered by Tom Gartland

Bonnie: lead vocals, keyboards, guitar
Nikki: bass, backing vocals
Larry: guitar
The Kid: drums, backing vocals

You can download this live session at the Free Music Archive!


Death Valley Girls
Glow In The Dark
(Live on WFMU)
2016
WAV
2:04:42 (Pop‑up)
Death Valley Girls
Disco
(Live on WFMU)
2016
WAV
2:08:26 (Pop‑up)
Death Valley Girls
Death Valley Boogie
(Live on WFMU)
2016
WAV
2:11:39 (Pop‑up)
Death Valley Girls
No Reason
(Live on WFMU)
2016
WAV
2:14:48 (Pop‑up)
Death Valley Girls
Sanitarium Blooz
(Live on WFMU)
2016
WAV
2:17:29 (Pop‑up)
Death Valley Girls
Seis Seis Seis
(Live on WFMU)
2016
WAV
2:20:00 (Pop‑up)
Death Valley Girls
Love Spell
(Live on WFMU)
2016
WAV
2:23:51 (Pop‑up)
Death Valley Girls
Pink Radiation
(Live on WFMU)
2016
WAV
2:27:34 (Pop‑up)
Death Valley Girls
I'm A Man Too
(Live on WFMU)
2016
WAV
2:32:45 (Pop‑up)
Death Valley Girls
Electric High
(Live on WFMU)
2016
WAV
2:35:29 (Pop‑up)
Emeralds
Double Helix
Does It Look Like I'm Here?
Editions Mego
2010
CD
2:39:34 (Pop‑up)
The Gooch Palms
Don't Look Me Up
Introverted Extroverts
Summer Camp
2016
MP3
2:42:40 (Pop‑up)
LoveyDove
Enuf Days
Showstopper
Records Ad Nauseam
2015
MP3
2:45:23 (Pop‑up)
The Human League
Open Your Heart
Dare
Caroline / Virgin
2002
CD
Originally released in 1981.
2:51:10 (Pop‑up)
Music behind DJ:
Low
Hatchet (Optimimi Version) (Wing edit)
2:55:04 (Pop‑up)