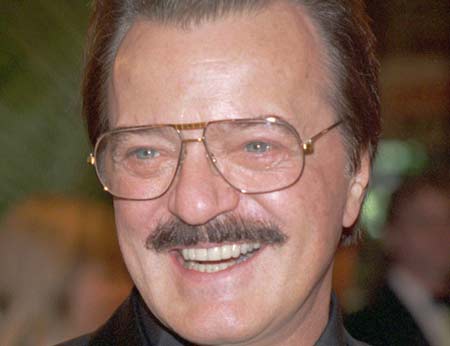 Jon: I believe that I described to you the specific quality called "TERRIFIC!," yes? I've just found an example in which a picture's worth a thousand words. EVERYTHING about Robert Goulet in this photo is TERRIFIC!

In fact, it's SO incredibly TERRIFIC! that it might even qualify in the category of VERY TERRIFIC! ... dare I say, even possibly EXTREMELY TERRIFIC! (the ultimate level of TERRIFIC!ness).

Irwin: It's SO TERRIFIC, it makes me feel woefully inadequate.

Jon: It's worse than that: you're woefully adequate.
Artist
Track
Album
Approx. start time
Lee Morgan
Yes I Can, No You Can't (edit)
The Gigolo
0:00:00 (Pop‑up)
Art Blakey & the Jazz Messengers
Nica's Dream
Art Blakey with the Original Jazz Messengers
0:03:46 (Pop‑up)
Cracked Latin
La Puerta Azul
Alone With You
0:14:51 (Pop‑up)
Jaimie Sharkey (with New Pink Floyd)
You Can Do Art
Phone Calls
0:23:43 (Pop‑up)
Singing Sadie
Everyone In Town Wants You Dead
Songs for Swingers
0:29:32 (Pop‑up)
Sun Ra & His Arkestra
El is the Sound of Joy
Supersonic Jazz
0:31:28 (Pop‑up)
Professor Elemental
Cup of Brown Joy (Tea Bag Remix)
The Indifference Engine
0:35:26 (Pop‑up)
76% Uncertain
Coffee Achiever
Estimated Monkey Time
0:38:38 (Pop‑up)
The Clean
Dunes
Vehicle
0:40:37 (Pop‑up)
Tim Friese-Greene
3
10 Sketches for Piano
0:43:55 (Pop‑up)
Annie Nilsson
Gotta Get Up
This is the Town: A Tribute to Nilsson Vol 1
0:52:52 (Pop‑up)
Little Lisa
Puppet on a String
Motown single
0:55:05 (Pop‑up)
Elysian Fields
Next Year in Jerusalem
For House Cats and Sea Fans
0:57:43 (Pop‑up)
Mac Demarco
Rock and Roll Night Club
Rock and Roll Night Club
1:03:02 (Pop‑up)
Bloodrock
Children's Heritage
Bloodrock 2
1:06:11 (Pop‑up)
Foo Fighters
Headwires
There Is Nothing Left to Lose
1:09:24 (Pop‑up)
C.W. McCall
Classified
Wolf Creek Pass
1:19:48 (Pop‑up)
Blur vs Moby vs Electric Six
Crazy Bar
Monster Mashes 2006
1:21:59 (Pop‑up)
Courtney Barnett
Lance Jr.
The Double EP: A Sea of Split Peas
1:24:55 (Pop‑up)
Marvin Miller (bass: Chuck Berghofer; drums: Shelley Manne)
Green Eggs and Ham
Dr. Seuss Presents Green Eggs and Ham
1:28:21 (Pop‑up)
George Russell Sextet
Ezz-thetics
Ezz-thetics
1:35:43 (Pop‑up)
Jim Sullivan
Jerome
U.F.O.
1:48:46 (Pop‑up)
Ultimate Spinach
Pamela
Ultimate Spinach
1:51:04 (Pop‑up)
Bird Nest Roys
Me Want Me Get Me Need Me Have Me Love
Me Want Me Get Me Need Me Have Me Love
1:53:57 (Pop‑up)
8X8 (Lane Steinberg & Alex Khodchenko)
Stop the Madman
Stop the Madman
1:57:17 (Pop‑up)
Jenny O
In Our Hands
Automechanic
1:59:49 (Pop‑up)
James Wolff and Cordelia Fellowes
Married
Married (EP)
2:03:16 (Pop‑up)
Pikelet
Hi Guitar/There Will Be Others
USA/EU EP
2:06:54 (Pop‑up)
The Haden Triplets
When I Stop Dreaming
The Haden Triplets
2:16:44 (Pop‑up)
Skating Club
Stockholm
Bugs & Flowers
2:19:06 (Pop‑up)
Hank Williams
Crazy Heart
Hank's Greatest Hits about Hearts and Crazy and Cold
2:22:53 (Pop‑up)
Sean Landers
The Man Within
The Man Within
2:26:00 (Pop‑up)
Wooshie Spkamoto
Lady
Wooshie Spkamoto
2:39:12 (Pop‑up)
Pram
Peepshow
Dark Island
2:42:18 (Pop‑up)
Andre Williams and The Sadies
Weapon of Mass Destruction
Red Dirt
2:48:31 (Pop‑up)
Angil & the Hiddentracks with Francoiz Breut
Thelma or Louise?
The And
2:50:16 (Pop‑up)
Drunks with Guns
Zombie
I Want to Be a Singer: Irwin's 2012 Premium
2:53:52 (Pop‑up)