Transpacific Sound Paradise

Saturday, June 6, 2009

Brahim Fribgane / Muslim Voices Festival

Hear this show now:
Pop-up player! | Add or read comments


Next week on the show - A visit with Youssou N'Dour!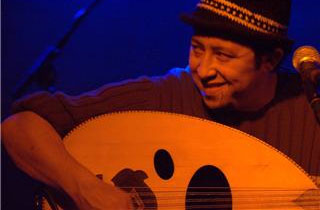 Brahim Fribgane

Brahim Fribgane is a talented Moroccan-born oud player and percussionist whose repertoire ranges from Berber folk songs to sub-Saharan influenced gnawa music to classical styles of the Middle East and North Africa.

His collaborations reflect an even broader range of styles - he's recorded with Hassan Hakmoun, Sussan Deyhim, Adam Rudolph's Moving Pictures, South African jazz player Pops Mohammed, DJ Logic, and even Morphine. He's also a core member of the hyper-collaborative Boston-based electro ensemble Club D'Elf. He's working on his first solo album and gives us a taste with a little solo live performance.

Brahim Fribgane was chosen as one of just a handful of local artists to be featured among the global luminaries at the Muslim Voices Festival of performing arts and cultural exchange at BAM (the Brooklyn Academy of Music) and the Asia Society from June 5-14: He's playing a free show (along with zerobridge) on Friday June 12 at the BAM Cafe.


This Week's Playlist:
(* = new, *** = special)
Amadou and Mariam: Les Temps Ont Change
/ Wati / Circular Moves
Gnonnas Pedro: Okpo Videa Bassouo
/ Various Artist: Legends of Benin / Analog Africa / *
Samba Mapangala & Orchestre Virunga: Malako (Original Version)
/ Malako Disco Original / Melodica
Gipsy Kings: Aven, Aven
/ Roots / Nonesuch
Los Chichos: Te Vas Me Dejas
/ Sus 22 Mejores Canciones / Philips
La Cumbiamba Eneye: Marioneta
/ Marioneta / Chonta
Dallam Dougou: Mahala a la Mandingo
/ New Destiny / Jumbie Records
Nadia Tarnawsky: I Know That I Have Sinned
/ Shadows Of Our Forgotten Ancestors / MN2 Productions
Rupa and the April Fishes: Poder
/ Extraordinary Rendition / Cumbancha

Brahim Frigbane LIVE on WFMU!: (Listen to this set: Pop-up)
Brahim Fribgane: Amazigh

Live on WFMU
Brahim Fribgane: Sidi Rabi

Live on WFMU
Brahim Fribgane: Improv

Live on WFMU
Hassan Hakmoun: Chabakouni
/ Life Around the World / Mina
This track from Hakmoun's somewhat overlooked 1996 album is a collaboration with Brahim Fribgane.
Adam Rudolph's Moving Pictures: The Sphinx
/ Dream Garden / Justin Time
Featuring Brahim Fribgane. Rudolph will accompany Fribgane @ BAM Cafe this Friday June 12.
DJ Logic: Something Distant
/ Zen of Logic / Rope a Dope
Featuring Brahim Fribgane.
Morphine: Rope on Fire
/ The Night / Rykodisc
Featuring Brahim Fribgane.
Malika Zarra: Run
/ On the Ebony Road / Malika Zarra
Featuring (and arranged by) Brahim Fribgane.
Parissa and Dastan Ensemble: Live at the Fes Festival of Sacred Music 2007
/ Unreleased / N. A.
Faiz Ali Faiz: Aj Rang Hai
/ La Nouvelle Voix du Qawwali / World Village
Roberto Rodriguez: La Hora
/ Timba Talmud / Tzadik / *
Nickodemus: 2 Sips & Magic
/ Sun People / Giant Step / *
Remix of NY Gypsy All Stars in collaboration with Quantic. To be released June 16.
Goran Bregovic: Alkohol
/ Alkohol / Mercury / *
Roswell Rudd: Introduction into Skyward Theme
/ Trombone Tribe / Sunnyside / *
With Gangbe Brass Band