Transpacific Sound Paradise

Saturday, April 4, 2009

Cordero Live + Zizek DJs

Hear this show now:
Pop‑up player! | Add or read comments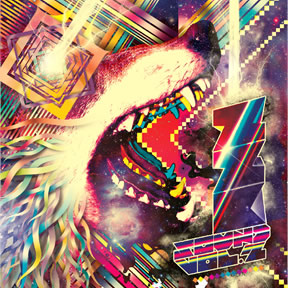 Hour 1: A live session from Cordero, a dynamic but thoughtful NY-based bilingual indie rock / roots band. Cordero germinated in Tucson (original members came from Calexico and Giant Sand) but truly came to life in New York where leader Ani Cordero relocated along in 2000 with hubby and collaborator Chris Verene (ex- The Rock*A*Teens and D.Q.E. and a talented visual artist as well). The band's latest CD is "De Donde Eres" (Bloodshot), its most Latin-tinged to date (reflecting Ani's Puerto Rican roots). Cordero next hits the stage in New York on Wed. April 22 at the Mercury Lounge, 217 E. Houston St. on a bill with De Leon.

Hour 2: Zizek is a cutting edge genre-clashing club / record label / inter-disciplinary artistic movement in Buenos Aires. The Zizek April 2009 North American tour (dates and info here), in support of the new scene-survey cd ZZK Sounds Volume 2 (US release coming soon on Nacional Records), features reggaeton and cumbia-crazed lower-Andean MC / DJ crew Fauna, French emigre Douster's "Lazer Bass Cumbia Reggaetón" blends, and the Latin-tinged mixes of gringo ringer El G. El G and Douster spin a few new tracks and Fauna gives us some live MC action.


This Week's Playlist:
(* = new)
Jang Sa-ik: Silly Angel
/ Jang Sa-ik Vol. 6: Mother, See the Flowers / Loen / *
Poem by Kim Won-sok: "Knowing / pretending not to know / hearing / pretending not to hear / seeing / pretending not to see / liking / pretending not to like / enjoying / pretending not to enjoy. / That's / how / mother / raised us."
Extra Golden: Gimakiny Akia
/ Thank You Very Quickly / Thrill Jockey / *
Cordero: El Arco Iris

Live on WFMU
Cordero: La Sombra

Live on WFMU
Cordero: Ruleta Rusa

Live on WFMU
Cordero: Heart in Me

Live on WFMU
Cordero: Matadora

Live on WFMU
Cordero: Abre La Ventana

Live on WFMU
Arcade: Rastrishop
/ Various Artists: ZZK Sound Volume 2 / ZZK / Nacional / *
Meneo: La Licuadora
/ Various Artists: ZZK Sound Volume 2 / ZZK / Nacional / *
Sonido del Principe: Peserbe
El Guincho: Frikstailers remix
Petrona Martinez: Un Nino Que Llora En Los Montes de Maria + El Hueso
/ Various Artists: ZZK Sound Volume 2 / ZZK / Nacional / *
King Coya Remix
Fauna: Live Toasting
Fauna: Live Toasting
Zonora Point: Huachita Rica
/ Various Artists: ZZK Sound Volume 2 / ZZK / Nacional / *
Douster Remix
Douster: Triassic Genesis
Selim Sesler: Kara Üzüm Habbesi
/ Various Artists: Double Moon Remixed / Doublemoon
Spark Remix