Transpacific Sound Paradise

Saturday, December 18, 2010

Pedrito Martinez Group + Seasonal Selections

Hear this show now: | Add or read comments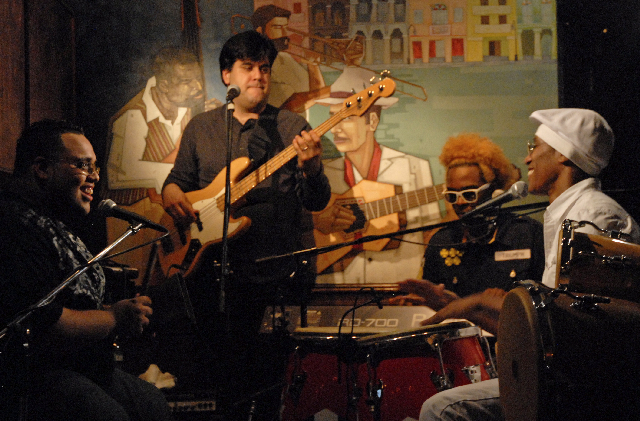 Pedrito Martinez Group at Guantanamera - photo by Russ Titelman / Jill Nelson.

The gifted Havana-born percussionist Pedrito Martinez launched his career at the tender age of 11, accompanying Cuban heavyweights like Lazaro Ros, Pancho Quinto and pure percussion legends Los Munequitos de Matanzas before making his way to New York in the late 90s. In NYC he joined the acclaimed genre-bashing band Yerba Buena as well as continuing to get top flight sideman work with people like Paquito D'Rivera, Chico O'Farrill, David Murray, Cassandra Wilson, and even Bruce Springsteen among many others.

Pedrito is now stepping out with his own band, and they're off to a great start, landing a prestigious lineup slot at the annual Globalfest World Music festival at Webster Hall, Sunday night January 9th. We're thrilled to have the Pedrito Martinez Group
join us for a pre-Globalfest tune up live in the studio.


This Week's Playlist:
(* = new)
Los Amaya: Que Mala Suerte La Mia
/ Various Artists: Achifunk / Love Monk / *
Gecko Turner: Amame, Mimame
/ Gone Down South / Love Monk / *
Watcha Clan: Im Nin'Alu
/ Radio Babel / Piranha / *
Forthcoming - not yet released
Baba Zula: Kelebehler Kuslar
/ Gecekondu / Doublemoon / *
Hansan Durkun: Saray Yollan (The Castle Roads)
/ Various Artists: Folk Music of Turkey / Topic
Wolf Dietrich compilation
Mavrothi Kontanis: Fonias Tha Gino
/ Wooden Heart / Mavrothi T Kontanis Music
Sanda Weigl: Saraiman
/ Gypsy in a Tree / Barbes / *
Forthcoming release
Orkestar Ekrema Sajdica: Lev. Gajde
/ Best Of / Jugodisk
Orkestar Jovice Ajdarevica: Ruse Kose Curo Imas
/ Various Artists: Kad Jeknu Dragacevske Trube / Hi-Fi Centar
Zlatne Uste Balkan Brass Band: Leventikos
/ Do Zore / ZU
Afenginn: Iguana Segregatis
/ Bastard Etno / Westpark / *
Bjonko & Copenhagen Chalgija: Crazy Kovacevo
/ Demo / Bjonko & Copenhagen Chalgija
PilPel: Latet Tet Tet
/ Burning Sensation / Peregrina / *
Pedrito Martinez and Group: La Luna
/ Live on WFMU
Pedrito Martinez and Group: Que Palo
/ Live on WFMU
Pedrito Martinez and Group: I'll Be There
/ Live on WFMU
Pedrito Martinez and Group: Hay Amor
/ Live on WFMU
Pedrito Martinez and Group: Drume Negrita
/ Live on WFMU
Las Rubias del Norte: Navidad Negra
/ Zinguala / Barbes
La Sonora Palacios: Amor y Paz
/ Feliz Navidad / Star Sound
Grupo Exterminador: El Baile de Santa Claus
/ 30 Recuerdos / Fonovisa
Orchestre Septrional: Pè Noël
/ Pe Noel / Orchestre Septrional
Haiti
Willie Colon con Hector Lavoe y Yomo Toro: La Murga
/ Asalto Navideño Vol. 1 & 2 / Fania / *
New reissue of both volumes in one package
Ruben Tagalog: Masayang Pasko Po, Ninong
/ Various Artists: Pasko (Christmas) / Villar Records International / 1965
Phillipines
Mysterious Okinawans: Rudolph the Red Nosed Reindeer
/ Various Artists: Music from the Rim of Asia / Methodist Board of Missions
Lord Executor: How I Spent My Time at the Hospital
/ Various Artists: The Cheer and the Chill - Christmas Light and Dark / McGasko
Daisy Voison: Hooray Hoorah
/ Parang Queen / R. H. Productions
Trinidad
Odilio Gonzalez: Aguinaldo en la Puerta
/ Tarjeta de Navidad / Dial Records
Mbaraka Mwinsheh : Happy Christmas
/ Various Artists: Siku Ya Christmas / Polygram
Kenya
Degung Parahyangan: White Christmas
/ Degung for Christmas / Pertiwi
Music bed for concert info
Bela Fleck & The Flecktones with Alash: What Child is This / Dyngldai
/ Jingle All the Way / Rounder
Tuva (Alash, that is)
Koliadnyky of Kryvorivnia: Koliada
/ Live NY 2010 / Unreleased
Hutsul solstice carolers from the Carpathians
Hermanas Moscoso: No Se Nino Hermoso
/ Los Aguinaldos / Fadisa
Ecuador