Transpacific Sound Paradise

Saturday, January 2, 2010

Cumbia at the Bell House: Very Be Careful + Chicha Libre

Hear this show now: | Add or read comments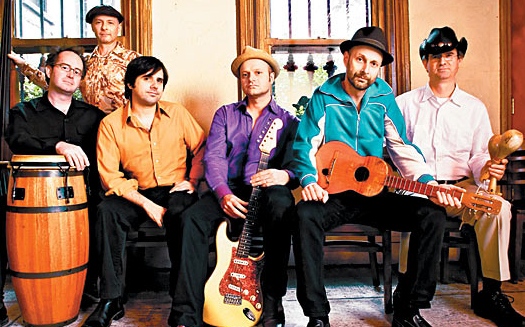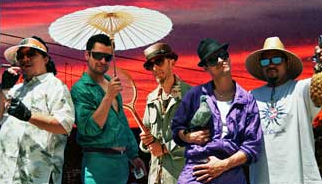 Chicha Libre (photo: Chris Smith), Very Be Careful (photo: Alexis Hunt).

Recorded live, two bands centered on the cumbia style but in very different ways: New York's own Chicha Libre, who have single-handedly resurrected the 60s / 70s surf-guitar-influenced Peruvian variant of cumbia called chicha. And LA's uproarious Very Be Careful (VBC), who careen through raw accordion-driven coastal Colombian vallenato-style cumbias.

We taped this holiday double-bill at the Bell House in Gowanus, Brooklyn during the 2009 installment of VBC's annual 4th of July weekend tour of NYC. (VBC is especially renowned for its annual 4th of July Brooklyn rooftop party, "Cumbia Under The Sparks". For info contact the band via its website, http://www.verybecareful.com.)

VBC is playing gigs in California now and heading off to Japan later this month, but you can catch Chicha Libre most Monday nights its home base, Barbes in Park Slope and also playing APAP (Arts Presenters Conference - more on this below) showcase concerts at 92y Tribeca on Jan 8 and the Highline Ballroom Jan 10. The band has several cds to its credit and a new one to be released on February 9 on the Barbes record label.

The APAP conference annually attracts a slew of world musicky (as well as other) artists who come to town to play showcase concerts. Globalfest at Webster Hall on Sunday January 10 is the highest profile but there are a bunch more - and I have many listed on my NYC / northern NJ metro events listing page, http://www.wfmu.org/world. There are also many showcases that will take place around the clock at the conference site, the Hilton New York, 1335 Avenue of the Americas from January 8-12 and they are free and open to the public - conference registration is not required.

Big thanks to our engineering and production crew for this recording and broadcast: Scott Konzelmann, Irene Trudel, Jason Sigal and Scott Williams.


This Week's Playlist:
(* = new)
Juaneco y Su Combo: Dale Juaneco
/ Juaneco y Su Combo / Barbes
Chicha Libre: Live at the Bell House, Brooklyn, NY, July 5, 2009
Conjunto Tipico Vallenato: Cumbia Cienaguera
/ Various Artists: Cumbia, Cumbia / World Circuit
Carlos Vives: La Gota Fria
/ Clasicos de la Provincia / EMI
"La Gota Fria" = "The Cold Drop"
Blanquito Man, Control Machete, Celso Piña: Cumbia Sobre el Rio
/ Various Artists: Babel - Music From And Inspired By The Motion Picture / Concord
Very Be Careful: Live at the Bell House, Brooklyn, NY, July 5, 2009
Cuban Cowboys: Liberace Afternoon
/ The Devil's Dance / *
Pre-release
Samba Mapangala: Les Goriles
/ Single / *
World Wildlife Fund Benefit / Awareness song
Nguyên Lê: Trống Com
/ Tales From Viêt-Nam / Blue Jackel