Double-Dip Recess with Roger and Amanda: Playlist from January 5, 2019
<-- Previous playlist | Back to Double-Dip Recess with Roger and Amanda playlists | Next playlist -->
---
Upcoming events:
Sat. Mar 7th, 9am - 11am: Roger, Amanda, and their Co-Host Yvonne


Sat. Mar 14th, 9am - 11am: The Double-Dip Duo with Co-Host Greg H.

---
January 5, 2019: Hot Soup

Listen to this show:
Pop‑up player! | Add or read comments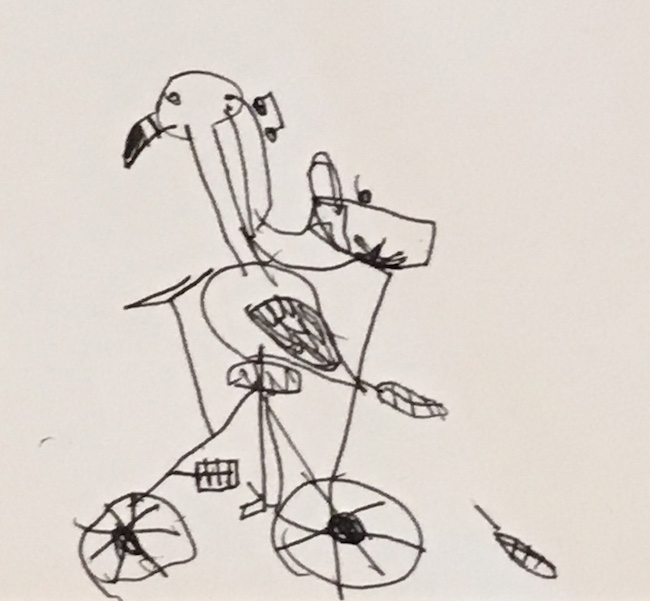 Original artwork by Violet, age 7.
Email your art to doubledip@wfmu.org to have it featured!
Artist
Track
Images
Approx. start time
Carole King
Chicken Soup with Rice
0:00:00 (Pop‑up)
Rex Robbin
Stone Soup (part 1)
0:05:01 (Pop‑up)
Parry Gripp
Soup
0:07:40 (Pop‑up)
Dan Crow
Soup Soup Soup (the "s" sound)
0:06:24 (Pop‑up)
Da Vinci's Notebook
Hot Soup
0:08:26 (Pop‑up)
Bruce Springsteen
Chicken Lips and Lizard Hips
0:10:55 (Pop‑up)
Penn Jillette
Great Green Gobs of Greasy Grimy Gopher Guts
0:13:00 (Pop‑up)
Annie Nilsson
Gotta Get Up
0:19:52 (Pop‑up)
The Wombles
The Wombling Song
0:22:44 (Pop‑up)
The Fraggles et al
Fraggle Rock theme (long version)
0:24:56 (Pop‑up)
Steve Ibsen
cat
0:27:19 (Pop‑up)
Inez & Charlie Foxx
Mockingbird
0:28:55 (Pop‑up)
The Hollies
(Ain't That) Just Like Me
0:31:41 (Pop‑up)
Bob McAllister
Exercise!
0:39:26 (Pop‑up)
Basho and Friends
Baila con Tu Cuerpo
0:40:43 (Pop‑up)
Rex Robbin
Stone Soup (part 2)
0:42:39 (Pop‑up)
Pilot
Magic
0:45:07 (Pop‑up)
Potter Puppet Pals
Mysterious Ticking Sound
0:47:34 (Pop‑up)
Rex Robbin
Stone Soup (part 3)
0:49:36 (Pop‑up)
Cookie Monster
Share it Maybe
0:50:25 (Pop‑up)
Y.N. Rich Kids
Hot Cheetos & Takis
0:53:48 (Pop‑up)
Penny Nichols
Look Around Rock
1:03:17 (Pop‑up)
B-52s
Rock Lobster
1:06:40 (Pop‑up)
The Meters
They All Ask'd for You
1:12:14 (Pop‑up)
Mephiskapheles
The Bumble Bee Tuna Song
1:16:01 (Pop‑up)
Emily Blunt, Lin-Manuel Miranda & company (Mary Poppins Returns)
A Cover is Not the Book
1:20:42 (Pop‑up)
Rex Robbin
Stone Soup (part 4)
1:28:07 (Pop‑up)
Erik Morillo & Sascha Baron Cohen (Madagascar)
I Like to Move It
1:29:02 (Pop‑up)
FleaBite
Do the Whoopsie
1:32:26 (Pop‑up)
Rex Robbin
Stone Soup (part 5)
1:35:22 (Pop‑up)
Phineas and Ferb
Platypus Walk
1:36:33 (Pop‑up)
They Might Be Giants
Dinner Bell Rings
1:37:52 (Pop‑up)
Joe Raposo
Trying and Trying Again
1:44:23 (Pop‑up)
John Sebastian
The Get-Along Gang (Theme) (an earlier TV movie, not the animated series)
1:46:10 (Pop‑up)
Schnappi
Schnappi Das Kleine Krokodil
1:48:05 (Pop‑up)
The Shytunas
My Shoes Light Up
1:49:46 (Pop‑up)
The Weird Hour
The Sandwich Song
1:51:26 (Pop‑up)
Lou Monte
I Like You, You Like Me, Eh Paisan (feat. Pepino & Pasquale)
1:53:53 (Pop‑up)
Slim Gaillard
Serenade to a Poodle
1:56:13 (Pop‑up)
<-- Previous playlist
| Back to
Double-Dip Recess with Roger and Amanda playlists
|
Next playlist -->
RSS feeds for Double-Dip Recess with Roger and Amanda:
Playlists feed |
MP3 archives feed
|
E-mail Amanda
,
E-mail Roger
|
Other WFMU Playlists
|
All artists played by Double-Dip Recess with Roger and Amanda
|
---
Listen on the Internet
|
Contact Us
|
Music & Programs
|
WFMU Home Page
|
Support Us
|
FAQ
Live Audio Streams:
Pop-up
|
128k AAC
|
128k MP3
|
32k MP3
|
32k Windows
---