Two hours of rollicking delite: '60s jams, cartooniness, seriousness, sing-alongs, and Simpsons talk. P.dece.
October 28, 2015: SIMPSONS TIME: The Feast of Maximum Occupancy

Listen to this show:
Pop‑up player! | Add or read comments

with SPECIAL GUESTS Paul Bruno, Pat Byrne, Gaylord Fields, Nate K, DJ Therese, Kris King of Simpsons Club at Nitehawk Cinemas, and Dan Ozzi of WooHoo Simpsons Trivia BK!!!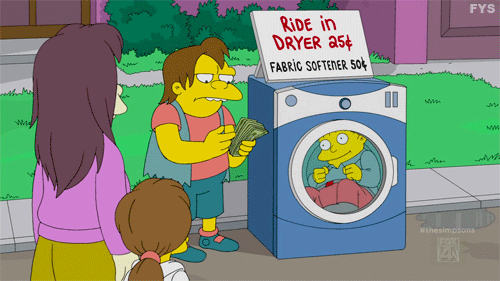 | Artist | Track | Album | Images | Approx. start time |
| --- | --- | --- | --- | --- |
| Homer & Marge | Those Were the Days | | | 0:00:00 (Pop‑up) |
| Bart Simpson | Do the Bartman (video version) | The Simpsons Sing the Blues | | 0:03:00 (Pop‑up) |
| Amanda & Nate | Talking (part 1) | | | 0:07:52 (Pop‑up) |
| Simpsons Cast | Kids vs. Adults | | | 0:14:57 (Pop‑up) |
| Amanda and Nate | Talking (part 2) | | | 0:16:33 (Pop‑up) |
| Kirk Van Houten/DJ Duff | Can I Borrow a Feeling? | | | 0:18:10 (Pop‑up) |
| | Interview with Dan Ozzi of WooHoo Simpsons Trivia Brooklyn | | | 0:19:55 (Pop‑up) |
| Paul Anka & Lisa | "Just Don't Look" | | | 0:25:58 (Pop‑up) |
| Amanda, Paul, Pat | TREEHOUSE OF HORROR V LIVE! (Part 1: The Shinning) | | | 0:27:18 (Pop‑up) |
| Simpsons Cast w/Jon Lovitz | A Streetcar Named Marge medley (pt 1) | | | 0:36:07 (Pop‑up) |
| | Interview with Kris King of Simpsons Club at Nitehawk Cinemas | | | 0:38:53 (Pop‑up) |
| Simpsons Cast | A Streetcar Named Marge medley (pt 2) | | | 0:43:05 (Pop‑up) |
| Amanda & Gaylord | Talking (part 1) | | | 0:44:24 (Pop‑up) |
| Mayor Quimby Singers | Vote Quimby jingle from Sideshow Bob Roberts | | | 0:55:16 (Pop‑up) |
| Amanda & Gaylord | Talking (part 2) | | | 0:55:50 (Pop‑up) |
| Weird Al Yankovic | Jack & Diane parody from Three Gays of the Condo | | | 1:01:11 (Pop‑up) |
| | Butterfinger ad (1990) | | | 1:02:39 (Pop‑up) |
| Amanda, Paul, Pat | TREEHOUSE OF HORROR V LIVE! (Part 2: Time and Punishment) | | | 1:03:26 (Pop‑up) |
| DJ z0diak | Dental Plan/Cypress Hill mashup | | | 1:10:19 (Pop‑up) |
| | Interview with Kris King and Dan Ozzi, cont'd | | | 1:13:36 (Pop‑up) |
| Dan Castellaneta with Kang & Kodos | They'll Never Stop the Simpsons | | | 1:19:10 (Pop‑up) |
| | Interview with Kris King and Dan Ozzi (final part) | | | 1:20:27 (Pop‑up) |
| Nelson Muntz | Joy to the World | | | 1:29:08 (Pop‑up) |
| Amanda & Therese | Talking | | | 1:30:03 (Pop‑up) |
| Homer & Marge | I Love to See You Smile | The Simpsons Sing the Blues | | 1:41:02 (Pop‑up) |
| Amanda, Paul, Pat | TREEHOUSE OF HORROR V LIVE! (Part 3: Nightmare Cafeteria) | | | 1:44:28 (Pop‑up) |
| Florian Calmer, Yoann Hervo, Hugo Moreno | "Weird Simpsons VHS" | | | 1:51:28 (Pop‑up) |
| Flanders, Rod, Todd, Homer | Everyone Loves Ned Flanders | | | 1:52:39 (Pop‑up) |
| Michael Jackson, Macaulay Culkin, George Wendt | Black Or White | | | 1:55:15 (Pop‑up) |