Brian Turner: Playlist from April 28, 2015
Order and disorder in a freeform haze of terribly-played guitars, shorted-out electronics, found audio detritus, strange sounds from strange lands all around. Psych-punk-junk, collage, even pop. Lots of in-studio live performances to boot.
<-- Previous playlist | Back to Brian Turner playlists | Next playlist -->
---
April 28, 2015: THE FALL: Part 2 of 2 Special w/ live recordings, Interview with MARC RILEY plus BRIX SMITH START

Listen to this show:
Pop‑up player! | Add or read comments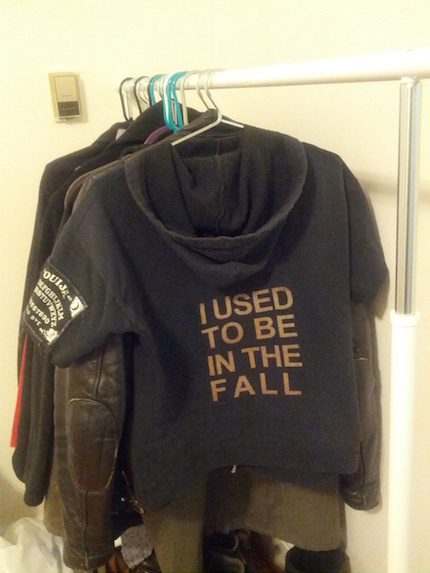 (Pic of our FMA Director Cheyenne Hohman's hoodie) Second part of a two week special: today's entire three hours is dedicated to the exhuming of some stellar live tapes in Brian's collection from The Fall, mainly soundboard and FM broadcasts from mostly of the '78 to '96 era. As a bonus, three of the band's biggest instrumental anchors of that period, ex-guitarist Marc Riley (1978-83, and now a well-beloved BBC Radio6 DJ), post-Riley guitarist Brix Smith Start (1983-89) and ex-bassist Stephen Hanley (1979-98) speak to WFMU on life inside of and outside of the band; in fact Hanley has recently released a memoir called The Big Midweek. Last week's show featured Hanley and a live set from Spectre Folk performing Fall covers at WFMU, this week we have some chats with Marc Riley (guitarist 1979-83, now a BBC6 Radio DJ) and Brix Smith Start (former Mrs. Mark E. Smith and the band's guitarist from 1983-89 and 1995-6). Mark E. Smith's current lineup of The Fall releases an album, his 31st, on May 25th called Sub-Lingual Tablet.
| Artist | Track | Album | Images | Approx. start time |
| --- | --- | --- | --- | --- |
| The Fall | Middle Mass | Unknown venue, NYC, 6/11/81 | | 0:00:00 (Pop‑up) |
| The Fall | Deer Park | Unknown venue, NYC, 6/11/81 | | 0:04:02 (Pop‑up) |
| The Fall | Container Drivers | Unknown venue, NYC, 6/11/81 | | 0:09:20 (Pop‑up) |
| The Fall | Rowsche Rumble | JB's, Dudley UK 9/1/79 | | 0:19:22 (Pop‑up) |
| The Fall | Lie Dream of a Casino Soul | Austerbaejarbio, Reykjavik, Iceland 9/12/81 | | 0:23:31 (Pop‑up) |
| The Fall | Cash N Carry | San Francisco 1981 | | 0:26:35 (Pop‑up) |
| Marc Riley | WFMU Interview | The Fall's guitarist 1979-82, currently an on-air personality at BBC6: http://www.bbc.co.uk/programmes/b00c72y1 | | 0:36:17 (Pop‑up) |
| The Fall | No Xmas For John Quays | Keystone, Berkeley 7/10/81 | | 1:12:25 (Pop‑up) |
| The Fall | Totally Wired (A Capella) | Unknown, 1981 | | 1:21:02 (Pop‑up) |
| The Fall | Eat Y'self Fitter | Austerbaejarbio, Reykjavik, Iceland 5/6/83 | | 1:31:59 (Pop‑up) |
| The Fall | Lay of the Land | VPRO / De Doelen, Rotterdam 9/22/84 | | 1:39:17 (Pop‑up) |
| The Fall | L.A. | Schlachthof, Bremen, 9/11/85 | | 1:46:05 (Pop‑up) |
| Brix Smith Start | WFMU Interview | Brix is the former Mrs. Mark Smith, and guitarist in The Fall from 1983-89, then once again briefly 1995-96. Currently a TV presenter, boutique co-owner, and now fronts Brix & the Extricated | | 1:50:30 (Pop‑up) |
| The Fall | Guest Informant | The Channel, Boston 5/12/88 | | 2:25:39 (Pop‑up) |
| The Fall | Bombast / Cruiser's Creek | The Tube, Channel 4 UK 11/8/85 | | 2:31:29 (Pop‑up) |
| The Fall | Hip Priest (into Big New Prinz) | Kings Theater, Ediburgh 8/17/88 | | 2:39:23 (Pop‑up) |
| The Fall | I Am Damo Suzuki | Markthalle, Hamburg 2/13/87 | | 2:50:35 (Pop‑up) |
<-- Previous playlist
| Back to
Brian Turner playlists
|
Next playlist -->
RSS feeds for Brian Turner:
Playlists feed |
MP3 archives feed
| Email
the Program Director
|
Other WFMU Playlists
|
All artists played by Brian Turner
|
---
Listen on the Internet
|
Contact Us
|
Music & Programs
|
WFMU Home Page
|
Support Us
|
FAQ
Live Audio Streams for WFMU:
Pop-up
|
128k AAC
|
128k MP3
|
32k MP3
---