The Evan "Funk" Davies Show: Playlist from October 29, 2014
Every show starts with the '70s! We'll rediscover forgotten rockers, revisit unfairly maligned disco beats and replay power-pop favorites. Next: plenty of new releases, occasional live bands and more. Don't let the nickname confuse you.
<-- Previous playlist | Back to The Evan "Funk" Davies Show playlists | Next playlist -->
---
Upcoming events:
Wed. Oct 16th, 9pm - Midnight: Singles Going Seventies! (More info...)


Wed. Oct 23rd, 9pm - Midnight: A salute to New York Rocker (More info...)


Wed. Oct 30th, 9pm - Midnight: Stag plays live (More info...)

---
October 29, 2014: ULTIMATE PAINTING live set! And, it's the final week of WFMU's Silent Fundraiser and Mascot Contest

Listen to this show: | Add or read comments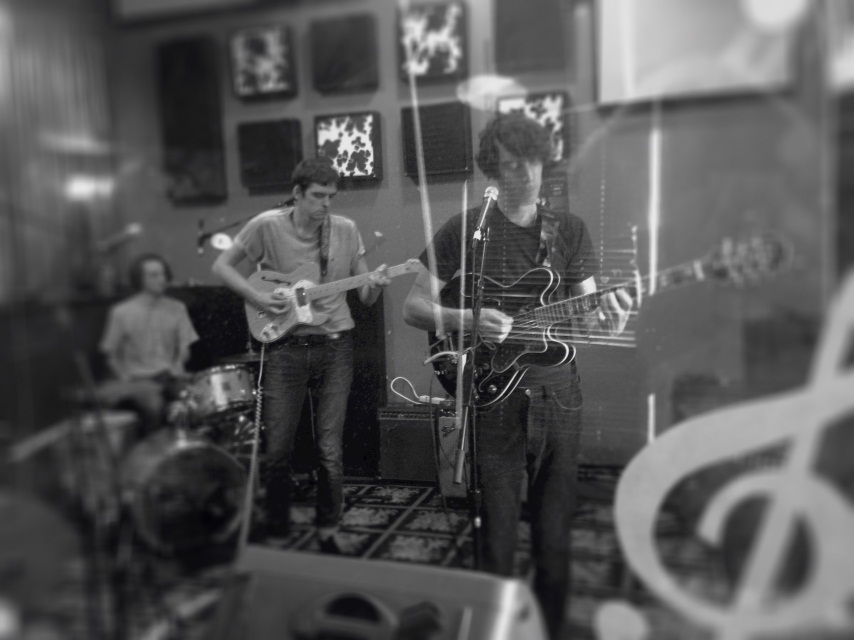 It's the last week of WFMU's Silent Fundraiser and Mascot Contest, and I've got one more special show to remind you of how awesome WFMU is (and hopefully to motivate you to pledge).

It's been a stellar month so far on the show if I do say so myself! Let's review:

The yearly "Mayhem In The PM" throwback show, with nothing but punk/new wave/power pop/post-punk records from '77-'82!

The AM Gold Throwdown, with special guest Clay Pigeon!
Last week's mind-melting double bill featuring Lloyd Cole and last-minute addition The #1s, plus Singles Going On Vacation (slight return)!
And tonight I've got a fantastic live set from Ultimate Painting!

I'm not suggesting that I should be rewarded for bringing you these great shows - I love being on the radio at WFMU every week and give my time gladly. But I AM suggesting that WFMU should be rewarded for being the kind of place where shows like these -- and shows not at all like these -- happen every day. The money you donate will help us finish outfitting Monty Hall, our new ground floor performance space, which in turn will enable us to bring you even more live shows and special events for your listening, viewing, and attending-in-person pleasure. It also helps us squeak through the next few months before we start our loud and noisy annual fundraising marathon.

Now, because this is a SILENT fundraiser I won't be talking about it much at all during my show. I'm depending on these words, and the show itself, to convince you to PLEASE PLEDGE!

If you're one of the 25-odd people who have already pledged, THANK YOU! Your support is greatly appreciated. If not,
P L E A S E P L E D G E N O W !

Please also take a moment to Like The Evan "Funk" Davies Show on Facebook and follow me on Twitter! Thank you.!


(* = new)


Artist
Track
Album
Label
Year
Comments
New
Approx. start time
wire
map ref. 41° n 93° w
154
warner bros
1979
0:00:00 ()
eyelids
forget about tomorrow
854
jealous butcher
*
0:03:13 ()
the reivers
ragamuffin man
saturday
capitol
1987
0:06:04 ()
the feelies
again today
here before
bar/none
2011
0:09:00 ()
the cosmonauts
what me worry?
persona non grata
burger
2013
0:12:33 ()
persian claws
move through time
s/t
musica para locos
2012
0:16:46 ()
veronica falls
tell me
waiting for something to happen
slumberland
2013
with Ultimate Painting member James Hoare
0:18:36 ()
mazes
my drugs
blazes
parasol
2012
with Ultimate Painting member Jack Cooper Whoops! Different Mazes, so shame on me and apologies to Jack.
0:21:57 ()

ULTIMATE PAINTING live set!
engineered by Mike Sin

James Hoare - guitar/vocals
Jack Cooper - guitar/vocals
Neil Robinson - drums
Anthony Cozzi - bass

New album out now on Trouble In Mind! Follow them on Twitter and Tumblr.
ultimate painting
ultimate painting
live on wfmu
0:33:17 ()
ultimate painting
rolling in the deep end
live on wfmu
0:37:21 ()
ultimate painting
can't you see
live on wfmu
0:41:12 ()
ultimate painting
talking central park blues
live on wfmu
0:43:15 ()
ultimate painting
three piers
live on wfmu
0:47:40 ()
ultimate painting
riverside
live on wfmu
0:51:41 ()
ultimate painting
winter in your heart
live on wfmu
0:54:41 ()
ultimate painting
ten street
live on wfmu
0:57:43 ()
ultimate painting
chats with efd
live on wfmu
1:03:05 ()
cozy
huggin' machine
button by button
hozac
*
1:09:28 ()
nude beach
yesterday
77
don giovanni
*
1:12:03 ()
useless eaters
hidden fees
bleeding moon
castle face
*
1:15:28 ()
the revillos
rev up
rev up
snatzo/capt. oi
2001
cd reissue, orig 1980
1:19:10 ()
ghost town
harsh light
7"
gilgongo
*
1:21:27 ()
the briefs
rotten love
hit after hit
dirtnap
2001
next week's live guests!!!
See them tomorrow night at Theater of Living Arts in Philadelphia, Friday (Halloween!) at Irving Plaza and Saturday at the Stone Pony in Asbury Park! All shows with TSOL(!) and The Damned(!!)
1:32:11 ()
the briefs
ain't it the truth
off the charts
dirtnap
2002
1:35:16 ()
the briefs
so stupid
sex objects
byo records
2004
1:37:52 ()
the damned
neat neat neat
s/t
frontier
1989
vinyl reissue, orig 1977
1:40:31 ()
the briefs
new shoes
hit after hit
dirtnap
2001
1:42:40 ()
the briefs
22nd century man
off the charts
dirtnap
2002
1:44:52 ()
the briefs
40 and above
steal yer heart
byo records
2005
1:47:26 ()
duncan reid & the big heads
little fingers and toes
the difficult second album
little big head
*
1:54:19 ()
games
little elise
7"
hozac
*
1:58:13 ()
velveeta heartbreak
i shot the invisible man
7"
semper lofi
2006
2:01:09 ()
flowers
forget the fall
s/t
fortuna pop
*
2:04:07 ()
dressy bessy
what is life
va-more superhits of the seventies
wfmu
Michael Shelley's 2014 fundraising marathon premium
*
2:06:30 ()
elf
streetwalker
trying to burn the sun
mgm
1975
2:18:07 ()
solid senders
blazing fountains
s/t
virgin
2:24:49 ()
the vibrators
love like diamonds
punk mania: back to the roots
cleopatra
*
2:27:58 ()
dizzy man's band
mony the phoney
7"
emi
1974
2:30:38 ()
king tuff
sick mind
black moon spell
sub pop
2:34:08 ()
the limiñanas
intro by evan "funk" davies / i'm dead
i've got trouble in mind: 7" and rare stuff 2009/2014
trouble in mind
*
2:42:03 ()
got a girl
la la la
i love you but i must drive off this cliff now
bulk
*
2:44:51 ()
sloan
take it easy
commonwealth
yep roc
*
2:48:55 ()
the paul & john
inner sundown
inner sunset
mystery lawn
San Franciscans and other Bay Areans! See The Paul & John tomorrow (Thursday) night at Bottom Of The Hill! The Orange Peels are also on the bill!
*
2:51:56 ()
<-- Previous playlist
| Back to
The Evan "Funk" Davies Show playlists
|
Next playlist -->
RSS feeds for The Evan "Funk" Davies Show:
Playlists feed |
MP3 archives feed
|
E-mail Evan Davies
|
Other WFMU Playlists
|
All artists played by The Evan "Funk" Davies Show
|
---
Listen on the Internet
|
Contact Us
|
Music & Programs
|
WFMU Home Page
|
Support Us
|
FAQ
Live Audio Streams:
Pop-up
|
128k AAC
|
128k MP3
|
32k MP3
|
32k Windows
---