Brian Turner: Playlist from September 23, 2014
Order and disorder in a freeform haze of terribly-played guitars, shorted-out electronics, found audio detritus, strange sounds from strange lands all around. Psych-punk-junk, collage, even pop. Lots of in-studio live performances to boot.
<-- Previous playlist | Back to Brian Turner playlists | Next playlist -->
---
September 23, 2014: w/ live set from DOOM

Listen to this show:
Pop‑up player! | Add or read comments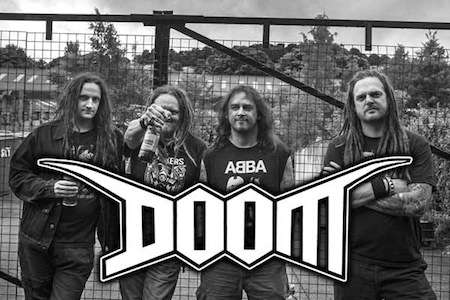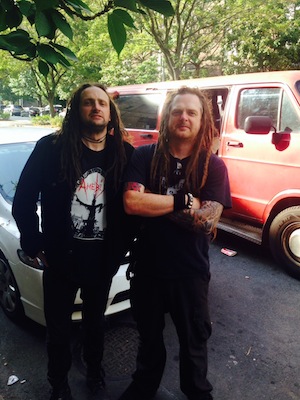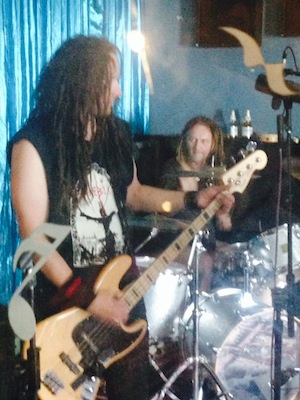 UK crust lords DOOM live on the show today!
(* = new)


| Artist | Track | Album | Label | Comments | New | Approx. start time |
| --- | --- | --- | --- | --- | --- | --- |
| Kraus | Heavy (With Child) | Interior Castle | Moniker | | * | 0:00:00 (Pop‑up) |
| Veiled | Unmanifested Nature | El Temps No Passa | White Denim | | * | 0:02:10 (Pop‑up) |
| Furchick | Medicate Me | Suck | Fag Ash | | * | 0:08:34 (Pop‑up) |
| Bronson | What Do You Do When Your Son Is A Creep | Waste Creeps | No Dice | | | 0:11:33 (Pop‑up) |
| Rick Ulfik | We Do Things My Way | Soundtrack: Street Trash | Lunaris | | * | 0:16:55 (Pop‑up) |
| Family | Drowned in Wine (Glastonbury 71) | | | | | 0:17:32 (Pop‑up) |
| Liquid Diamonds | Long Ago | 7" | Hozac | | * | 0:20:43 (Pop‑up) |
| Peter Jefferies | Electricity | Electricity | Superior Viaduct | live here on the show next week! | * | 0:30:25 (Pop‑up) |
| Midnight | Evil Like a Knife | No Mercy For Mayhem | Hells Headbangers | | * | 0:33:41 (Pop‑up) |
| Ngozi Family | Kumanda Kwa Bambo Wnaga | Day of Judgement | Now-Again | | * | 0:36:33 (Pop‑up) |
| Slayer | Reborn | Reign In Blood Demos | | | | 0:40:27 (Pop‑up) |
| Siege | Drop Dead | Drop Dead | Deep Six | | | 0:42:30 (Pop‑up) |
| Battered Citizens | Inhumane Society | Police Brutality | Mind Cure | | | 0:45:31 (Pop‑up) |
| The Stroke Band | Don't Get Angry | Green and Yellow | Anthology | | * | 0:46:07 (Pop‑up) |
| Sun City Girls | Beelzebub Visits West Virginia | Cloaven Theater #1 | | | | 0:48:44 (Pop‑up) |
| Old Men Group at Pushkar Lake | Bagarawath Magar Session | Various:Rajasthan Street Music | Sublime Frequencies | | * | 0:59:46 (Pop‑up) |
| Doom | Live on WFMU | engineers: Joel Gutman & Jean-Paul Gatreaux | | The kings of crust are here today. Starting in 1987 in Birmingham, Doom tore up the British touring circuit and John Peel programs with their pioneering style of anarcho metal and proto-grindcore, swerving into a heavier punk direction upon departure of Mick Harris for Napalm Death. Along with Discharge, few UK heavies have had such a worldwide influence on extreme music as Doom, who toured heavily into the '90s. After the passing of singer Wayne Southworth in 2005, the band remained dormant until 2010 and now with vocalist Denis locked in continue their worldwide assault with NYC shows at the Wick on Sept 19th and the Acheron on the 20th, and on Brian's show today. Big thanks to Greg and John Seroff! Lineup today: Denis: vox, Stick: drums, Bri: guitar, Scoot: Bass. Songs: Sick Joke / Fear of the Future / Diseased / Life Lock / Bury the Debt / Stripped Whipped & Crucified / Open Mind Surgery / Exploitation / Human Meat / Reasonable Force / Natural Abuse / Nazi Die / Relief / Pro-Life Control / Suffer In Silence / Police Bastard. www.facebook.com/doomcrustpunk, www.doomcrustpunk.com | | 1:06:54 (Pop‑up) |
| Hank Wood & the Hammerheads | The Ghost | Stay Home! | Toxic State | | * | 1:45:38 (Pop‑up) |
| Ivy | Wardsback | Ivy | Katorga Works | | * | 1:48:12 (Pop‑up) |
| Spray Paint | Three Thumbs Up | Cussin' 7" | Upset the Rhythm | | * | 1:51:14 (Pop‑up) |
| Faarao Kakspainen Narttu | Jumisen Raitti | 7" | Karkia Mistika | | * | 1:52:53 (Pop‑up) |
| John Schooley & Walter Daniels | Cluck Old Hen | Dead Mall Blues | 12XU | | * | 1:54:20 (Pop‑up) |
| Gurner | Leek Tart Session | | | | * | 2:05:01 (Pop‑up) |
| AG Davis | Excerpt | Audio Works | Obsolete Units | | * | 2:07:15 (Pop‑up) |
| DJ Keiji Haino | In Your Minds 7 | In The World | | | * | 2:11:15 (Pop‑up) |
| Creation Rebel / New Age Steppers | Threat To Creation | Threat To Creation | Anthology | | * | 2:18:04 (Pop‑up) |
| Crime | Lost Soul | Murder By Guitar | Superior Viaduct | | * | 2:20:27 (Pop‑up) |
| Flying Pizza | Herra Immuuni | 7" | Karkia Mistika | | * | 2:24:05 (Pop‑up) |
| Ameisensaure | Nazipack | Various: Neu Ist Zeit: Augsburg 1979-84 | Randstock | | | 2:26:52 (Pop‑up) |
| Slender | Untitled | Slender | Toxic State | | * | 2:34:16 (Pop‑up) |
| Girma Yifrashewa | Unknown | Love and Peace | Unseen Worlds | | * | 2:36:17 (Pop‑up) |
| Cousen Brothers | Semingou Di - Kuala Terengganu | V/A Pulsating Strings: A Collection of Psychedelic Asian Guitar Music | Sanity Muffin | | * | 2:43:09 (Pop‑up) |
| Lazlow Pigeon | Dad's Shame | Dotard's Gulch | Meathearth Enterprises | | * | 2:49:12 (Pop‑up) |
| Chilliwack | Night Morning | Chilliwack | | as if a Popol Vuh-style Chilliwack track wasn't strange enough | | 2:52:08 (Pop‑up) |
<-- Previous playlist
| Back to
Brian Turner playlists
|
Next playlist -->
RSS feeds for Brian Turner:
Playlists feed |
MP3 archives feed
| Email
the Program Director
|
Other WFMU Playlists
|
All artists played by Brian Turner
|
---
Listen on the Internet
|
Contact Us
|
Music & Programs
|
WFMU Home Page
|
Support Us
|
FAQ
Live Audio Streams:
Pop-up
|
128k AAC
|
128k MP3
|
32k MP3
|
32k Windows
---