Nazario Scenario: Playlist from March 5, 2014
Two hours of rollicking delite: '60s jams, cartooniness, seriousness, sing-alongs, and Simpsons talk. P.dece.
<-- Previous playlist | Back to Nazario Scenario playlists | Next playlist -->
---
March 5, 2014: WFMU MARATHON WEEK 2!!!!! With MC Joe Belock!


A pledge of $75 or more gets you THIS ZINE, full of activities, drawn and manufactured expressly for the WFMU marathon and for no other purpose.

Listen to this show:
Pop‑up player! | Add or read comments

....................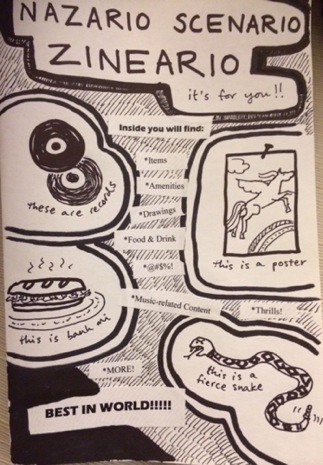 (* = new)


Artist
Track
Album
Label
Year
Format
Comments
New
Approx. start time
Squeeze
I've Returned
Sweets From a Stranger
A&M
1982
LP
0:00:00 (Pop‑up)
Rachel Sweet
Take Good Care of Me
Protect the Innocent
Stiff
1980
LP
0:03:28 (Pop‑up)
Alex Chilton
All I Really Want is Money (orig mono mix)
Free Again: The "1970″ Sessions
Omnivore
CD
Win this CD!!!! Pledge to the show NOW!
0:06:46 (Pop‑up)
Fugazi
Do You Like Me?
Red Medicine
0:29:23 (Pop‑up)
The Rings
I Wanna Be Free
Punk 45: There Is No Such Thing As Society (V/A)
Soul Jazz
CD
*
0:32:10 (Pop‑up)
The Dictators
Who Will Save Rock and Roll?
Imposible
1997
7"
0:35:02 (Pop‑up)
The Black Hollies
Unless It's My Imagination
Somewhere Between Here and Nowhere
WIN IT!!!! Pledge now!
0:52:08 (Pop‑up)
Quichenight
Rock 'n' Roll Thing
Greatest Hits
No label
2013
CD
0:55:13 (Pop‑up)
Liz Phair
Shitloads of Money
Whitechocolatespaceegg
Matador
1998
CD
0:58:30 (Pop‑up)
Bryan and the Haggards feat. Dr. Eugene Chadbourne
Mama Tried
Merles Just Want To Have Fun
Northern Spy
CD
WIN IT!!! Pledge now now now
*
1:19:42 (Pop‑up)
Richard and Linda Thompson
Borrowed Time
Sunnyvista
Carthage
1983
LP
1:23:01 (Pop‑up)
Sue Saad and the Next
I Won't Give it Up
Planet
1980
7"
1:28:06 (Pop‑up)
Wendy and Bonnie
Let Yourself Go Another Time
Sundazed
orig 1969
LP
WIN THIS LP!!!! It is an LP.
1:48:23 (Pop‑up)
Joe South
Let the Party Roll On
Walkin' Shoes
MGM
LP
1:50:32 (Pop‑up)
The Soulful Strings
A Lover's Concerto
Paint It Black
Cadet
LP
1:52:36 (Pop‑up)
Harry Nilsson
Gotta Get Up
The Essential Nilsson 2CD
RCA Legacy
WIN THIS NOW!!!! Pledge now
2:18:33 (Pop‑up)
Ween
Dr. Rock (live)
2:20:23 (Pop‑up)
Dave Edmunds
I Hear You Knocking
2:23:42 (Pop‑up)
Englebert Humperdinck
Ten Guitars
Parrot
7"
2:26:26 (Pop‑up)
Sandy Denny
Willie Moore
19 Rupert Street
WIN IT NOW! Please pledge using the widget on top of the page.
2:42:48 (Pop‑up)
Tears For Fears
Sowing The Seeds Of Love
2:46:44 (Pop‑up)
King Floyd & Dorothy Moore
We Can Love
3:02:11 (Pop‑up)
<-- Previous playlist
| Back to
Nazario Scenario playlists
|
Next playlist -->
RSS feeds for Nazario Scenario:
Playlists feed |
MP3 archives feed
|
E-mail Amanda
|
Other WFMU Playlists
|
All artists played by Nazario Scenario
|
---
Listen on the Internet
|
Contact Us
|
Music & Programs
|
WFMU Home Page
|
Support Us
|
FAQ
Live Audio Streams:
Pop-up
|
128k AAC
|
128k MP3
|
32k MP3
|
32k Windows
---