The Evan "Funk" Davies Show: Playlist from October 30, 2013
Every show starts with the '70s! We'll rediscover forgotten rockers, revisit unfairly maligned disco beats and replay power-pop favorites. Next: plenty of new releases, occasional live bands and more. Don't let the nickname confuse you.
<-- Previous playlist | Back to The Evan "Funk" Davies Show playlists | Next playlist -->
---
Upcoming events:
Wed. Oct 16th, 9pm - Midnight: Singles Going Seventies! (More info...)


Wed. Oct 23rd, 9pm - Midnight: A salute to New York Rocker (More info...)


Wed. Oct 30th, 9pm - Midnight: Stag plays live (More info...)

---
October 30, 2013: CHASTITY BELT and PONY TIME live sets! PLUS RIP Lou Reed, and congratulations to the Boston Red Sox! (Studio of Tomorrow Campaign, week 5)

Listen to this show: | Add or read comments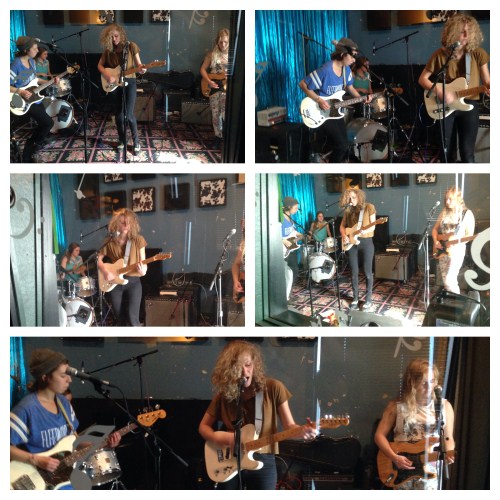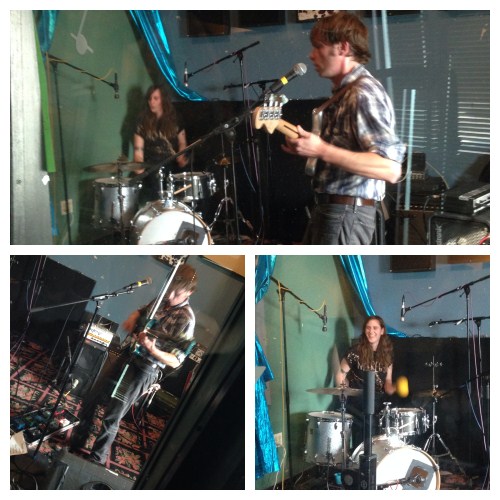 Let's review the month of October so far, shall we?
Week 1: Sing Sing Records DJ Night, with tons of amazing punk and glam records
Week 2: Live sets from Gap Dream and The Cosmonauts
Week 3: Mayhem In the PM: all power-pop, post-punk, new wave and punk from 1977-1982
Week 4: Singles On Vacation: a bunch of dollar (or euro) singles from overseas
And now, week 5: live music from Chastity Belt and Pony Time.

Why all the special shows? Why have I made multiple extra trips to WFMU to bring you four live bands this month? Because we've been running our Studio Of Tomorrow "silent" fundraising campaign throughout the month. We call it a silent fundraiser because we're hardly talking about it on the air, but that doesn't mean YOU should be silent! I put together these special shows to call attention to the fundraiser and to help WFMU raise money this month! To be blunt, I'm looking to be rewarded. In the form of pledges. (Have you pledged yet?)
We're trying to finish building out a new 100-seat public radio theater so YOU THE LISTENER can come see music sessions and other live broadcasts and special WFMU events!
The goal for my show represents a mere 1% of the overall goal for the station, and we're still a long way from both! If you've already pledged, THANK YOU! Your support is greatly appreciated. If not,
P L E A S E P L E D G E N O W !
And please also take a moment to Like The Evan "Funk" Davies Show on Facebook and follow me on Twitter! Thank you.!


(* = new)


Artist
Track
Album
Label
Year
Comments
New
Approx. start time
detroit
rock 'n' roll
s/t
quality
1971
0:00:00 ()
genya ravan
aye colorado
urban desire
20th century
1978
duet with Lou Reed
0:05:39 ()
orchestral manoeuvres in the dark
waiting for the man
messages 10" ep
diddisc
1979
0:08:59 ()
simple minds
street hassle
sparkle in the rain
a & m
1983
0:11:34 ()
the andrea true connection
sally can't dance
white witch
buddah
1977
0:16:51 ()
kiss
a world without heroes
music from the elder
mercury
1981
co-written by Lou Reed
0:20:03 ()
dramarama
femme fatale
cinema verite
chameleon/elektra
1985
0:22:27 ()
gang of four
sweet jane (live)
entertainment!
rhino
2005
bonus track from the cd reissue
0:25:22 ()
bryan ferry
what goes on
7"
polydor
1978
0:28:36 ()
the dictators
what goes on
new york new york
roir
1998
cd reissue, orig 1981
0:32:52 ()
the feelies
what goes on
only life
water
2008
cd reissue, orig 1988
0:37:00 ()

live set from CHASTITY BELT
engineered by Mike Sin

Julia - vocals/guitar
Lydia - guitar/vocals
Annie - bass
Gretchen - drums

New album No Regerts out now on Help Yourself Records! Follow them on Twitter and like them on Facebook!
chastity belt
cadaver
live on wfmu
0:50:19 ()
chastity belt
full
live on wfmu
0:52:58 ()
chastity belt
why try
live on wfmu
0:56:08 ()
chastity belt
black sail
live on wfmu
0:59:11 ()
chastity belt
drone
live on wfmu
1:02:48 ()
chastity belt
lydia
live on wfmu
1:06:52 ()
chastity belt
seattle party
live on wfmu
1:11:10 ()
chastity belt
joke
live on wfmu
1:15:46 ()
chastity belt
chat with efd
live on wfmu
1:21:06 ()
the velvet underground
what goes on
live '68
recorded in Cleveland - the first show with Doug Yule after John Cale left the band.
1:27:09 ()
lou reed
street hassle
street hassle
arista
(edited)
1:32:24 ()

live set from PONY TIME
engineered by Mike Sin

Stacy - drums/maraca
Luke - vocals/bass/guitar

Look for their album Go Find Your Own out now on Per Se!
They are also on Twitter and Facebook! Follow and like them!
pony time
what if you caught me
live on WFMU
1:47:20 ()
pony time
lori & judy
live on wfmu
1:48:50 ()
pony time
gary numan
live on wfmu
1:50:46 ()
pony time
introvert/extrovert
live on wfmu
1:53:07 ()
pony time
not without my cobra
live on wfmu
1:55:49 ()
pony time
kathleen hanna
live on wfmu
1:58:18 ()
pony time
because i care
live on wfmu
2:00:52 ()
pony time
time tells me
live on wfmu
2:04:08 ()
pony time
lesbian mayor
live on wfmu
2:05:54 ()
pony time
geordie
live on wfmu
2:07:53 ()
pony time
bad behavior
live on wfmu
2:10:43 ()
pony time
chat with efd
live on wfmu
2:13:48 ()
the split squad
tinker tailor
-- interrupted --
2:21:07 ()
the standells
dirty water
CONGRATULATIONS TO THE 2013 WORLD SERIES CHAMPIONS!!!!!1!!!one!!
2:23:02 ()
freddie cannon with los straitjackets
the sox are rockin'
7"
sundazed
2013
2:26:08 ()
john kiley
the impossible dream
red sox organ music
no label
with Rico Petrocelli on drums! Special thanks to Todd-O-Phonic Todd!
2:27:41 ()
earth opera
the red sox are winning
s/t
elektra
1968
last heard on this show in 2007
2:29:46 ()
freddie cannon with los straitjackets
red sox nation
7"
sundazed
2013
2:34:24 ()
standells
dirty water
2:38:14 ()
the split squad
tinker tailor
now hear this...
the split squad
tip of the hat to Split Squad member Josh Kantor, who also happens to be the current organ player at Fenway Park.
*
2:42:38 ()
cosmonauts
what me worry?
persona non grata
burger
*
2:45:33 ()
free fall
world domination
power & volume
nuclear blast
*
2:49:40 ()
rich crook
tonight alright
7" ep
ptrash
*
2:54:25 ()
<-- Previous playlist
| Back to
The Evan "Funk" Davies Show playlists
|
Next playlist -->
RSS feeds for The Evan "Funk" Davies Show:
Playlists feed |
MP3 archives feed
|
E-mail Evan Davies
|
Other WFMU Playlists
|
All artists played by The Evan "Funk" Davies Show
|
---
Listen on the Internet
|
Contact Us
|
Music & Programs
|
WFMU Home Page
|
Support Us
|
FAQ
Live Audio Streams:
Pop-up
|
128k AAC
|
128k MP3
|
32k MP3
|
32k Windows
---