Brian Turner: Playlist from May 14, 2013
Order and disorder in a freeform haze of terribly-played guitars, shorted-out electronics, found audio detritus, strange sounds from strange lands all around. Psych-punk-junk, collage, even pop. Lots of in-studio live performances to boot.
<-- Previous playlist | Back to Brian Turner playlists | Next playlist -->
---
May 14, 2013: w/ live set from MUDHONEY

Listen to this show:
Pop‑up player! | Add or read comments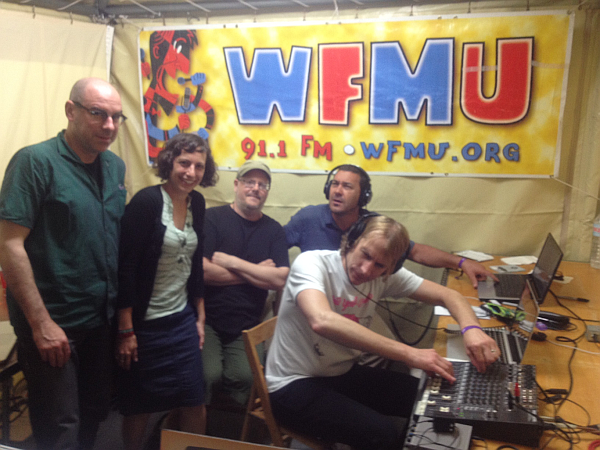 Guy and Mark make sure their Primavera set from 2012 has proper Living Color compression (w/Scott Konzelmann, Liz Berg & BT).
Mudhoney live on the show today at 4pm!
(* = new)


| Artist | Track | Album | Label | Comments | New | Approx. start time |
| --- | --- | --- | --- | --- | --- | --- |
| Art Phag | A Boy and His Gun | Art Phag | Wanghead | | | 0:00:00 (Pop‑up) |
| Death SS | Horrible Eyes | The Story of Death SS: 1977-84 | Svart | | | 0:03:03 (Pop‑up) |
| Hank Wood & the Hammerheads | Five Million Eggs | Various: Ground Zero NYC 2013 | Toxic State | | * | 0:08:39 (Pop‑up) |
| Signs of the Time | Hurts So Bad | 7" | Pro 7 | | | 0:10:20 (Pop‑up) |
| Melvins | Female Trouble | Everybody Loves Sausages | Ipecac | | * | 0:13:49 (Pop‑up) |
| The Laughing Clowns | The Laughing Clowns | Various: No Worries | Worried | | | 0:21:07 (Pop‑up) |
| Dead Neanderthals | The Pit | Polaris | Utech | | * | 0:25:15 (Pop‑up) |
| Hellchild | Voice From Far Away | Split 7" w/Bongzilla | HG: Fact | | | 0:30:43 (Pop‑up) |
| Socco Chico Ft. Daddy Killa | Oesko Killa | Split 7" w/Nat Roe | Kakutopia | | | 0:32:33 (Pop‑up) |
| Killer Mike | Butane (Champions Anthem) (Feat. EL-P) | R.A.P. Music | Williams Street | | | 0:35:43 (Pop‑up) |
| Parasite | MJ Crush | Various: Skills Music | SPB | | | 0:39:03 (Pop‑up) |
| Von Sudenfed | Duckrog | Tromatic Reflexxions | Domino | | | 0:42:43 (Pop‑up) |
| Acid Fast | Dip Yr Toes | 7" | Protagonist | | * | 0:45:23 (Pop‑up) |
| Johnny & the Self-Abusers | Saints and Sinners | Various: The Chiswick Story | Ace | | * | 0:48:35 (Pop‑up) |
| Giant Henry | Linoleum | Big Baby | Numero | | * | 0:53:52 (Pop‑up) |
| Night Kings | Complaints Dept. | Increasing Our High | Super Electro | | | 0:56:14 (Pop‑up) |
| Nomad | Nikushimi | Various: Ground Zero NYC 2013 | Toxic State | | * | 0:58:25 (Pop‑up) |
| Mudhoney | Live in the WFMU Studio | Engineered by Ernie Indradat | | When WFMU broadcast Mudhoney live from ATP a few years ago, it was fully obvious that their instrumental power and Mark Arm's inimitable yowl were still very much in full force. Even more so at last year's Primavera broadcast (where they followed up after their set by bumrushing and taking over the WFMU fairway tent!). 25 years down the line Mudhoney still have the bottles and bodies flying, soaking up a past and continuing to deliver the one-two riffage even as bands they influenced have vanished and reunited at half mast. April sees Sub Pop and Mudhoney's respective anniversaries marked by a brand new full-length "Vanishing Point" (their ninth!) and a visit to Brian's show to rock faces off. They also played at the Music Hall of Williamsburg on Saturday, May 11th and Bowery Ballroom May 12th. Thank you Mudhoney, crew, Ernie, and Sub Pop Sasha. More info at the label site. The band: Mark Arm: Vox/Guitar, Guy Maddison: Bass, Steve Turner: Guitar, Dan Peters: Drums. Setlist: Slipping Away / I Like It Small / The Neutral / The Final Course / The Only Son of the Widow From Nain / Chardonnay. This set is available for download on the Free Music Archive. | | 1:03:02 (Pop‑up) |
| Ali Mohammad Bira | Abbaa Lafa | Ethiopiques Vol. 28: Great Oromo Music | Buda Musique | | * | 1:26:50 (Pop‑up) |
| Le Groupe X | Transfert 2002 | 7" | Jazzman | | | 1:32:02 (Pop‑up) |
| Sun Ra | The Soul Vibrations of Man | The Soul Vibrations of Man | | Arkestra members Danny Ray Thompson and Marshall Allen will be playing here on the show June 4th! Joined by Charles Cohen, Ed Wilcox, and Jerry Mayall! | | 1:34:27 (Pop‑up) |
| Arbete & Fritid | Knoga Och Knega | Se Upp For Livet | MNW | | * | 1:48:40 (Pop‑up) |
| Pod Blotz | In the Dreamhouse | Timeless | Dungeon Taxis | | * | 1:51:23 (Pop‑up) |
| Quttinirpaaq | Horsehead Bookends | No Visitors | Rural Isolation Project | | * | 1:55:20 (Pop‑up) |
| Waumiss | Gato Spectral | Waumiss | Odessa | | | 2:04:58 (Pop‑up) |
| Bethany Dinsick | Bread | Sick Din | No Label | | * | 2:10:30 (Pop‑up) |
| Emily | Song For Steven | Emily | RPM | '72, 16 year old backed by Dynastie Crisis | | 2:12:49 (Pop‑up) |
| Paul "Wine" Jones | My Baby Got Drunk | Mule | Fat Possum | | | 2:15:21 (Pop‑up) |
| Billy Boys | Mustery Train-58 Mic Test/Mystery Train-58 | Anthology | Ektro | | * | 2:19:46 (Pop‑up) |
| Flow My Tears the Policeman Said | I Never See You Again | Various: Never See You again: Augsburg 1982-85 | Unwucht | | | 2:22:56 (Pop‑up) |
| Psychic TV | Sweet Soul Eater | Live In Glasgow | | | | 2:27:05 (Pop‑up) |
| Yannis Kyriakides | The One Hundred Words | Resorts & Ruins | Unsounds | | * | 2:38:29 (Pop‑up) |
| Mark Cunningham | Untitled | Blood River Dusk | Feeding Tube | | * | 2:45:50 (Pop‑up) |
| Banque Allemade | Suchmaschine | Willst du Chinese Sein | S-S | | * | 2:51:48 (Pop‑up) |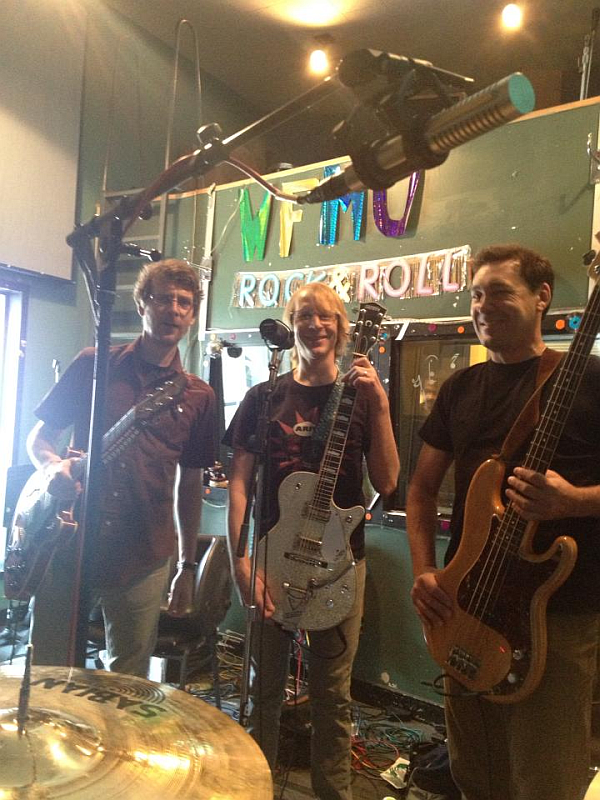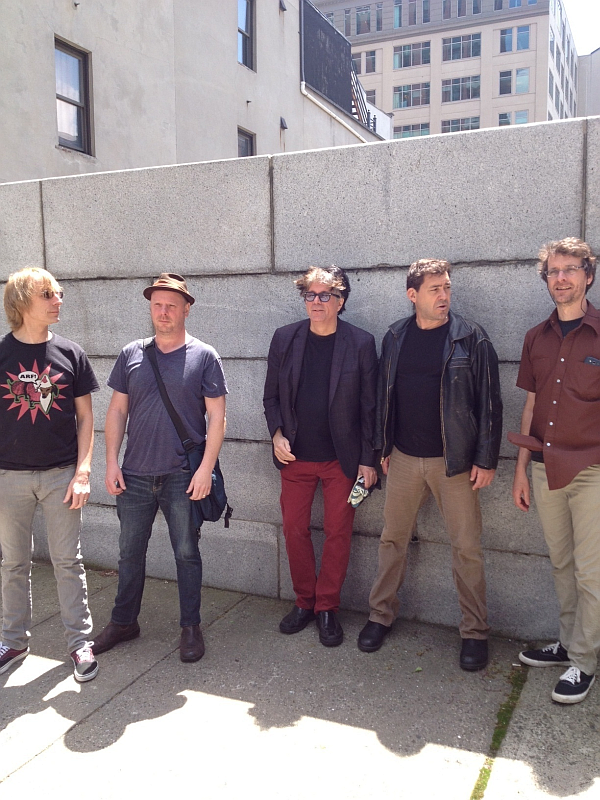 clockwise: Steve, Mark + Guy (photo Dan) / waiting for Jersey City Post Office trucks to come in next door with Bob Bert (photo BT)
<-- Previous playlist
| Back to
Brian Turner playlists
|
Next playlist -->
RSS feeds for Brian Turner:
Playlists feed |
MP3 archives feed
| Email
the Program Director
|
Other WFMU Playlists
|
All artists played by Brian Turner
|
---
Listen on the Internet
|
Contact Us
|
Music & Programs
|
WFMU Home Page
|
Support Us
|
FAQ
Live Audio Streams:
Pop-up
|
128k AAC
|
128k MP3
|
32k MP3
|
32k Windows
---