The Evan "Funk" Davies Show: Playlist from July 25, 2012
Every show starts with the '70s! We'll rediscover forgotten rockers, revisit unfairly maligned disco beats and replay power-pop favorites. Next: plenty of new releases, occasional live bands and more. Don't let the nickname confuse you.
<-- Previous playlist | Back to The Evan "Funk" Davies Show playlists | Next playlist -->
---
Upcoming events:
Wed. Oct 16th, 9pm - Midnight: Singles Going Seventies! (More info...)


Wed. Oct 23rd, 9pm - Midnight: A salute to New York Rocker (More info...)


Wed. Oct 30th, 9pm - Midnight: Stag plays live (More info...)

---
July 25, 2012: JOBRIATH A.D. special, with writer/director KIERAN TURNER!

Listen to this show: | Add or read comments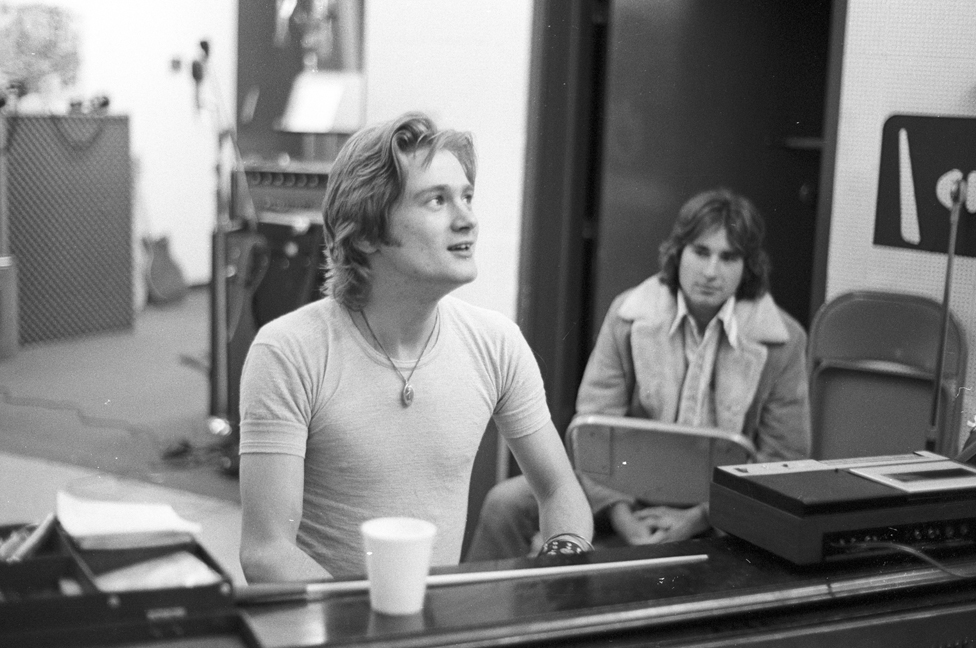 jobriaththemovie.com

The new documentary Jobriath A.D. delves into the life and legacy of '70s glam-rocker Jobriath in a way that's never been done before. Known variously as "The American Bowie,' 'The True Fairy of Rock & Roll, 'Hype of the Year" -- as well as the first openly gay rock star -- Jobriath recorded two albums before the overwrought hype bubble burst. He subsequently moved to the Chelsea Hotel and tried remaking himself as "Cole Berlin," a Weimar-era cabaret singer, before passing away in July 1983 of AIDS-related illnesses. In the years since his death he has been cited as an influence by The Pet Shop Boys, Gary Numan, Joe Elliott of Def Leppard, and Morrissey.

Jobriath A.D. weaves together interviews, archival material and animation, and it has already received critical acclaim on the festival circuit. It will have its NYC premiere on Saturday, July 28, at 10:30pm as part of Lincoln Center's NewFest 2012. Writer/director Kieran Turner joins Evan "Funk" Davies tonight to discuss the film (and share some rare bootleg recordings!).
Follow @jobriathdoc on Twitter, and Like the Facebook page!
(* = new)


Artist
Track
Album
Label
Year
Comments
New
Approx. start time
brett smiley
va va va voom
va-velvet tinmine
rpm
2003
orig 1974; please enjoy Kristian Hoffman's Brett Smiley appreciation.
mustard
good time comin'
va-glittering: still even more junk shop glam
ursula 1000
0:02:17 ()
stephen
right on running man
va-blitzing the ballroom
psychic circle
0:04:45 ()
buster
superstar
va-glitter from the litter bin
castle
0:08:07 ()
hector
wired up
va-boobs: the junkshop glam discotheque
rpm
0:11:01 ()
milk 'n' cookies
good friends
va-glitterbest: 20 pre-punk 'n' glam terrace stompers
rpm
0:13:43 ()
ricky wilde
i wanna go to a disco
va-velvet tinmine
rpm
0:16:42 ()
bonnie st. clair & unit gloria
clap your hands and stamp your feet
va-clap your hands and stamp your feet: 24 nederglam tracks from the early '70s
excelsior
0:19:17 ()
the intelligence
(they found me in the back of) the galaxy
everybody's got it easy but me
in the red
*
0:34:32 ()
crocodiles
bubblegum trash
endless flowers
frenchkiss
*
0:37:10 ()
internet forever
break bones
s/t
tape alarm
*
0:41:28 ()
the fireballs
come on react
come on react
atco
1968
0:44:04 ()
the trypes
force of habit
music for neighbors
acute
LP reissue, orig 1984ish
*
0:46:13 ()
the sights
not as pretty
left over right
hrm
*
0:52:44 ()
heavy cream
'79
super treatment
infinity cat
*
0:55:36 ()
blasted canyons
get high
2nd place
castle face
*
0:58:03 ()
liars
brats
wixiw
mute
*
1:01:32 ()
vocoder
mindanao
cuadro sinoptico 12"
dark entries
orig 1984; vinyl reissue
*
1:04:28 ()
jobriath
earthling
lonely planet boy
attack
1:14:40 ()
jobriath
street corner love
creatures of the street
collectors choice
1:19:13 ()
jobriath
morning star ship
s/t
collectors choice
1:20:56 ()
ann magnuson & kristian hoffman
i maman
the jobriath medley
no label
2012
not yet released; guest vocals by Russell Mael
1:23:57 ()

Interview with Kieran Turner
jobriath
i maman (acoustic)
unreleased demo
1:46:05 ()
jobriath
inside (acoustic)
unreleased demo
1:49:21 ()

Interview with Kieran Turner
jobriath
as the river flows
alternate version
2:09:28 ()
jobriath
little dreamer
alternate version
2:14:31 ()

Interview with Kieran Turner
ann magnuson & kristian hoffman
gone tomorrow
the jobriath medley
no label
2012
not yet released
2:33:33 ()
jobriath
ecubyan
lonely planet boy
attack
2:34:00 ()
superchunk
cruel summer
single
merge
*
2:40:39 ()
the electric mess
the girl with the exploding dress
falling off the face of the earth
no label
*
2:43:15 ()
1-800-band
time can't hurt you
s/t
no label
*
2:46:10 ()
the crazy squeeze
gimme a kiss
7"
pub music
*
2:50:02 ()
timmy's organism
un-hook my leash
raw sewage roq
in the red
*
2:52:25 ()
<-- Previous playlist
| Back to
The Evan "Funk" Davies Show playlists
|
Next playlist -->
RSS feeds for The Evan "Funk" Davies Show:
Playlists feed |
MP3 archives feed
|
E-mail Evan Davies
|
Other WFMU Playlists
|
All artists played by The Evan "Funk" Davies Show
|
---
Listen on the Internet
|
Contact Us
|
Music & Programs
|
WFMU Home Page
|
Support Us
|
FAQ
Live Audio Streams:
Pop-up
|
128k AAC
|
128k MP3
|
32k MP3
|
32k Windows
---