The Evan "Funk" Davies Show: Playlist from April 25, 2012
Every show starts with the '70s! We'll rediscover forgotten rockers, revisit unfairly maligned disco beats and replay power-pop favorites. Next: plenty of new releases, occasional live bands and more. Don't let the nickname confuse you.
<-- Previous playlist | Back to The Evan "Funk" Davies Show playlists | Next playlist -->
---
April 25, 2012: TERRY MALTS live set!

Listen to this show:
Pop‑up player! | Add or read comments

As far as we know, Terry Malts haven't co-opted the old "Blondie Is A Group" tag line/rallying cry, but they might want to consider it. The Bay Area three-piece -- which includes no one named "Terry" OR "Malts" -- bring their distortion-filled punky pop to WFMU as they hit the east coast in support of their fine new full-length, Killing Time (Slumberland). If you enjoy simple catchy punk rock songs covered with a nice fuzzy blanket of... well, fuzz, then check out this live set.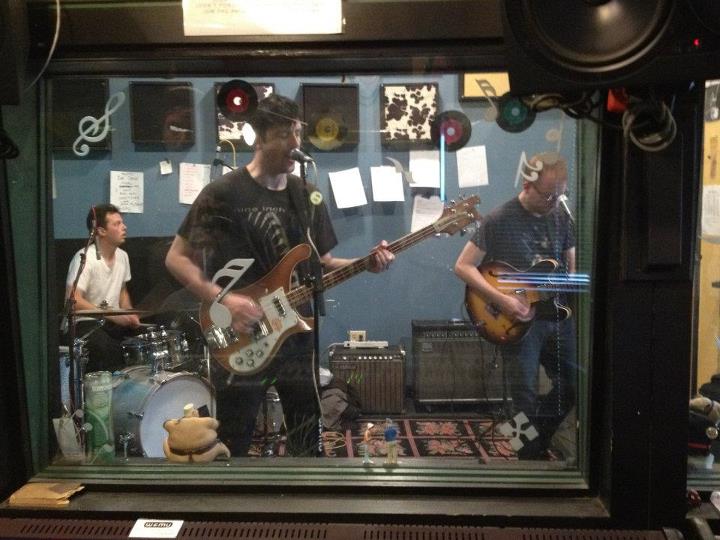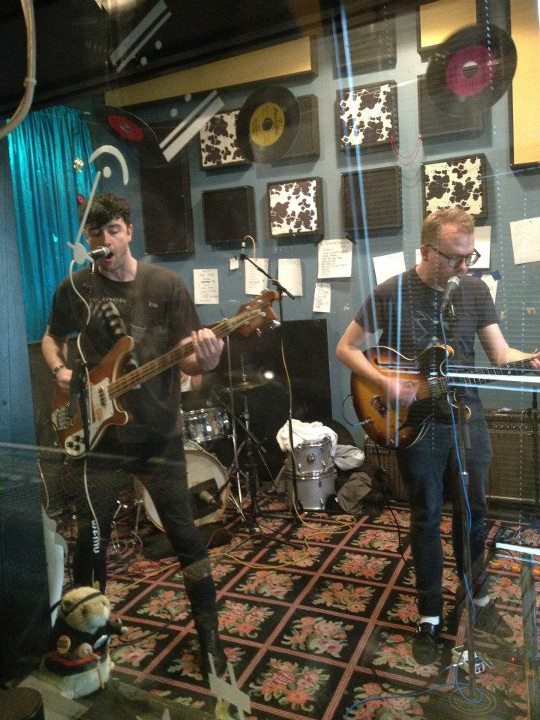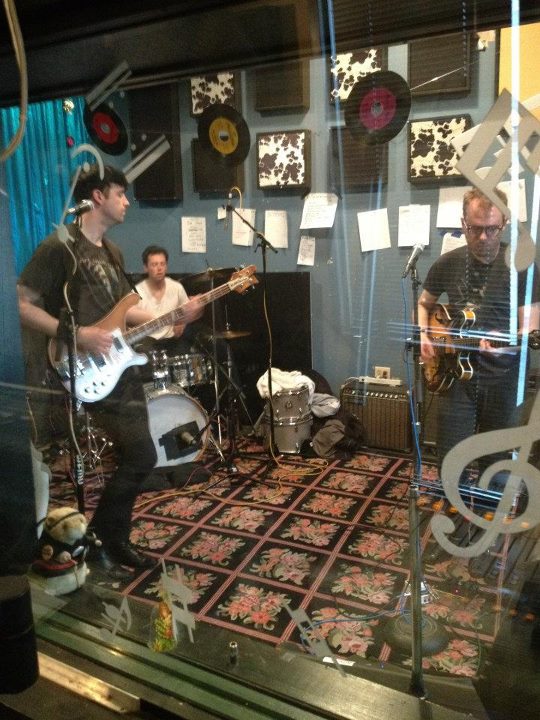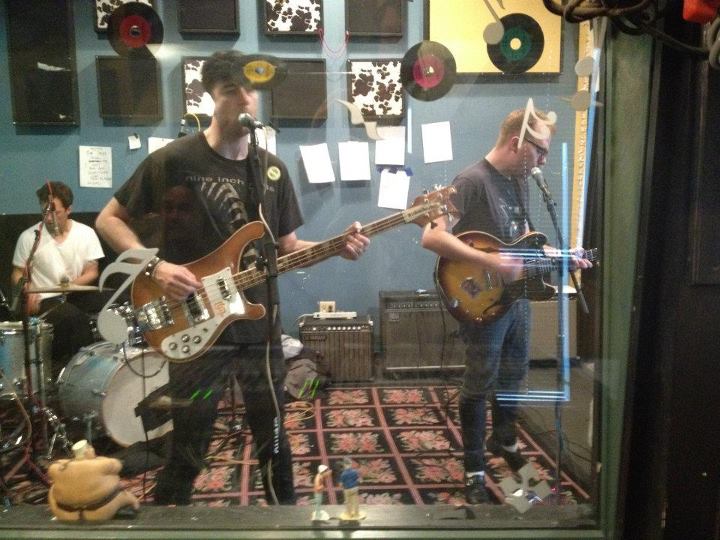 Please Like The Evan "Funk" Davies Show on Facebook and/or follow me on Twitter!
(* = new)


Artist
Track
Album
Label
Year
Comments
New
Approx. start time
tom robinson band
don't take no for an answer
7" ep
emi
1978
0:00:00 (Pop‑up)
x-ray spex
warrior in woolworths
germfree adolescents
emi
1978
0:03:51 (Pop‑up)
smoking popes
i need you around
born to quit
capitol
1995
0:06:40 (Pop‑up)
the band in heaven
sleazy dreams
7" ep
hozac
*
0:10:21 (Pop‑up)
joy division
transmission
heart & soul
london
1997
orig 1979
0:12:54 (Pop‑up)
the stoat
office girl
va-bad teeth no. 3
hyped2death
orig 1977
0:16:24 (Pop‑up)
the knack
romeo eyes
live in los angeles 1978 10" ep
omnivore
Record Store Day release
*
0:19:28 (Pop‑up)
Music behind DJ:

efd theme song by Adam WarRock
0:23:04 (Pop‑up)

Live set by TERRY MALTS
engineered by Glenn Luttman

Phil - vocals/bass
Corey - guitar/vocals
Nathan - drums

on tour NOW! Playing in Des Moines tomorrow, then on to Boulder and back home to San Francisco. Check their Facebook page or @TERRYMALTSHUH on Twitter! And pick up their new album Killing Time on Slumberland!
terry malts
no sir, i'm not a christian
live on WFMU
0:31:26 (Pop‑up)
terry malts
nauseous
live on WFMU
0:32:31 (Pop‑up)
terry malts
what was it
live on WFMU
0:35:19 (Pop‑up)
terry malts
not far from it
live on WFMU
0:36:35 (Pop‑up)
terry malts
i do
live on WFMU
0:38:53 (Pop‑up)
terry malts
tumble down
live on WFMU
0:41:11 (Pop‑up)
terry malts
waiting room
live on WFMU
0:43:32 (Pop‑up)
terry malts
something about you
live on WFMU
0:46:32 (Pop‑up)
terry malts
mall dreams
live on WFMU
0:49:26 (Pop‑up)
terry malts
disconnect
live on WFMU
0:51:35 (Pop‑up)
terry malts
neurotic
live on WFMU
0:54:16 (Pop‑up)
terry malts
chat with efd
live on WFMU
0:57:14 (Pop‑up)
unnatural helpers
con
s/t
1-2-3-4 go
2005 recordings
*
1:03:34 (Pop‑up)
unnatural helpers
monk
s/t
1-2-3-4 go
two-fer Wednesday!
*
1:05:14 (Pop‑up)
rosa yemen
herpes simplex
va-fame: jon savage's secret history of post-punk 1978-81
caroline true
*
1:06:54 (Pop‑up)
vincent black lightning
gastronomy
songs from the underbelly part 2
eli
*
1:08:01 (Pop‑up)
carolee
spiral start
va-bring beer
12xu
*
1:10:32 (Pop‑up)
fungi girls
turquoise hotel
7"
hozac
*
1:13:10 (Pop‑up)
miguel and the ocean swell
front line holiday
with the star of the sea
hoborico
check their web site
*
1:26:20 (Pop‑up)
guided by voices
cyclone utilities (remember your birthday)
let's go eat the factory
guided by voices inc
*
1:29:17 (Pop‑up)
the mad scene
t.rex
blip
siltbreeze
*
1:31:57 (Pop‑up)
dave edmunds
slippin' away
information
columbia
1983
1:35:44 (Pop‑up)
rainy day saints
memories
all these strange ghosts
get hip
*
1:39:48 (Pop‑up)
brian olive
traveling
two of everything
alive
*
1:48:47 (Pop‑up)
barry adamson
stand in
i will set you free
central control
*
1:53:22 (Pop‑up)
kilkenny cats
attractive figure
7"
coyote
1984
1:58:18 (Pop‑up)
ringo starr
think it over
2012
hip-o
*
2:01:10 (Pop‑up)
killing joke
pole shift
mmxii
spinefarm
*
2:13:22 (Pop‑up)
ty segall
the slider
ty-rex
goner
*
2:22:31 (Pop‑up)
infinity people
put your other eye in
in love with the light
ufo factory / burger / x! / cass
*
2:25:31 (Pop‑up)
the paperhead
she is above me
7"
trouble in mind
*
2:34:59 (Pop‑up)
the mynah birds
it's my time
7"
umg
orig 1966; Record Store Day reissue
*
2:37:39 (Pop‑up)
gold featuring avelino pitts and welfare
plastic lady
lost treasures from 1974
jazzman
2011
2:40:13 (Pop‑up)
cheap time
typically strange
wallpaper music
in the red
*
2:47:50 (Pop‑up)
leo sayer
long tall glasses (i can dance)
va-super hits of the '70s vol 14
2:52:01 (Pop‑up)
the skunks
can't get loose
7"
last laugh
vinyl reissue, orig 1979
*
2:55:12 (Pop‑up)
<-- Previous playlist
| Back to
The Evan "Funk" Davies Show playlists
|
Next playlist -->
RSS feeds for The Evan "Funk" Davies Show:
Playlists feed |
MP3 archives feed
|
E-mail Evan Davies
|
Other WFMU Playlists
|
All artists played by The Evan "Funk" Davies Show
|
---
Listen on the Internet
|
Contact Us
|
Music & Programs
|
WFMU Home Page
|
Support Us
|
FAQ
Live Audio Streams:
Pop-up
|
128k AAC
|
128k MP3
|
32k MP3
|
32k Windows
---