All the hits that fit... and more! Freeform programming featuring Creative Commons jams from the Free Music Archive, live music, and free culture conversations.
September 15, 2011: w/ Jonathan Ward of Excavated Shellac [10:30AM]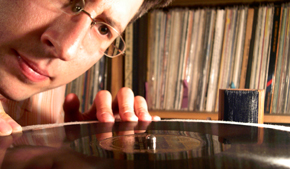 Jonathan Ward is the collector, researcher, and writer behind Excavated Shellac, an incredible online resource for folkloric and vernacular music from around the world. In addition to offering digitized 78rpm recordings for free at his website (and preserved on the Free Music Archive), Excavated Shellac has begun to curate compilations for Dust to Digital. Last year's Strings LP compiled "guitar, oud, tar, violin and more from the 78rpm era". On deck is Opika Pende: Africa at 78rpm, a 4-disc set of over 100 previously unissued recordings dating as far back as 1909, accompanied by a 112-page softcover book.
Listen to this show:
Pop‑up player!
|
Add or read comments
Artist
Track
Album
Label
Comments
New
Approx. start time
Flipper
Talk's Cheap
0:00:00 (Pop‑up)
Cheb Zergui
Ana Dellali (I Cuddle Myself)
1970's Algerian Proto-Rai Underground
Sublime Frequencies
0:02:17 (Pop‑up)
Lukas Ligeti
Balafon Dance System
Afrikan Machinery
Tzadik
0:07:18 (Pop‑up)
Andrew McGraw
Powerhouse
Kolaborasi
Porter
*
0:14:25 (Pop‑up)
Klimperei
Groupe Topologique
Octogonale Impérative
Gazul
+ Pierre Bastien
*
0:18:17 (Pop‑up)
Buk Buk Bigups
Group Zeffe
Big Big Fuckups (2011)
Free Music Archive
0:20:36 (Pop‑up)
Katibe 5
Hatta Isha'aarin Akhar
Golden Beirut: New Sounds From Lebanon [V/A]
Out/Here
*
0:24:10 (Pop‑up)
Eric Copeland
UFO's Over Vampire City
0:27:53 (Pop‑up)
Dan Melchior Und Das Menace
Poison Pete's Holiday
Catbirds & Cardinals
Northern-Spy
*
0:31:27 (Pop‑up)
Royal Headache
Down The Lane
Royal Headache
R.I.P. Society
*
0:33:26 (Pop‑up)
Cult of Youth
The Dead Sea
Cult of Youth
Sacred Bones
*
0:36:23 (Pop‑up)
Googoosh
Talagh
Googoosh
B-Music / Finders Keepers
*
0:39:41 (Pop‑up)
Noveller
Blue
Glacial Glow
Weird Forest
*
0:52:41 (Pop‑up)
Pyrolator
Another Drippy Day
Neuland
Bureau B
*
0:56:42 (Pop‑up)
The Oscillation
The 3rd Harmonic
Future Echo
All Time Low
*
1:07:00 (Pop‑up)
Liquid Liquid
Zero Leg
Liquid Liquid
Salvatore P will be live on Therese's show!
1:08:02 (Pop‑up)
The Ex
Huriyet
Turn
Touch and Go
1:10:13 (Pop‑up)
Hadramy Ould Medeh
La Mone
Kamlat 7"
Mississippi
*
1:14:38 (Pop‑up)
Tlahoun Gèssèssè
Lantchi Biye
Ethiopiques Volume 17
Buda Musique
1:19:36 (Pop‑up)
Lulcide ould Dendenni
Wezin
Wallahi le Zein!! Wezin, Jakwar, and Guitar Boogie from the Islamic Republic of Mauritania (V/A)
Latitude
*
1:23:02 (Pop‑up)
Music behind DJ:
faust
1:26:14 (Pop‑up)

Excavated Shellac DJ Set
Mbongue Diboue
Tu Nja Tengene Elie
Opika Pende: Africa at 78rpm
Dust-to-Digital
1:31:33 (Pop‑up)
Orbert Nentambo Zahke
Nongqangoa Lishonile
Opika Pende: Africa at 78rpm
Dust-to-Digital
Dust to Digital
South Africa
*
1:41:14 (Pop‑up)
Abdu Owiti
Stephen Opio
Opika Pende: Africa at 78rpm
Dust-to-Digital
*
1:42:19 (Pop‑up)
Sundaram Balachander
Dayapayonidhe Pt 2
Excavated Shellac: Strings - Guitar, Oud, Tar, Violin, And More From The 78 RPM Era
Parlortone/Dust-to-Digital
2:03:11 (Pop‑up)
Semmangudi Sirinvasa Iyer
Ethavunara, Pt 2
78 RPM
2:03:41 (Pop‑up)
T.N. Rajarathinam Pillai
Raga Alapana Todi
78 RPM
2:04:17 (Pop‑up)
Cheikh Said Relizani
Denhar Mabrouk (Blessed Day)
Algeria, 1940
2:21:43 (Pop‑up)
Zohra El-Fassia
Erraad
Morocco, b. 1905
2:24:13 (Pop‑up)
Raoul Journo
Tekellemit Kelemtine ("Spoke two words"
2:27:13 (Pop‑up)
Music behind DJ:

talking about jewish north african musicians, and the female rai performer Chikhah Remitti, and more!
2:29:31 (Pop‑up)
Rizaja + Islami
Lace Kolonja
Albanian musician, recorded in Turkey about 1928
2:36:24 (Pop‑up)
Myskal Omurkanova
Oilo Sen
w/ komuz (fretless lute) 1954
2:38:30 (Pop‑up)
An ki-ok + Kin Yin Kua
Janggochum
North Korea 1947
2:42:58 (Pop‑up)
Ranaivo + Troupe
Avelao My Fonay!
78 RPM
Madagascar
2:49:58 (Pop‑up)
Les Tamarii-Tahiti
Haere Roa Roa
1963 Tahiti
2:50:34 (Pop‑up)
E.K.s Band
Suro Onipa (Be Careful of People)
Opika Pende: Africa at 78rpm
Dust-to-Digital
comes out Next Month! http://dust-digital.com/africa
2:58:31 (Pop‑up)