Transpacific Sound Paradise

Saturday, March 19, 2011

Ljova and Kontraband Purim Spectacular + Japan + Previews

Hear this show now:
Pop‑up player! | Add or read comments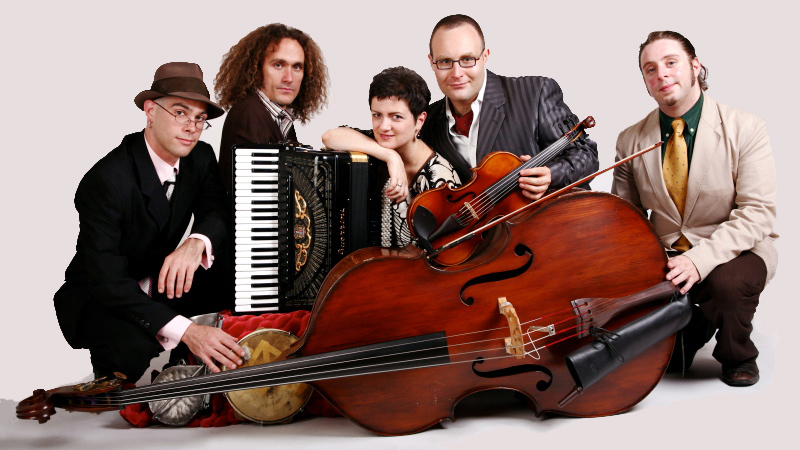 Lev Zhurbin a/k/a "Ljova" is an acclaimed viola player, composer and arranger: His many collaborators have included Yo-Yo Ma, Osvaldo Golijov, the Kronos Quartet (for their project with Bollywood legend Asha Bhosle), and Jay-Z. His Kontraband is a virtuousic acoustic unit that crafts new and original blends of Eastern European and Gypsy melodies, Latin rhythms, jazz-inspired improvisations, and deeply rooted classical forms.

We grab them for a live session as they get in gear for a flurry of area gigs - including April 1 and 2 in the Lower Hudson Valley, April 3 daytime on Long Island and April 3 evening in Brooklyn as part of the Ditmas Acoustic series, and April 6 at Joe's Pub in Manhattan. See the full Ljova and Kontraband performance schedule at http://www.ljova.com/schedule.

Massive thanks to our illustrious engineer, Ernie Indradat.


This Week's Playlist:
(* = new)
Shoukichi Kina and Champloose: Hana
/ Peppermint Tea House / Luaka Bop (0:00:00 Pop‑up)
Oki Kano: To Kito Ran Ran
/ Hankapuy / Chikar Studio (0:10:15 Pop‑up)
Haruomi Hosono: Asatoya Yunta
/ Paraiso / Akfa (0:14:07 Pop‑up)
On this 1978 LP Hosono, of Yellow Magic Orchestra fame (but with lots of great solo projects too) called his group "Harry Hosono and The Yellow Magic Band".
Hatsuneya Kenji: Kawachi Ondo
/ Various Artists: Japanese Dance Music / King (0:15:51 Pop‑up)
Soul Flower Mononoke Summit: Democracy Bushi
/ Asyl Ching-Dong / Respect Records (0:20:28 Pop‑up)
Takeshi Terauchi and Blue Jeans: Sohma Bon Uta
/ Let's Go Eleki-Bushi / King (0:23:21 Pop‑up)
Surf Champlers: Hiyamikachi Bushi
/ Champloo A Go Go (0:25:07 Pop‑up)
El Malo: 朝と君と / The Worst Universal Jet Set / Bellisima (0:34:23 Pop‑up)
Orange Range: Son of the Sun
/ World World World / Sony (0:37:31 Pop‑up)
Kahim Karie: Alcohol
/ Various Artists: Sushi 4004 / Bungalow (0:41:37 Pop‑up)
Pizzicato Five: Twiggy Twiggy [Twiggy vs. James Bond]
/ Made in USA / Matador (0:45:57 Pop‑up)
B & B 7: Ivy Tokyo
/ Hit Songs in Folk Style / JVC (0:51:38 Pop‑up)
Black Bottom Brass Band: Strawberry Dance Hour
/ Black Bottom Brass Band / King (0:54:27 Pop‑up)
Ljova and the Kontraband: Love Potion Expired (Live on WFMU)
(1:02:01 Pop‑up)
Ljova and the Kontraband: Middle Village (Live on WFMU)
(1:17:50 Pop‑up)
Vocals: Inna Barmash
Ljova and the Kontraband: Blaine Game (Live on WFMU)
(1:27:59 Pop‑up)
Ljova and the Kontraband: Invention (Live on WFMU)
(1:34:48 Pop‑up)
Ljova and the Kontraband: If I Had Wings... (Yiddish Love Song) (Live on WFMU)
(1:43:44 Pop‑up)
Vocals: Inna Barmash
Ljova and the Kontraband: Old French Bard Song, in Russian (Live on WFMU)
(1:48:00 Pop‑up)
Vocals: Inna Barmash
Ljova and the Kontraband: Bagel on the Malecon (Live on WFMU)
(1:57:13 Pop‑up)
Duo Jallal: A Different World
/ A Different World / Innova / * (2:01:35 Pop‑up)
Asefa: Marrakech Rumble
/ Asefa / SRT Productions (2:06:34 Pop‑up)
Club D'Elf: Ghir Khoudouni
/ Electric Moroccoland / Face Pelt / * (2:11:08 Pop‑up)
Malika Zarra: Berber Taxi
/ Berber Taxi / Motema / * (2:17:10 Pop‑up)
Sofia Rei Koutsovitis: Alma del Pueblo
/ Gala (2:21:12 Pop‑up)
Lucia Pulido: Mil Besos (A Thousand Kisses)
/ Dolor de Ausencia (2:30:12 Pop‑up)
Lila Downs: La Cumbia del Mole
/ La Misteriosa - En Paris - Live a FIP / World Village (2:33:36 Pop‑up)
Chico Trujillo: Loca
/ Chico de Oro / Barbes (2:36:26 Pop‑up)
Toubab Krewe: Mansani Cisse
/ Tk2 / Nat Geo / * (2:42:09 Pop‑up)
Septeto Nacional Ignacio Pineiro: Donde Andabas Anoche
/ ¡Sin Rumba No Hay Son! / World Village / * (2:53:59 Pop‑up)