Transpacific Sound Paradise

Saturday, August 21, 2010

Live in the Studio: Khaira Arby and her band

Hear this show now:
Pop‑up player! | Add or read comments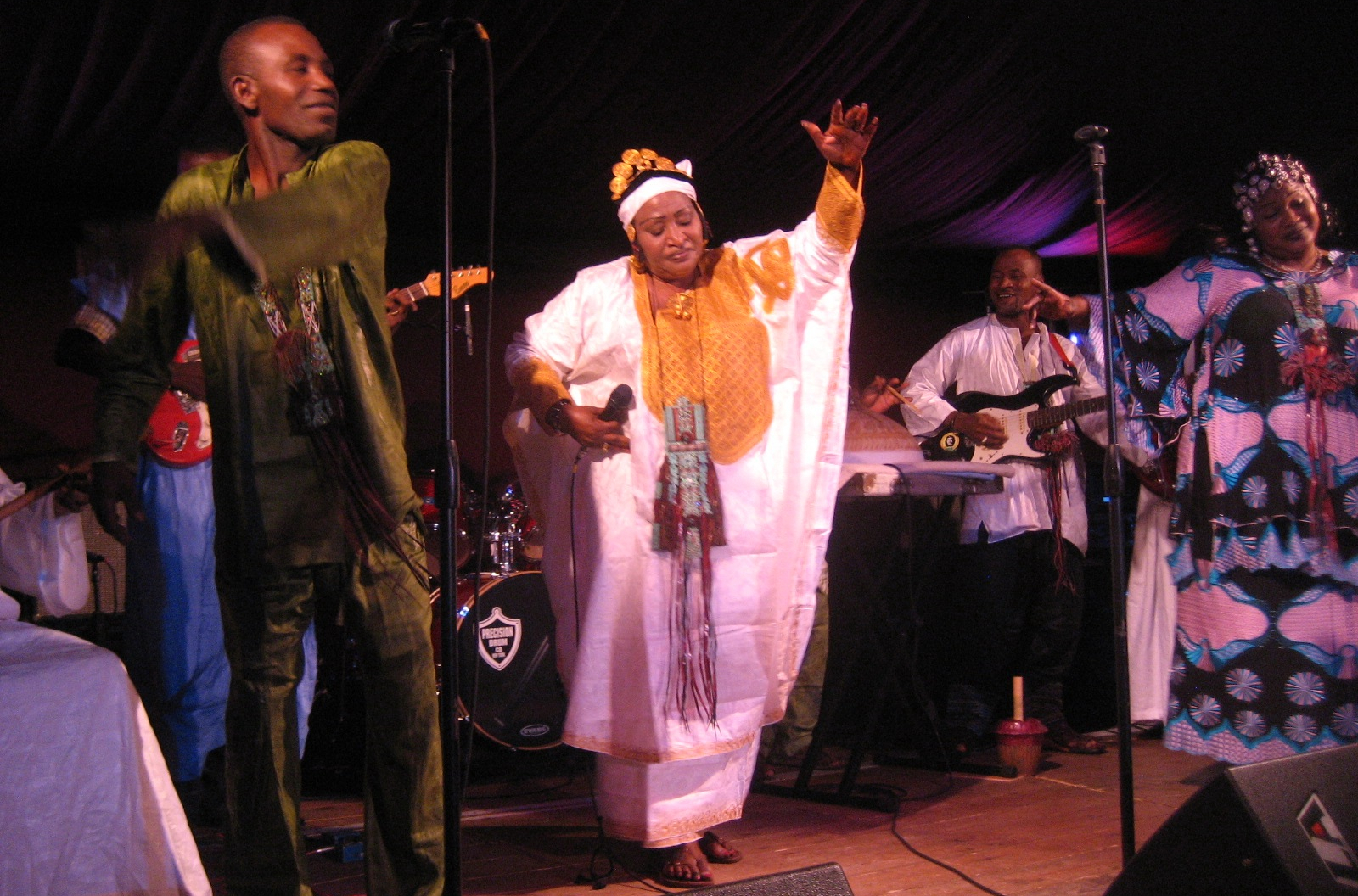 Khaira Arby and band rock out during their US debut show at the Bard SummerScape Spiegeltent.
Photo from http://www.ijamming.net/?p=3136.

Khaira Arby is a dynamic Malian singer with a distinctive style drawing on her mixed ethnic background - Berber and Sonhrai (the late great Ali Farka Toure was a cousin by marriage, and her musical mentor). Khaira and her scorching electric / traditional band, stars of Mali's Legendary Festival in the Desert are touring North America through early October: Khaira is special guest on Sway Machinery's Jewish New Year concert at City Winery Sept 8 and she and band headline at Joe's Pub Sept 29.

Big thanks to our illustrious engineer Ernie Indradat and also Chris Nolan, Khaira's manager in North America who worked tirelessly to bring the band to North America and who joins us to help tell the story.


This Week's Playlist:
(* = new)
Kaleidoscope: Nobody
/ When Worlds Collide
Cem Karaca: Mutlaka Yavrum
/ Ölümsuzler 2 / Esen
Latif Bolat: Isitin Ey Yarenler
/ Hayatan Anlamma Dair Sarkilar / Akustik Muzik
Ulaş Özdemir: Ya Ali
/ This Breath / Kalan
Niki Tramba, Ross Daly & Labyrinth: Katinaki
/ At the Cafe Aman / Network
Melina Kana: Tou Christara
/ Portrait / Network
Zumra: Mujo...
/ World Village / *
Fishtank Ensemble: Am Furat de la Haidouks
/ Woman in Sin / *
Markscheider Kunst: Bazelyaka
/ Russki Rock / Balalaika
Shirati Jazz: Christina the Beautiful
/ The King of History / Sterns / *
Yapa: Djwad
/ Pariwaga / Chapa Blues
Adama Yalomba: Tomale
/ Kassa / Makasound
Khaira Arby: Khaira
/ Timbuktu Tarab / Clermont / *
Khaira Arby: Sourgou (Live on WFMU)
Khaira Arby: Goumou (Live on WFMU)
Khaira Arby and Chris Nolan: Interview
Khaira Arby: Dja Cheickna (Live on WFMU)
Khaira Arby: Delya (Live on WFMU)
Khaira Arby: Feryene
/ Timbuktu Tarab / Clermont / *
Elikeh: Get Ready
/ Adje! Adje!
Hedzoleh Soundz: Rekpete
/ Hedzoleh Soundz / Soundway / *
New Reissue
Janka Nabay: De Bul
/ Bubu King / True Panther / *
S.E. Rogie: I Lost My Wife
/ Dead Men Don't Smoke Marijuana / Real World
De La Lune: Tika Bizeti
/ Various Artists: Roots of OK Jazz / Crammed Discs / *
Dessoin: Osili Osili
/ Various Artists: Roots of OK Jazz / Crammed Discs / *
Troubadou Ti Koka: La Ville J
/ Troubadou Ti Koka / Metrosonik
Carimi: Ayiti (Bang Bang)
Carlinhos Brown: O Bode
/ AlfaGamaBetizado / Metro Blue
Puerto Candelaria: Porro Latera!
/ Llego la Banda / Merlin
William Cepeda: Campo Jazz & Comparasa Loiza
/ Live at Montreux
Los Corraleros de Majagual: El Mondongo
/ Various Artists: Colombia! / Soundway