Brian Turner: Playlist from March 2, 2010
Order and disorder in a freeform haze of terribly-played guitars, shorted-out electronics, found audio detritus, strange sounds from strange lands all around. Psych-punk-junk, collage, even pop. Lots of in-studio live performances to boot.
<-- Previous playlist | Back to Brian Turner playlists | Next playlist -->
---
March 2, 2010: Marathon Week 1 w/co-host Maria Levitsky

Listen to this show:
Pop‑up player! | Add or read comments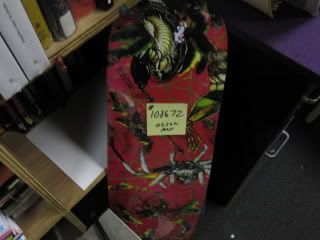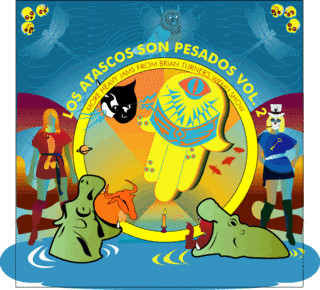 Up for grabs today at the end of the show, John Olson (Wolf Eyes/Graveyards)-designed skateboard via Ecstatic Peace! $75 and up gets you in the running and automatically lands you my special premium CD LOS ATASCOS SON PESADOS VOL.2, a comp of totally destroying heaviosity! Pledge to support the show today from 3-6pm and FREEFORM WFMU! 1-800-989-WFMU or pledge online at wfmu.org!
(* = new)


| Artist | Track | Album | Label | Comments | New | Approx. start time |
| --- | --- | --- | --- | --- | --- | --- |
| 1-800-989-WFMU | Pledge now! | wfmu.org | | | | 0:00:00 (Pop‑up) |
| Tommy Blake | F-oldin Money | | | | | 0:00:43 (Pop‑up) |
| Thinking Fellers Union Local 282 | Million Dollars | Admonishing the Bishops | | | | 0:01:01 (Pop‑up) |
| Yochannan | Messeage To the Earthman | Sun Ra: Rocketship Rock | | LP prize up for grabs now! | * | 0:06:10 (Pop‑up) |
| Renzoku Shasatsuma | Excerpt | From my premium: Los Atascos Son Pesados Vol. 2 | | | | 0:19:59 (Pop‑up) |
| Group Doueh | Beatte Harab | Treeg Salaam | | CD prize up for nabs now! | | 0:26:23 (Pop‑up) |
| Yoko Ono / Plastic Ono Band | D-Train | Between My Head and the Sky | | CD autographed by Yoko up for grabs! | | 0:54:21 (Pop‑up) |
| TV Ghost | The Singularity | TV Ghost | In the Red | | | 0:56:39 (Pop‑up) |
| Mopo Mogo | Pouvoir | | | | | 0:59:27 (Pop‑up) |
| The Sediment Club | Panic Berlin Fun | 7" | | | * | 1:00:56 (Pop‑up) |
| The Axemen | Nutsack | Live here on the show | | | | 1:15:34 (Pop‑up) |
| The Axemen | Shacked Up In Ya Egyptian Tomb | Scary! Part III | Siltbreeze | 2LP set prize up for grabs! | | 1:22:12 (Pop‑up) |
| The Clean | In the Dreamlife You Need a Rubber Soul | Mr. Pop | | CD prize up for grabs now | | 1:22:37 (Pop‑up) |
| Red Shark | The Money Goes Further | | | | | 1:25:42 (Pop‑up) |
| Original Sins | She's On My Side | Live here on the show 11/05 | | | | 1:30:03 (Pop‑up) |
| Index | Shock Wave | from my Premium Los Atascos son Pesados Vol. 2 | | | | 1:56:27 (Pop‑up) |
| The Ex | Frenzy | 30 | | The Ex's Convoy Tour: 25 Years of the Ex DVD up for grabs right now | | 2:00:28 (Pop‑up) |
| The Ex | If the Hat Fits the Suit | 30 | | | | 2:04:41 (Pop‑up) |
| Witch | Look Out | Lazy Bones! | | CD reissue up for grab now! | | 2:35:00 (Pop‑up) |
| Faust | Just a Second (Starts Like That) | Faust IV | | newly reissued vinyl up as a prize now! | | 2:38:55 (Pop‑up) |
<-- Previous playlist
| Back to
Brian Turner playlists
|
Next playlist -->
RSS feeds for Brian Turner:
Playlists feed |
MP3 archives feed
| Email
the Program Director
|
Other WFMU Playlists
|
All artists played by Brian Turner
|
---
Listen on the Internet
|
Contact Us
|
Music & Programs
|
WFMU Home Page
|
Support Us
|
FAQ
Live Audio Streams:
Pop-up
|
128k AAC
|
128k MP3
|
32k MP3
|
32k Windows
---