Hatch: Playlist from October 30, 2007
I play great music and talk to people about stuff.
<-- Previous playlist | Back to Hatch playlists | Next playlist -->
---
October 30, 2007: Ed Askew & Joshua Burkett Live Set And Interview

Listen to this show:
Pop‑up player! | Add or read comments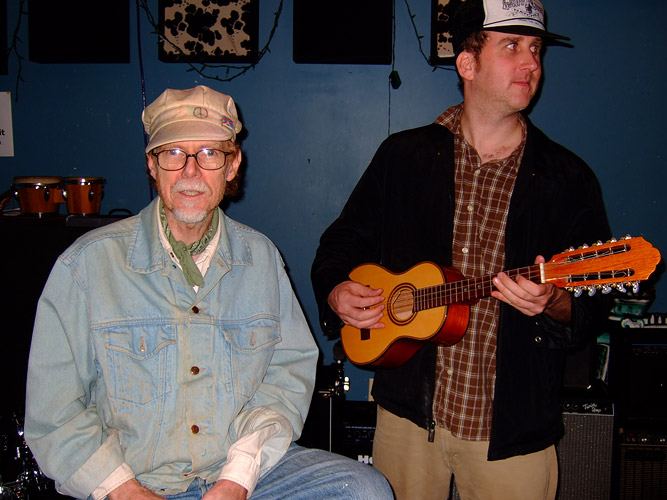 After languishing in obscurity for decades, the music of idiosyncratic singer-songwriter Ed Askew is finally getting the attention it deserves. Ask The Unicorn, his 1968 debut album for ESP-Disk, has often been compared to the work of labelmates Pearls Before Swine. Askew's equally wonderful second album, Little Eyes, was recorded a few years later but remained unreleased until the De Stijl label pressed a limited edition LP in 2003. This year, they finally made it available on CD. Although Askew once accompanied himself on a kind of Latin American soprano guitar called a tiple, carpal tunnel syndrome now prevents him from playing. For this live session, contemporary psychedelic folk artist Joshua Burkett plays the instrument for him.
Artist
Track
Album
Label
Approx. start time
Zoser
Dark Of The Morning
A Lethal Dose Of Hard Psych
Arf! Arf!
0:00:00 (Pop‑up)
Atomic Rooster
Death Walks Behind You
Atomic Rooster
Elektra
0:03:32 (Pop‑up)
Pax
Firefly
Dark Rose
Lazarus Audio Products
0:11:09 (Pop‑up)
Stud Cole
The Witch
Burn Baby Burn
Norton
0:15:12 (Pop‑up)
Porter Wagoner
Moments Of Meditation
The Rubber Room
Omni
0:23:42 (Pop‑up)
Euros Child
Outside My Window
The Miracle Inn
Wichita
0:26:38 (Pop‑up)
Cat Power
Stuck Inside Of Mobile With The Memphis Blues Again
I'm Not There
Sony
0:29:51 (Pop‑up)
22 Band
Mousso La Tintani
Venez Voir!
Editions Sylphone Conakry
0:36:42 (Pop‑up)
Abyssinians
Peculiar Number
Satta Massagana
Heartbeat
0:43:03 (Pop‑up)
Karen Dalton
One May Morning
Cotton Eyed Joe
Megaphone
0:53:45 (Pop‑up)
Alasdair Roberts
On The Banks Of Red Roses
No Earthly Man
Drag City
0:58:11 (Pop‑up)
Dino
Para Hacer Musica, Para Hacer
Montevideo Blues
Lion Productions
1:01:41 (Pop‑up)
The Gist
Clean Bridges
Embrace The Herd
Cherry Red
1:06:26 (Pop‑up)
Eric Richards
Chicken Pull
The Bells Themselves
New World
1:09:23 (Pop‑up)
Nordvagr/Drakh
The Betrayal Of Light
The Betrayal Of Light
Tumult
1:22:33 (Pop‑up)
KTL
Loud Game
KTL3
Or
1:27:41 (Pop‑up)
Speedos
She's A Shocker
Aylesbury Goes Flaccid
Castle
1:38:16 (Pop‑up)
Ten Feet
Got Everything But Love
Nothing Comes Easy
Psychic Circle
1:40:48 (Pop‑up)
Maps
I'm Talking To You
Boston Underground 1979-1982
Moulty
1:43:18 (Pop‑up)
Raxola
Who Do You Think You Are
Raxola
Radio Heartbeat
1:46:04 (Pop‑up)
Karen Beth
Come December
Attack Of The 50 Foot Folksinger
No Label
1:51:52 (Pop‑up)
Tom James Scott
Openings
Red Deer
Bo'Weavil
1:57:07 (Pop‑up)
Ed Askew
City Of Glass
Little Eyes
De Stijl
2:01:15 (Pop‑up)
Ed Askew & Joshua Burkett
Live On WFMU
2:04:53 (Pop‑up)
Ed Askew
Interview
2:28:38 (Pop‑up)
<-- Previous playlist
| Back to
Hatch playlists
|
Next playlist -->
RSS feeds for Hatch's show:
Playlists feed |
MP3 archives feed
|
E-mail Hatch
|
Other WFMU Playlists
|
All artists played by Hatch
|
---
Listen on the Internet
|
Contact Us
|
Music & Programs
|
WFMU Home Page
|
Support Us
|
FAQ
Live Audio Streams:
Pop-up
|
128k AAC
|
128k MP3
|
32k MP3
|
32k Windows
---