Hatch: Playlist from October 24, 2006
I play great music and talk to people about stuff.
<-- Previous playlist | Back to Hatch playlists | Next playlist -->
---
October 24, 2006: Monosov Swirnoff Live Set And Interview

Listen to this show: | Add or read comments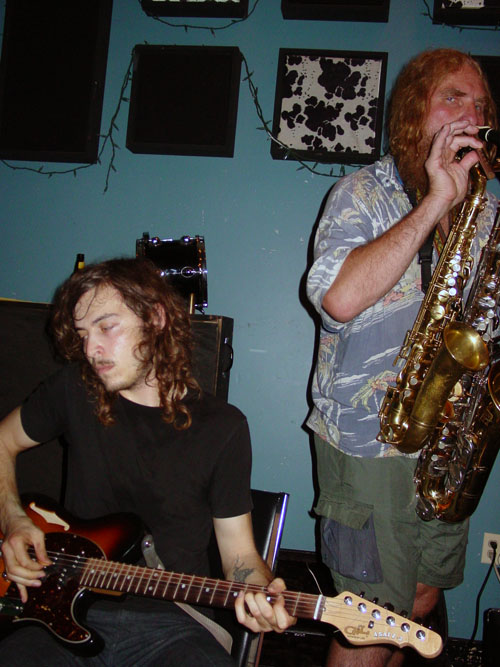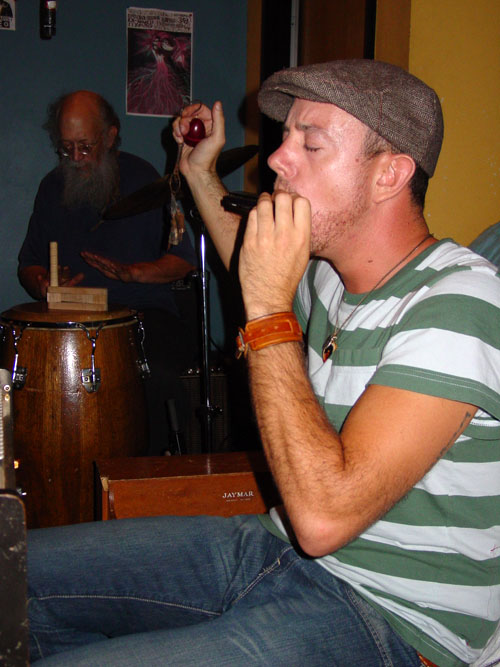 Psychedelic drone-rock minimalists Ilya Monosov (guitar) and Preston Swirnoff (air organ, synth, harmonica, shaker, toy piano, bells) have four vinyl-only releases on the Eclipse label and a CD due in 2007 on Holy Mountain. For this improvised performance they're joined by Peter Barry on conga and Chicago's inimitable Little Howlin' Wolf on saxophones and flutes.
Live set engineered by Bil Bowen.
Artist
Track
Album
Label
Approx. start time
Action
Strange Roads
Rolled Gold
Reaction
0:00:00 ()
Triffids
When A Man Turns Bad
Born Sandy Devotional
Domino
0:03:28 ()
Pierre Bastien
Gnu Lung
Mechanoid
Rephlex
0:08:16 ()
Trees
Polly On The Shore
On The Shore
CBS
0:13:16 ()
Nomo
Book Of Right On
Newtones
Ubiquity
0:18:55 ()
Gal Costa
Milho Verde
India
Philips
0:27:12 ()
Breeders
Doe
Pod
4AD
0:31:20 ()
Boduf Songs
That Angel Was Pretty Lame
Lion Devours The Sun
Kranky
0:33:21 ()
Jaylib
Starz
Champion Sound
Stones Throw
0:39:46 ()
Minnie Riperton
Les Fleur
Come To My Garden
GRT
0:42:33 ()
Unknown
Taireva (Version I)
Zimbabwe: Shona Mbira Music
Nonesuch
0:51:54 ()
Hoyt Axton
Beelzebub's Daughter
My Griffin Is Gone
Columbia
0:56:18 ()
Howling Hex
Lips Begin To Move
Nightclub Version Of The Eternal
Drag City
0:58:50 ()
Slayer
South Of Heaven
South Of Heaven
Def Jam
1:06:53 ()
Dennis Bovell
Higher Ranking
Decibel
Pressure Sounds
1:16:05 ()
Tom Rapp
Prayers Of Action
Sunforest
Blue Thumb
1:19:16 ()
Various
Circle Of Sorrow
The World Is Gone
XL
1:22:14 ()
Rock City
The Preacher
Rock City
Lucky Seven
1:26:38 ()
King Geedorah
Fazers
Take Me To Your Leader
Big Dada
1:30:08 ()
Lorraine Ellison
He Ain't Heavy, He's My Brother
Sister Love: The Warner Brothers Recordings
Rhino Handmade
1:39:53 ()
F.J. McMahon
Sister Brother
Spirit Of The Golden Juice
The Wild Places
1:44:51 ()
Sylvie Vartan
Irresistiblement
Sylvie Vartan
Victor
1:48:21 ()
Yachts
Suffice To Say
S.O.S.
Polydor
1:51:10 ()
Houston Stackhouse
Take A Little Walk With Me
The George Mitchell Collection Vol. 4
Fat Possum
1:55:16 ()
Monosov Swirnoff
Live On WFMU
2:01:01 ()
Monosov Swirnoff
Outtakes I
Two Recorded Works
Eclipse
2:36:41 ()
Karen Dalton
Blues On The Ceiling
It's So Hard To Tell Who's Going To Love You The Best
Koch
2:45:42 ()
XTC
Generals And Majors
Black Sea
Virgin
2:48:58 ()
Extra Golden
Ok-Oyot System
Ok-Oyot System
Thrill Jockey
2:53:06 ()
<-- Previous playlist
| Back to
Hatch playlists
|
Next playlist -->
RSS feeds for Hatch's show:
Playlists feed |
MP3 archives feed
|
E-mail Hatch
|
Other WFMU Playlists
|
All artists played by Hatch
|
---
Listen on the Internet
|
Contact Us
|
Music & Programs
|
WFMU Home Page
|
Support Us
|
FAQ
Live Audio Streams:
Pop-up
|
128k AAC
|
128k MP3
|
32k MP3
|
32k Windows
---