Brian Turner: Playlist from May 9, 2006
Order and disorder in a freeform haze of terribly-played guitars, shorted-out electronics, found audio detritus, strange sounds from strange lands all around. Psych-punk-junk, collage, even pop. Lots of in-studio live performances to boot.
<-- Previous playlist | Back to Brian Turner playlists | Next playlist -->
---
May 9, 2006: w/ live set from THE MAJOR STARS

Listen to this show:
Pop‑up player!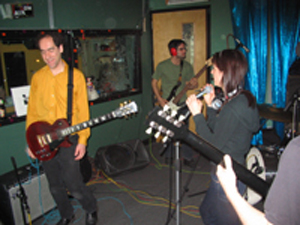 (* = new)


| Artist | Track | Album | Comments | New | Approx. start time |
| --- | --- | --- | --- | --- | --- |
| Jac Berrocal | Rock and Roll Station | Fatal Encounters | | | 0:00:00 (Pop‑up) |
| Marianne Dissard | Cayenne | 7" | | * | 0:04:27 (Pop‑up) |
| Thrones | Silvery Colorado | Day Late, Dollar Short | | | 0:09:55 (Pop‑up) |
| Sierra Altoids | Krosskut Sawwwww | MP3 | | | 0:15:15 (Pop‑up) |
| Witches of Bullshit | Live Hemlock | | | | 0:17:50 (Pop‑up) |
| La Otracina | Neon Nova | Love Love Love | | * | 0:34:16 (Pop‑up) |
| Pan Dolphinic Dawn | Part 2 | Pan Dolphinic Dawn | | * | 0:43:26 (Pop‑up) |
| Circle | Earthworm | Earthworm | | * | 0:43:41 (Pop‑up) |
| Negative Trend | Meathouse | Negative Trend | | * | 0:48:36 (Pop‑up) |
| The Fall | Mr. Pharmacist | Bend Sinister | | | 0:51:36 (Pop‑up) |
| Biafra / Melvins | The Lighter Side of Global Terrorism | Seig Howdy! | | | 0:54:09 (Pop‑up) |
| MGR | III | Nova Lux | | * | 1:01:22 (Pop‑up) |
| Carla Bozulich | Prince of the World | Evangelista | | * | 1:08:48 (Pop‑up) |
| Huun-Huur-Tu | Ancestors | The Orphan's Lament | | | 1:11:00 (Pop‑up) |
| Skarekrauradio | Kitty Swap | Jerusalem and the Starbaskets / Skarekrauradio split LP | | * | 1:16:23 (Pop‑up) |
| Neil Young | Restless Consumer | Living With War | | * | 1:18:35 (Pop‑up) |
| Burnin' Red Ivanhoe | Ivanhoe I Brodbyerne | Various: Danskrocksampler | | | 1:24:42 (Pop‑up) |
| Major Stars | Live in the WFMU Studios | Engineered by Gil Shuster | Through the 80's and 90's Wayne Rogers and Kate Village went on a psychedelic guitar warpath with such bands as Crystalized Movements, Vermonster, B.O.R.B., and Magic Hour, all centered around their mighty Massachussetts-based Twisted Village label and store. These days the Major Stars are completely without peer as *the* guitar rock ensemble to beat live in terms of sheer destructo-power, touching cornerstones of Hendrix, Quicksilver and Cream and blasting it all at massive volume into spiralling, insane over-the-top modal jams that rival anything else previously on the map as "out psychedelia". They've kept upping the stakes too, last year adding a third guitarist, new bassist, new drummer and even new lead singer Sandra Barrett. This is the session of mayhem we've all been waiting for. Lineup: Casey Keenan: drums, Wayne Rogers: guitar, Kate Village: guitar, Tom Leonard: guitar, Sandra Barrett: vocal, David Dougan: bass www.twistedvillage.com | | 1:33:01 (Pop‑up) |
| Major Stars | short interview | | | | 2:05:33 (Pop‑up) |
| L.A. Drugs | Couples | L.A. Drugs | | | 2:07:14 (Pop‑up) |
| Vermonster | Children of the Sun | The Holy Sound of the American Pipe | | | 2:11:54 (Pop‑up) |
| Crystalized Movements | In a Room | 7" | | | 2:34:03 (Pop‑up) |
| Bongloads of Righteous Boo | Mona Lisa | Blast Off with B.O.R.B. | | | 2:36:04 (Pop‑up) |
| Wayne Rogers | Something In the Air | Constant Displacement | | | 2:42:27 (Pop‑up) |
| Annette Peacock | Young | 31:31 | | * | 2:52:14 (Pop‑up) |
| The Alps | O Wind | Spirit Shambles | | * | 2:58:35 (Pop‑up) |
<-- Previous playlist
| Back to
Brian Turner playlists
|
Next playlist -->
RSS feeds for Brian Turner:
Playlists feed |
MP3 archives feed
| Email
the Program Director
|
Other WFMU Playlists
|
All artists played by Brian Turner
|
---
Listen on the Internet
|
Contact Us
|
Music & Programs
|
WFMU Home Page
|
Support Us
|
FAQ
Live Audio Streams:
Pop-up
|
128k AAC
|
128k MP3
|
32k MP3
|
32k Windows
---