Brian Turner: Playlist from March 28, 2006
Order and disorder in a freeform haze of terribly-played guitars, shorted-out electronics, found audio detritus, strange sounds from strange lands all around. Psych-punk-junk, collage, even pop. Lots of in-studio live performances to boot.
<-- Previous playlist | Back to Brian Turner playlists | Next playlist -->
---
March 28, 2006: w/ live set from TH' FAITH HEALERS

Listen to this show:
Pop‑up player!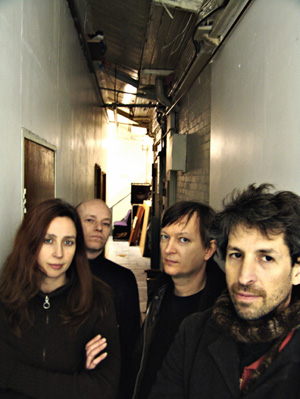 Live today! Th' Faith Healers: Roxanne Stephen, Ben Hopkin, Joe Dilworth, Tom Cullinan. See them at the Mercury Lounge tomorrow (3/29) as well.
(* = new)


| Artist | Track | Album | Comments | New | Approx. start time |
| --- | --- | --- | --- | --- | --- |
| Boris | Space Behind Me | Mabuta No Ura | | * | 0:00:00 (Pop‑up) |
| Akira Ifukube | Godzilla Vs. Gigan | Best of Godzilla 1954-1975 | | | 0:12:22 (Pop‑up) |
| ELO | Look at Me Now | No Answer | | | 0:14:59 (Pop‑up) |
| Jacobites | God Save Us | God Save Us Poor Sinners | | | 0:23:36 (Pop‑up) |
| Beach Boys | Wild Honey | Wild Honey | | | 0:26:52 (Pop‑up) |
| OLD | Outlive | Lo Flux Tube | | | 0:29:22 (Pop‑up) |
| The Consumers | My Type | All My Friends Are Dead | | | 0:33:04 (Pop‑up) |
| Los Punkrockers | Pretty Vacant | Los Exitos de Sex Pistols | | | 0:34:56 (Pop‑up) |
| Final | Negative Youth | Final:3 | | * | 0:38:00 (Pop‑up) |
| Chuck Bettis & Toshio Kajiwara | Before and During Phenomena | Various: Space Is No Place Vol. 2 | | | 0:41:54 (Pop‑up) |
| DJ Female Convict Scorpion | R. Meadows White | Patience Cleveland | | * | 0:48:45 (Pop‑up) |
| James Twig Harper | Excerpt | Intuitive American Esoteric Vol. 2 | | | 0:52:45 (Pop‑up) |
| Bo Diddley | You Don't Care | Various: Spacelines | | | 0:56:58 (Pop‑up) |
| Th' Faith Healers | Live in the WFMU Studios | Engineered by Chris Stubbs | England's Faith Healers appeared on the scene in 1990, coming out of the same Too Pure label stable as kindred spirits Stereolab and PJ Harvey, whom some folks claimed the band fell somewhere between stylistically. While the Healers did share a pronouced leaning towards Kraut-like repetition and also had a strong female presence in vocalist Roxanne Stephen, they easily leave both in the dust in terms of sonic capability; fragile, tense melodies explode into total guitar chaos, basslines lumber like runaway trucks, and as soon as the songs regain some semblance of control, they lose it at the next drop of a hat. They split in 1994 but are amazingly back together for live shows in the USA in support of their recent Peel Sessions disc (Ba Da Bing Records. http://www.badabingrecords.com/), playing live North Six 3/27, the Mercury Lounge 3/29 and here on Brian's show. Lineup: Roxanne Stephen: vocal, Tom Cullinan: guitar, vocal, Ben Hopkin: bass, Joe Dilworth: drums. Enormous, Gigantor Thank You to Ben Goldberg, Chris, Adrienne, and th' Healers. Songs today: This Time / Get the F*** Out of My Face / Love Song / New #2 / Moona Inna Joona / (short chat) / Reptile Smile / It's Easy Being You / Heart Fog / Hippy Hole / Don't Jones Me | | 1:04:41 (Pop‑up) |
| Jonathan Kane | I Looked At the Sun | I Looked at the Sun | | * | 1:54:12 (Pop‑up) |
| Exuma | You Don't Know What's Going On | Exuma | | | 2:05:41 (Pop‑up) |
| Fat Worm of Error | ######### | ######### | | * | 2:14:09 (Pop‑up) |
| Porest | INS Urgent | Tourrorists! | | * | 2:18:19 (Pop‑up) |
| A. Jodorowsky | Climb the Holy Mountain (excerpt) | The Holy Mountain (from film, no sdtk) | | | |
| Fovea Hex | That River | Neither Speak Nor Remain Silent: One | | | 2:37:34 (Pop‑up) |
| Colossal Yes | A Fig For Misfortune | Acapulco Roughs | | * | 2:41:09 (Pop‑up) |
| Saws | Return To Whatever | Saws | | * | 2:56:12 (Pop‑up) |
<-- Previous playlist
| Back to
Brian Turner playlists
|
Next playlist -->
RSS feeds for Brian Turner:
Playlists feed |
MP3 archives feed
| Email
the Program Director
|
Other WFMU Playlists
|
All artists played by Brian Turner
|
---
Listen on the Internet
|
Contact Us
|
Music & Programs
|
WFMU Home Page
|
Support Us
|
FAQ
Live Audio Streams:
Pop-up
|
128k AAC
|
128k MP3
|
32k MP3
|
32k Windows
---