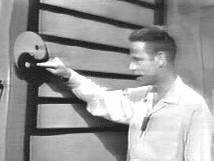 The long-dead Zen-head holds forth on futile existence and takes your hand on a voyage through this vale of tears. Compelling and thought-provoking rum-soaked ruminations, punctuated by filterless-cigarette-induced hacking.
Visit The Alan Watts Lecture Series audio archives.
This page is a schedule of upcoming Alan Watts lectures broadcast on WFMU. Please refer to alanwatts.com for more information on the late Mr. Watts.