Bruce Lontka: Chief Engineer and builder (along with Paul Werner)
of Morristown High School's original WJSV studios





WJSV 90.5 FM
Morristown, NJ
How Irene Trudel got her start in radio
(a tribute of sorts)
I guess every broadcaster gets their start at some little tiny station and WJSV was my humble beginning. In my case my involvement was for an odd reason. When I was in high school, I was painfully shy and knew I needed to do something about it.
On February 22, 1971, Morristown High School began operating a radio station with the call letters WJSV --all of ten watts strong. A companion cable TV 'station' was also in operation. The equipment was lovingly wired by Physics teacher Bruce Lontka, (pictured upper right, in the station's only broadcast studio ca. 1975, photo courtesy of Kenton Chun), and technician Paul Werner (below, left), who later became WJSV's Chief Engineer (and retired in June 2000).

The First WJSV Crew (1971)


"Uncle" Barry (Stoltz-R) and "The Captain" (Tom Gaylord-L) 1972?


The F.C.C.'s Third Class Operator Permit (obsolete). Now you basically only need an application and a stamp to become a DJ.
So I joined WJSV in the Fall of 1972 (but I'm not sure of the actual date. Some old news clippings I saved in my yearbooks lead me to believe it might've been late spring 1972). I dragged my brother Fred into it too, because I was such a mouse about doing anything alone. In those days you needed a Third Class Radiotelephone Operator Permit issued by the Federal Communications Commission office in order to be the lowest level of announcer (a D.J.) and to get one you had to take a test. Fred and I took a trip to the FCC office in Manhattan and both failed the technical part of the test the first time out. The second time we passed, and I remember when we arrived back at the station I was told, "Oh, good! You can take over on the air because someone has to leave." I was so terrified that I couldn't squeak out more than a timid station I.D.
Years before, I'd been bitten by the radio bug. I grew up in Flushing, NY and in my semi-urban environment it was common to cut behind buildings and through alleys to take the shortest route to wherever. When I was 10, I found a brand new portable radio stashed in the bushes behind a store (presumably stolen). (Originally, I told my mom about the radio and she wouldn't let me bring it home. So I hid it for 2 months in the bushes, then asked her again-- she relented). It had 2 shortwave bands, FM and AM-- liberation to a kid whose parents controlled the other household radios! My mother also added to my interest, with her stories of having been in the Navy as a radio operator searching for enemy ships in WWII. Even as a kid I was kinda withdrawn, which made it easy to sneak off in a corner just to listen to radio from all over the world. Jump a few years ahead, following a family move to New Jersey. I was one of the geekiest, most un-fashion-conscious, withdrawn sophomores ever. Hoping to break the cycle of shyness, I joined the station thinking that it would help me to learn to talk to other people. In a round about way, it did. Radio is great therapy!




Part of Irene Trudel's & Peter Keepnews' Record Collection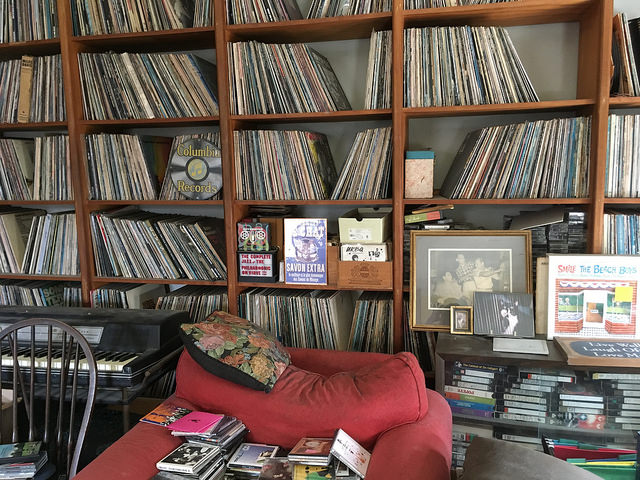 Mostly though, WJSV turned me on to a smattering of (then) obscure artists' records: The Incredible String Band, Lindisfarne, Loudon Wainwright III, The James Gang, Tonto's Expanding Headband, Amon Duul, Monty Python's Flying Circus, Firesign Theatre, Procol Harum, The Mothers of Invention, Aphrodite's Child, and assorted unpopular pop singles. Their record collection consisted of donations of scratchy records no longer wanted by our tiny listening public and whatever minor releases Columbia/Epic/Electra Records would send such an unimportant station (these were the only companies sending us regular mailings). DJs were required to play a few "Parent-Pleasing" numbers during their airshifts in those early days, leading me to drag in some of my folks' meager collection of Classical Music, Herb Alpert, and Les Paul. The Morristown Public Library also helped me supplement what I played on the air (to my amazement, their small collection ranged from Joan Baez' "Baptism" to Brian Wilson's "Smiley Smile" to Frank Zappa & The Mothers of Invention's "We're Only in It for the Money"). After I began to earn money, it wasn't long before I became a hopeless record collector, always looking for something new to share with the listeners.
As a sidebar, I need to make special mention of a few people who changed the direction of my radio career to embrace engineering and live music mixing. I was already interested in recording, branching out from my being asked to record local musicians at a coffeehouse for later broadcast on WJSV. I was hooked from the first time I dragged a reel to reel machine there to record, but after I left high school I drifted away from college and radio for a few years until I started attending County College of Morris in 1977.

So, of the people I'd like to credit, John Hagelbarger (former "Mr. Colonial" at Morristown HS, a role he told me he was not proud of) tops my list. John introduced me to the idea of working in a recording studio through his friend (and now mine) Don Sternecker. John had met Don through Drew University's music program in Madison, NJ. (Hagelbarger, it should be noted, had created his own pipe organ at home constructed out of various sized glass jars a keyboard and other ingenious bits of flotsam and jetsam. He's a very creative guy who didn't get enough credit from his high school peers.) While in college, Don had started his own recording studio-- Mix-O-Lydian (where the Bongos recorded their first singles,), which he later moved to Boonton, NJ and turned it into a thriving business, recording many bands important to the early Hoboken Music scene.

Don then took on an increasingly important role in my development. While attending college, I had to work on an internship related to communications to complete my degree requirements. Sternecker agreed to take me on, never having an intern before, and I wound up hanging out way past the required course time limit. I credit Don with teaching me the art of "having a good ear" --in other words, knowing how to balance a mix for live and recorded music. I passed many enjoyable hours hanging out, listening to Don create great recordings at Mix-O-Lydian on every kind of band, good and bad, listening to every kind of joke, good and band (Don's a world-class joketeller as well!) and I totally value his friendship, trust and willingness to take on an unknown like me. Without Don, I'd probably not even thought about mixing a live band, much less having them on a radio show. These days, Mix-O-Lydian Recording Studios can be found in the town of Delaware Water Gap, PA and on the web as well.
Nicholas Hill in WFMU's Froeberg Hall studio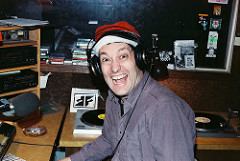 Last but not least, WFMU Host Nicholas Hill played a key role in all this. For many years he brought live music to WFMU in the form of a radio show called "The Music Faucet." While hanging out to see one of those musicians, I said to Nick, "I'd really love to learn how to do this." Nick said I should come back the next week. I did, and he then said to me, "There's the mixer!" Talk about going in cold! He really didn't have much more engineering experience than I did. But I really was eager to learn, so I jumped in and became The Music Faucet's regular engineer for several years, along the way recording Jeff Buckley's first radio appearance with Gary Lucas on guitar, and many other great performances of his.



Irene Trudel in WNYC Master Control (1999?)




Radio was something I could never get away from entirely. Several times I've quit the field but it always drew me back in (must be in the blood). From 1977 through 1982, I was a part of County College of Morris' closed circuit "radio station" WCCM, serving as Program Director for a couple of years (I majored in "radio station," spending 5 years at this 2-year commuter college. Oh well!). From 1983 through 1991 I worked for WDHA/WMTR, enduring a few years as Production Coordinator (ending with a near-nervous breakdown).




Irene in WFMU's live music studio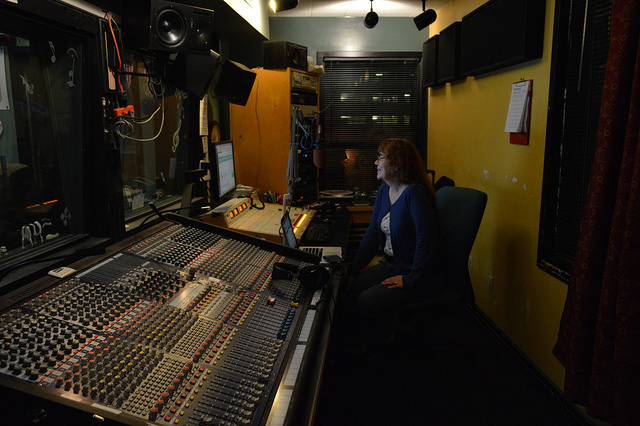 Currently, I host a weekly show on WFMU, and have been there since the autumn of 1986. When WFMU moved to the current Jersey City home, I helped wire up the studios (with the more capable direction of then-Chief Engineer John Fogarazzo).



Since my gig at WFMU is strictly for the love of radio, I've been working as a Senior Broadcast/ Concert Engineer for New York Public Radio (WNYC/WQXR) in New York City since late July, 1994. Currently I'm the Technical Director for the Soundcheck podcast, mixing live performances that also stream on Facebook.




Irene with Aimee Mann in the Soundcheck Studio at New York Public Radio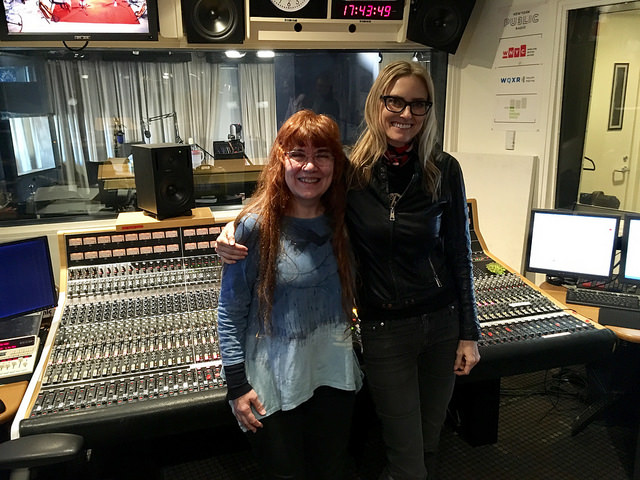 It's still amazing to me that I've been able to turn my passion for radio into a career. As I mentioned, I've worked in commercial radio but found I all that formatted craziness is pure torture, both in a work sense and as a listening experience. Non-commercial radio (especially the nearly limitless WFMU) is perfect for a musical misfit like me.

---Irene Trudel


E-mail Irene

My brother Jon Trudel (also an alumnus of WJSV) has his own web page...
Other former WJSV members:
Kenton Chun <kenton@competenet.com>
Peter Farrell <ptf@lexforge.com>
Carl Frank <cfrank@wrf.com>
John McCrae <jcmccrae@cbs.com>
Dan Mackta, who also hosted a show at WFMU <E-mail Dan Mackta>
---




Pictured below are several people who were a part of WJSV when I joined the organization. I've lost touch with most of them. If you recognize yourself, let me know where you are and what you're doing. If your involvement with WJSV was later than mine, I'd still like to hear from you. Maybe if I get enough good stories (favorite/worst experiences) I'll put up a page of 'em for everyone to enjoy. I also no longer have a yearbook from 1974, my graduating year (Thanks, Fred!) If anyone can send me pictures from it I'd appreciate it.
WJSV in 1973 (from a yearbook picture) (Irene Trudel circled in red.)

Below: David Targan, Bob Rosenberger, Michael Mauer, Margo Barbarash

Above left: Bob Karsten, Rick Koegler, Bob Rosenberger, Dorothy Krauklis, Gerg Mumma, Larry Molter (seated), Barry Stoltze
---
WJSV's 1972 Staff

---
WJSV Staff (1975?)


DJ Kenton Chun (ca.1975)

Unidentified DJ (1975?) (photo by Kenton Chun)
---
WJSV's humble beginning...
I make no claim on the accuracy of this information. But with a little detective work, here's what I've uncovered on the web... More will follow as I find it.

WJSV's call letters once belonged to another radio station that went on the air in 1928. The original WJSV was located in Mt. Vernon Hills, Virginia (and in conflicting data Alexandria, or Washington DC) on the dial at 1460 AM (FM broadcast wasn't viable until 1946). According to legend (or at least the story I was told when I joined the intrepid group of would-be broadcasters above) the folks in the original broadcast area believed the call letters were an acronym that stood for "Jesus Saves Virginia" but actually stood for James S. Vance (general manager of the Fellowship Forum--). In the early '40s, the station became WTOP. Blogger Jose Fritz has his own little obsessive page called Archane Radio Trivia that traces the origins of the station call letters. Even though many stations' call letters were assigned by the government you'll find more than a few who requested slogan acronyms to use as their call letters.

In addition to Vance, other people important to WJSV's development were broadcaster/writer/reporter Robert Trout, who throughout his long career was known as the "Iron Man of Radio," and Harry C. Butcher (1910-59), who was originally a Naval Aide to President Dwight Eisenhower. Butcher was either Station Manager or Program Director (depending on the post you look at) of radio station WJSV (which changed call letters to later WTOP after becoming a CBS affiliate) in Washington D.C. from 1932-1934 and Vice President in charge of WJSV from 1934-1942 . Harry was most likely brought in to wrestle control of the station from people with KKK leanings. Butcher may have been the person who coined the phrase "Fireside Chat" in relation to Franklin Delano Roosevelt's radio talks of the same name. In WJSV 1939 recorded its entire broadcast day (no small feat in the pre-audio tape era), which you can check out at theOld Time Radio site or on Internet Archive. Arthur Godfrey was a regular host on the original WJSV. You can find a newspaper listing from vintage WJSV here. Wikipedia also has a page devoted to WJSV.
Here is the website for the current WJSV or look at the listing here.