October 26, 2017: Skeptech Two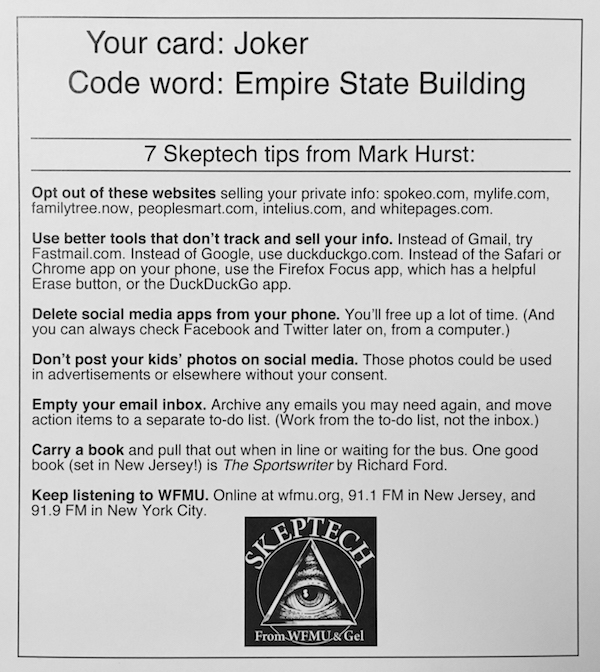 About Skeptech
Thursday, October 26, 2017
Venue: Monty Hall at WFMU, Jersey City, NJ
Doors open at 6:30pm Eastern; show goes from 7pm to 9pm
• Want to attend in person? Sign up for tickets.
• Livestream starts at 7pm Eastern (livestream will be visible on this page!)
This is the second event in the Skeptech is series discussing digital technology and its effects on our day-to-day lives - not in Luddite opposition to tech, but rather raising awareness about the challenges raised by digital technology today. Online apps and services can be addictive, they can threaten privacy, and they often manipulate users without their knowledge or consent.
Skeptech will feature tech experts who will speak about "the dark side of tech" that they have witnessed in their own fields. Between the speaker presentations and audience participation, Skeptech's goal is to "gel" some diverse perspectives while offering some ideas and inspiration for next steps: how to choose better tools, and perhaps even how to create better tech in the future.
(The first Skeptech was held on May 24, 2017 - watch the video here, featuring Douglas Rushkoff, Natasha Dow Schull, Vicki Boykis, Liz Berg, Ken Freedman, and Mark Hurst.)
WFMU Benefit: 100% of Skeptech ticket sales will go to WFMU to benefit the station and its free-form programming.
- - - - - - - - - -
Speakers at Skeptech 2
Speakers on Thursday, October 26, 2017:
• Jon Ronson, journalist, author, documentary filmmaker, screenwriter, and radio presenter. He's the author "So You've Been Publicly Shamed," "The Psychopath Test," and other books. His upcoming podcast, The Butterfly Effect, will be available on Audible.com starting in July 2017. He also co-wrote "Okja," a Korean-American action-adventure movie directed by Bong Joon-Ho. Online: @jonronson
• Nancy Lublin is the CEO of Crisis Text Line, a not-for-profit organization providing free crisis intervention via SMS message. The organization's services are available 24 hours a day, throughout the US, by texting 741741. Lublin was also the creator of Dress for Success and served as the CEO of Do Something Inc., a company that attempts to mobilize youth to participate in social change, from 2003 to 2015. Online: @nancylublin
• Aparna Nancherla is a New York-based comedian. She has appeared on "Inside Amy Schumer" and has written for Late Night with Seth Meyers and Totally Biased with W. Kamau Bell. Nancherla released her debut comedy album "Just Putting It Out There" through Tig Notaro's Bentzen Ball Records in July 2016. Online: @aparnapkin
• Mark Hurst is the host of Skeptech and the Techtonic show on WFMU (Mondays at 6pm Eastern). He has spent his career consulting, writing, and speaking about how to create digital tech that benefits users more. Hurst also founded the Gel conference series, which featured the first stage presentations of Khan Academy and Wikipedia. Hurst's books "Bit Literacy" and "Customers Included" introduced the world to the empty inbox method (now known as Inbox Zero), and made the case for companies to treat customers better. He's also the creator of the Good Todo mobile productivity platform. Online: @markhurst
Artwork Made by ABVH