Brian Turner: Playlist from March 7, 2017
Order and disorder in a freeform haze of terribly-played guitars, shorted-out electronics, found audio detritus, strange sounds from strange lands all around. Psych-punk-junk, collage, even pop. Lots of in-studio live performances to boot.
<-- Previous playlist | Back to Brian Turner playlists | Next playlist -->
---
March 7, 2017: Marathon Week 1 w/ co-host THOMAS STORCK

Listen to this show: | Add or read comments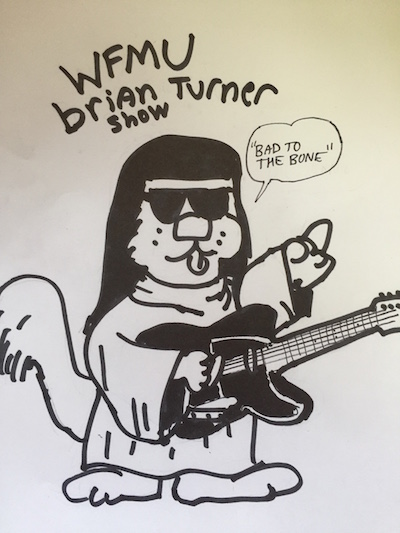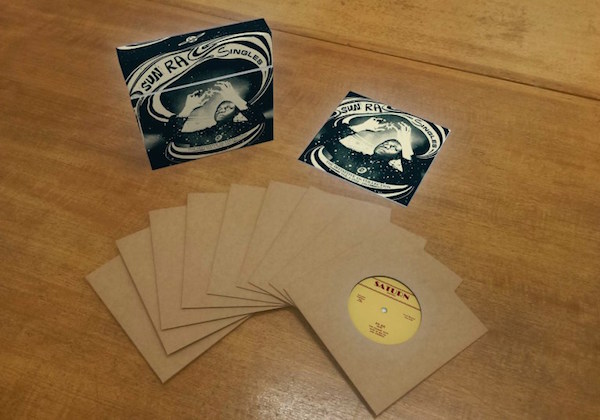 Special fundraiser episode today. Pledge to support WFMU by calling 1-800-989-WFMU or pledge at this playlist page above! Special prizes today throughout the show, and $75 gets you this lovely new black-on-grey tee (designed by Brian Turner), and gets you in the running to win the grand prize at the end of the show, a SUN RA 10 x 7" singles box: The Definitive 45's Collection (1952-1961)!
(* = new)


| Artist | Track | Album | Comments | New | Approx. start time |
| --- | --- | --- | --- | --- | --- |
| Circle | Andexelt | Andexelt | | | |
| Jowe Head | Swissair | | | | |
| Sun Ra | Rocket #9 | Singles Box | 10 x 45 box set pictured above is our grand prize today: everyone pledging a premium-sized $75 pledge gets in the running for the drawing at the end of the show. $75 gets you the tee and also WFMU's swag! | | |
| SYPH | Lachleyte & Nettmenschen | Various: Verschwende Deine Jugend | 2LP compilation of German 1977-83 stuff is prize up for grabs now. | | |
| Flying Calvittos | Lucky To Be Australian | Goodbye You Spaghetti Punks | | | |
| Katherine Daly | Zincworks | Luggs | | | 0:26:13 () |
| Bunker | Zombies | Various: Don't Hide Your Hate (Thomas Storck 2013 Premium) | | | 0:44:38 () |
| Pere Ubu | Real World / Small Was Fast | Live here on the show this year! | | | 0:46:59 () |
| Mark Stewart + Maffia | Pay It All Back | Mark Stewart + Maffia | LP prize up for grabs | | 0:57:29 () |
| Dancing Cigarettes | Burnin In Heaven | Dance Dogs Dance | LP up for grabs now | | 1:00:05 () |
| The Chills | Rolling Moon | Live broadcast here on the show from Monty Hall | The 2LP Kaleidoscope World reissue is up for grabs right now! | | 1:10:24 () |
| Tank | Crazy Horses | | | | 1:14:16 () |
| Acid Eater | Nothing Can Bring Me Down | Virulent Fuzz Punk A.C.I.D. | | | 1:16:27 () |
| Puff Tube | Boys of Summer | 7" | | | 1:18:53 () |
| Alvin Seville | Bad To the Bone | | A reminder that I have a tee shirt for grabs for a $75 premium pledge. This also gets you the WFMU Listening Party tee, Tomato Sticker, and in the running to win the Sun Ra 10 singles box! | | 1:22:11 () |
| Brix & The Extricated | Something To Lose | 7" | Prize now: Autographed by the whole extricated band 7", plus Brix's book The Rise The Fall and the Rise, plus MES' Renegade book, PLUS a 2cd special mix of live stuff from my collection especially for you. Pledge now! This will be given away now! | | 1:39:27 () |
| The Fall | Copped It (live BBC) '84 | | | | 1:42:58 () |
| Midnight | Eyes of Satan | Shox of Violence | | | 1:47:04 () |
| Good Throb | Scum | 7" | | * | 1:49:37 () |
| Ti L'Afrique | Soul Sok Sega | 7" | | | 2:04:25 () |
| Index | You Keep Me Hanging On | | | | 2:03:31 () |
| The Shifters | Creggan Shops | 7" | | * | 2:06:19 () |
| Coteau Latex | Hostile | 7" | Part of our 7" giveaway right now! One prize: Coteau Latex / Mr. Epp / Kid Congo / Watery Love | | 2:22:06 () |
| Kid Congo & The Pink Monkey Birds | Bruce Juice | 7" | | | 2:22:31 () |
| Mr. Epp | Mohawk Man | 7" | | | 2:26:23 () |
| Stefan | Zero Tic | | | | 2:30:42 () |
| The Equals | Police On My Back | Black Skin Blue Eyed Boys...The Anthology | | | 2:33:05 () |
| Diseno Corbusier | Excerpts | Stadia | Dark Entries LP reissue of Spanish insanity prize now | | 2:52:00 () |
| Colin Newman | I've Waited Ages | A-Z | Double CD new reissue (donated by Colin!) up for grabs right now | | 2:52:29 () |
<-- Previous playlist
| Back to
Brian Turner playlists
|
Next playlist -->
RSS feeds for Brian Turner:
Playlists feed |
MP3 archives feed
| Email
the Program Director
|
Other WFMU Playlists
|
All artists played by Brian Turner
|
---
Listen on the Internet
|
Contact Us
|
Music & Programs
|
WFMU Home Page
|
Support Us
|
FAQ
Live Audio Streams:
Pop-up
|
128k AAC
|
128k MP3
|
32k MP3
|
32k Windows
---