Music without words, words without music, and combinations therein. The freeform soundtrack for working, shirking, or twerking.

If you would like to receive an email with the schedule of what's playing on the Give The Drummer Radio webstream each day, subscribe here. It's only one email per day; you can check out previous emails by clicking on "View Letter Archive" at that link before subscribing if you wish. Never miss a Drummer show (especially mine!) again!

November 22, 2016: Live music from LOVEYDOVE!
LoveyDove is the seductive high-grade modernist pop duo of lo-fi indie rock pioneer Azalia Snail and psych-rock virtuoso Dan West. With their 2015 album, ShowStopper, Dan and Azalia pull out all the stops to showcase their uncanny ability to blend anthem rock, bubblegum pop, old-school soul, Bee Gees disco, and modern electro-pop in a way that is completely irresistible and memorable. Hear them weave their musical spell on 100% Whatever today!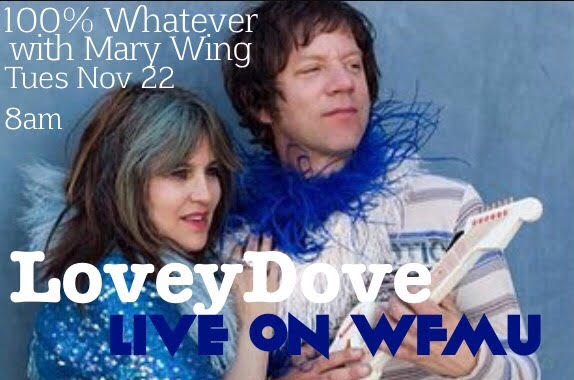 Photo courtesy of Azalia Snail

Listen to this show:
Pop‑up player!
Artist
Track
Album
Label
Year
Format
Comments
New / Special
Approx. start time
Nicole Mitchell Black Earth Ensemble / Ensemble Laborintus
Listening
Moments Of Fatherhood
Rogue Art
CD
*
0:00:00 (Pop‑up)
Half Japanese
Of Course It Is
Hear The Lions Roar
Fire
2016
CD
*
0:13:48 (Pop‑up)
Sonic Youth
Protect Me You
Confusion Is Sex
0:15:59 (Pop‑up)
Sonic Youth
Freezer Burn / I Wanna Be Your Dog
Confusion Is Sex
0:22:17 (Pop‑up)
Merchandise
I Will Not Sleep Here
A Corpse Wired For Sound
4ad
2016
CD
*
0:26:25 (Pop‑up)
Joe Jackson
Breaking Us In Two
Night And Day
A&M
1982
LP
0:32:50 (Pop‑up)
Echo & The Bunnymen
Thorn Of Crowns
Ocean Rain
1984
0:37:44 (Pop‑up)
Wooden Veil
Gravity Problems
Wooden Veil
Dekorder
2009
CD
0:42:45 (Pop‑up)
Virginia Wing
Lily Of Youth
Forward Constant Motion
Fire
2016
CD
*
0:50:26 (Pop‑up)
Laurie Anderson
From The Air
Talk Normal: The Laurie Anderson Anthology
Rhino
2000
CD
This song originally released in 1982.
0:54:54 (Pop‑up)
Music behind DJ:
Low
Hatchet (Optimimi Version) (Wing edit)
0:59:44 (Pop‑up)
Lorraine Ellison
Stay With Me
Pirate Radio (Original Motion Picture Soundtrack)
Mercury
2009
MP3
Various artists; this song originally released in 1966.
***
1:08:07 (Pop‑up)
The Walker Brothers
Stay With Me Baby
Scott Walker & The Walker Brothers - 1965-1970
Island Def Jam
2009
MP3
A Lorraine Ellison cover; this version originally released in 1967.
***
1:11:23 (Pop‑up)
Shirley Brown
Stay With Me Baby
Woman To Woman
Stax
1974
MP3
A Lorraine Ellison cover.
***
1:14:39 (Pop‑up)
Terry Reid
Stay With Me Baby
Terry Reid
Epic
1969
MP3
A Lorraine Ellison cover.
***
1:17:52 (Pop‑up)
Kiki Dee
Stay With Me
Stay With Me
The Rocket Record Company
1978
MP3
A Lorraine Ellison cover.
***
1:22:15 (Pop‑up)
Chris Cornell
Stay With Me Baby
Vinyl - The Essentials: Best Of Season 1 (Soundtrack)
Atlantic / Warner Bros.
2016
MP3
Various artists; a Lorraine Ellison cover.
***
1:26:07 (Pop‑up)
Bette Midler
Stay With Me
The Rose (Original Motion Picture Soundtrack)
Atlantic
1979
MP3
A Lorraine Ellison cover.
***
1:30:16 (Pop‑up)
Timmy Shaw
A Letter From My Baby
Soul For Dancers 2: Out On The Floor Firecrackers
Fantastic Voyage
2016
CD
Various artists.
*
1:35:24 (Pop‑up)
Death Valley Girls
Love Spell
Glow In The Dark
Burger
2016
MP3
1:38:23 (Pop‑up)
Poison Girls
Menage Abattoir
Where's The Pleasure
Water Wing
2016
LP
Originally released in 1982.
*
1:42:00 (Pop‑up)
Western Eyes
Swan Song On Broadway
Western Eyes
Trace Elements
LP
Originally released in 1984.
*
1:46:27 (Pop‑up)
The Shacks
Hands In Your Pockets
The Shacks
Big Crown
2016
CD
*
1:51:01 (Pop‑up)
The Tennors
Ride Your Donkey
History of Trojan Records 1968-1971
Trojan
1995
CD
Various artists.
1:54:20 (Pop‑up)
The Tennors
Copy Me Donkey
History of Trojan Records 1968-1971
Trojan
1995
CD
Various artists.
1:56:33 (Pop‑up)
Music behind DJ:
Low
Hatchet (Optimimi Version) (Wing edit)
1:58:29 (Pop‑up)

LoveyDove live on WFMU
Recorded November 20, 2016, engineered by Glenn Luttmann

Azalia Snail: vocals, Omnichord, backing tracks
Dan West: vocals, bass, backing tracks


LoveyDove
Main Course
(Live on WFMU)
2016
WAV
2:04:55 (Pop‑up)
LoveyDove
Beppe Of Italy
(Live on WFMU)
2016
WAV
2:09:33 (Pop‑up)
LoveyDove
Soul Gem
(Live on WFMU)
2016
WAV
2:15:16 (Pop‑up)
LoveyDove
Deep Down Inc.
(Live on WFMU)
2016
WAV
2:20:17 (Pop‑up)
LoveyDove
Luka Fisher
(Live on WFMU)
2016
WAV
2:26:20 (Pop‑up)
LoveyDove
Hot Lap
(Live on WFMU)
2016
WAV
2:29:46 (Pop‑up)
Radio Wonderland
Depth Of Field
Seize The Means
Clang!
2016
CD
*
2:35:31 (Pop‑up)
Spaceheads
Machine Molle
Laughing Water
Electric Brass
2016
CD
*
2:41:46 (Pop‑up)
Mdou Moctar
Afrik Victim
Adounia Ayassohen
Otoroku
2016
CD-R
*
2:45:30 (Pop‑up)
Yishak Banjaw
Libey Ma'Aduley
Love Songs Vol. 2
Teranga Beat
2016
CD
*
2:50:17 (Pop‑up)
Music behind DJ:
Low
Hatchet (Optimimi Version) (Wing edit)
2:54:28 (Pop‑up)