Music without words, words without music, and combinations therein. The freeform soundtrack for working, shirking, or twerking.

If you would like to receive an email with the schedule of what's playing on the Give The Drummer Radio webstream each day, subscribe here. It's only one email per day; you can check out previous emails by clicking on "View Letter Archive" at that link before subscribing if you wish. Never miss a Drummer show (especially mine!) again!

August 7, 2016: Live music from THE OSWALDS!
Reactivated after a 25-year recording hiatus, The Oswalds are acclaimed writer and songsmith Camden Joy (vocals, rhythm guitar) abetted by Hudson Valley music scene stalwarts Mark Donato (drums) and Mark Lerner (bass, multi-instruments). The fruit of this reunion is the 12-song cycle Hasta La Bye Bye, released last October. The songs are lyrically and musically adventurous vignettes of characters and consequences of the Mexican drug wars--on both sides of the border. Joy aptly describes the project as "a mongrel sound; narcorridos as garage rock." (Narcorridos is a drug outlaw-inspired subgenre of traditional romantic folk ballads from northern Mexico known as norteno corrido.) Noisy, skittish, comic, and profoundly imaginative, hear them play at 1 am!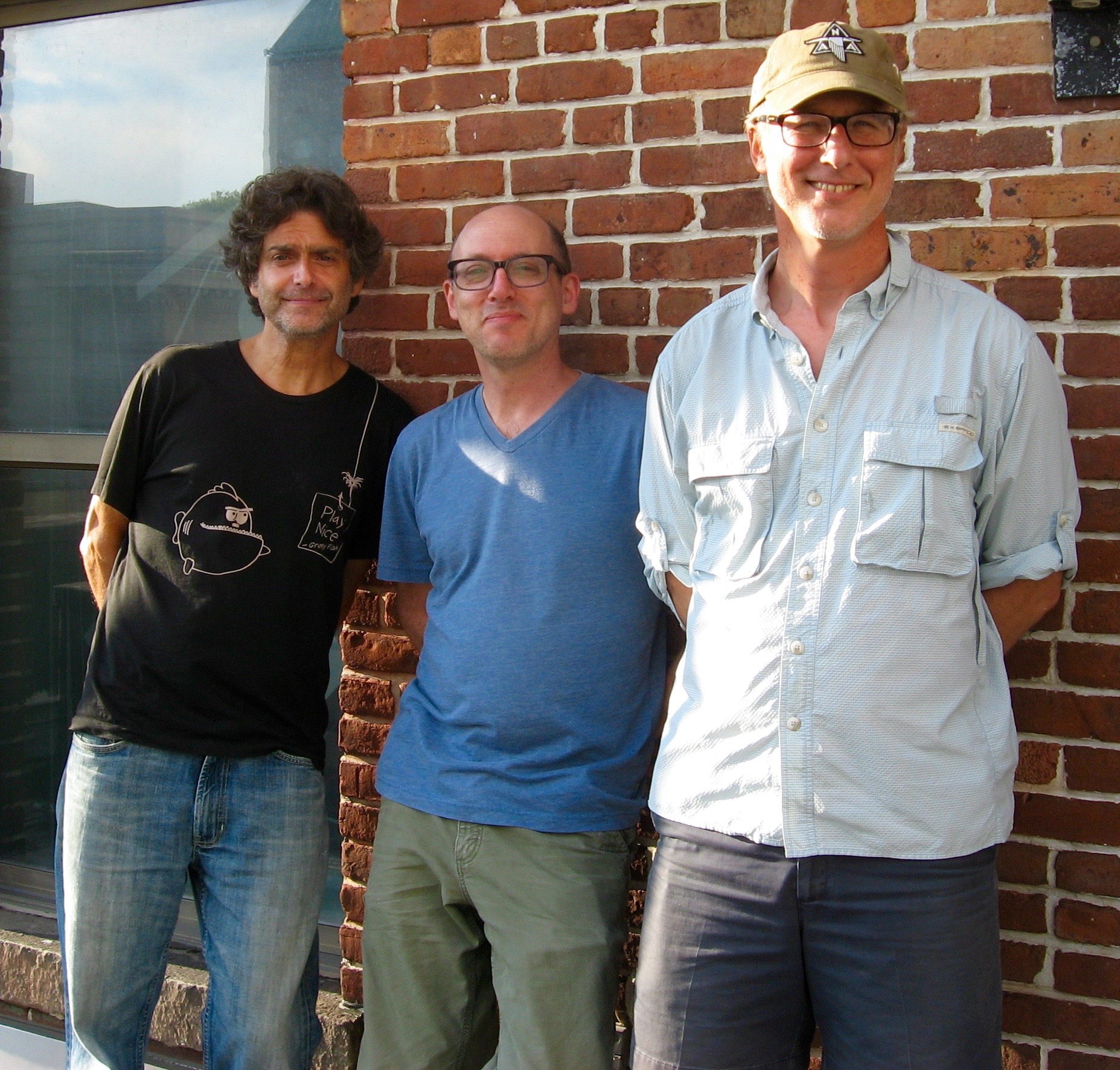 Mark Donato, Mark Lerner, and Camden Joy

Listen to this show:
Artist
Track
Album
Label
Year
Format
Comments
New / Special
Approx. start time
J.D. Emmanuel
Grandioso
Electronic Minimal Music
Black Sweat
CD-R
Originally recorded between 1979-83.
*
0:00:00 ()
Sheila Chandra
Roots And Wings (Original Madras Mix)
Roots And Wings
Indiepop
1989
CD
0:10:09 ()
Robyn Hitchcock & The Egyptians
The Pit Of Souls [Parts I-IV]: The Plateau / The Descent / The Spinal Dance / Flight Of The Iron Lung
Fegmania!
Rhino
1995
CD
Originally released in 1986.
0:16:42 ()
Hashish
The Light
A Product Of Hashish
Subliminal Sounds
2016
CD-R
*
0:26:41 ()
ARO
Raining Gold
Raining Gold single
Aimee Osbourne
2015
MP3
Recorded live for Vogue magazine; from YouTube.
0:35:13 ()
Heavy Birds
I'll Follow You
Drag
Moon
2016
LP
*
0:39:00 ()
Joe Jackson
Another World
Summer In The City - Live In New York
Sony
2000
CD
Recorded live in New York City in August, 1999.
0:45:32 ()
Bossacucanova
Balança (Nao Pode Parar!)
The Best Of Bossacucanova
Six Degrees
2016
CD
Vocals by Cris Delanno.
*
0:50:23 ()
Kanaku Y El Tigre
Pulpos
Quema Quema Quema
Strut / Tiger's Milk / !K7
2015
CD
Vocals by Leonor Watling.
0:53:44 ()
Barbara Morgenstern
Eine Verabredung
Fan No. 2
Monika
2010
MP3
This song originally released in 2000.
0:56:23 ()
Music behind DJ:
Barbara Morgenstern
Eine Verabredung
Fan No. 2
Monika
2010
MP3
1:00:39 ()



The Oswalds live on WFMU
Recorded August 6, 2016, engineered by Glenn Luttmann

Camden Joy: vocals, guitar
Mark Lerner: bass, guitar, backing vocals
Mark Donato: drums, backing vocals, harmonica


The Oswalds
It Gets Cold
(Live on WFMU)
camdenjoy.net
2016
WAV
1:07:56 ()
The Oswalds
Don't Hafta
(Live on WFMU)
camdenjoy.net
2016
WAV
1:12:07 ()
The Oswalds
Daffodils In Snow
(Live on WFMU)
camdenjoy.net
2016
WAV
1:16:31 ()
The Oswalds
Darling I Love You
(Live on WFMU)
camdenjoy.net
2016
WAV
1:19:57 ()
The Oswalds
Just Over The Border
(Live on WFMU)
camdenjoy.net
2016
WAV
1:23:26 ()
The Oswalds
Her
(Live on WFMU)
camdenjoy.net
2016
WAV
1:26:26 ()
The Oswalds
Starling
(Live on WFMU)
camdenjoy.net
2016
WAV
Vocals by Mark Donato.
1:31:07 ()
The Oswalds
Oswalds Fight Song
(Live on WFMU)
camdenjoy.net
2016
WAV
1:36:37 ()
The Oswalds
Make Me A Coin
(Live on WFMU)
camdenjoy.net
2016
WAV
1:39:21 ()
The Oswalds
Jimmy And Me Driving 99
(Live on WFMU)
camdenjoy.net
2016
WAV
1:44:04 ()
The Oswalds
Everyone's A Love Story
(Live on WFMU)
camdenjoy.net
2016
WAV
1:49:54 ()
Music behind DJ:
Barbara Morgenstern
Eine Verabredung
Fan No. 2
Monika
2010
MP3
1:55:12 ()
Chris Knox
Not Given Lightly
Seizure
Flying Nun
2015
MP3
Originally released in 1990.
***
2:05:53 ()
Frente!
Not Given Lightly
Labour Of Love
Mammoth
1994
MP3
A Chris Knox cover.
***
2:10:53 ()
B. Fleischmann
Not Given Lightly
Not Given Lightly - A Tribute To The Giant Golden Book of New Zealand's Alternative Music Scene
Morr Music
2009
MP3
Various artists; a Chris Knox cover.
***
2:14:29 ()
Boh Runga
Not Given Lightly
Stroke: Songs For Chris Knox
Merge
2009
MP3
Various artists; a Chris Knox cover.
***
2:19:31 ()
Throwing Muses
Speed And Sleep
Throwing Muses
4ad
2003
CD
2:23:13 ()
Half Japanese
Thing With A Hook
Volume One: 1981-1985
Fire
2014
CD
This song originally released in 1984.
2:28:02 ()
Family Fodder
My Baby Takes Valium
Sunday Girls (Director's Cut)
Staubgold
2015
CD
This song originally released in 1979.
2:31:00 ()
Las Kellies
Sunday
Friends & Lovers
Fire
2016
CD
*
2:34:28 ()
Woods
Know Your Minute
split 7" with Ultimate Painting
Trouble In Mind / Woodsist
2016
45
*
2:37:36 ()
Carla Dal Forno
Fast Moving Cars
Fast Moving Cars / Better Yet 7"
Blackest Ever Black
2016
45
*
2:41:40 ()
Battles
Summer Simmer
La Di Da Di
Warp
2015
CD
2:44:48 ()
Wume
Gold Leaf
Maintain
Ehse
2015
CD
2:50:25 ()
Music behind DJ:
Barbara Morgenstern
Eine Verabredung
Fan No. 2
Monika
2010
MP3
2:56:09 ()